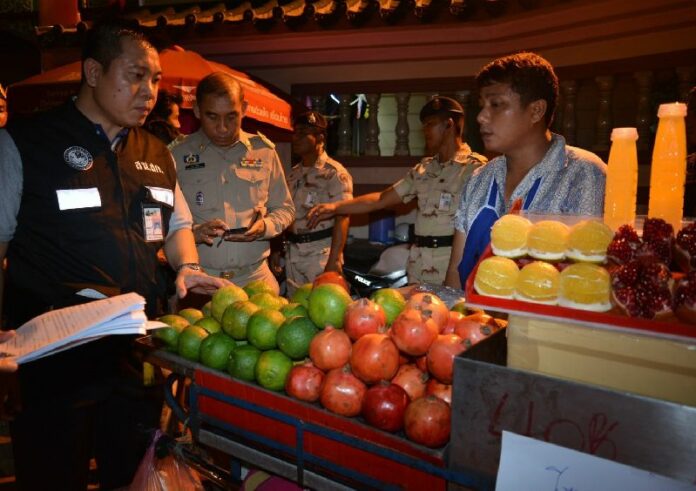 BANGKOK — Sold on nearly every street for about 20 baht, plastic bottles of orange juice are as ubiquitous as coffee and muu ping.
Following the discovery of a fake orange juice ring allegedly run by a Vietnamese couple, health officials yesterday announced they would inspect orange juice operations across the country.
---
Couple Makes Fake OJ. Couple's Photos Posted Online. Couple Arrested.
---
The juice crackdown has already seen the arrests of six migrant workers in Bangkok's Chinatown on Tuesday night on suspicion of selling fake juice, while reports of dodgy sellers are also popping up on social media.
Paisarn Dunkhum, deputy sec-gen of the Food and Drug Administration, told reporters Tuesday that authorities are sampling orange juice factories across Thailand to make sure that they indeed sell orange juice and not the sweetened, flavored water allegedly produced by a Vietnamese couple arrested Monday in Saraburi province after photos of their operation spread online.
"I'd like to ask the public to regularly observe and clearly ask sellers about the manufacturing process," Paisarn was quoted as saying. "Don't simply believe it because you merely see orange fruits and peels in front of the shops."
There's a xenophobic element to the crackdown, as it appears driven by a fear of non-Thais poisoning the orange juice supply for sale to Thais. The operation launched Tuesday evening in Bangkok's Yaowarat district targeted foreign vendors, Manager Online reported.
Sakchai Tanghor, head of the Ministry of Interior Affairs' legal department, said the raid followed complaints from Chinatown residents that they saw migrant workers selling bottled OJ on the sidewalk, and so they feared the juice might be fake.
Six migrant workers were arrested in the raid because they didn't have work permits, and their juice confiscated for inspection in a lab, according to the report on Manager Online.
Meanwhile, social media was soon spiked with reports of fake orange juice sightings,from near Kasetsart University to Pattaya.
"I found one myself, at Kaset," wrote Facebook user Thanida Phatpraphan in a post liked by more than 5,000 people. "He pretended to squeeze it fresh in front of people, but he sneakily filled the bottle with orange juice from another bottle. Was it genuine orange juice? I cannot know."
Another Facebook user, Chantharaphon Jidcharoen, wrote about a suspicious OJ seller she saw near Pattaya's pier to Koh Lan.
"He filled the bottle with tap water and put in the leavening agent and shook it. Then he poured it into bagfuls and checked each bottle to see if the color was right. This is horrible."
The video of the operation filmed by Chantharaphon has been shared nearly 400 times.
Food safety is a recurring issue. In 2014, the Ministry of Public Health had to remind vendors that, despite widespread practice, it was in fact illegal to soak seafood and vegetables in formaldehyde to make them look fresh.
Related stories:
Pattaya Restaurant Owner Refutes 'Pesticide-Spraying' Video