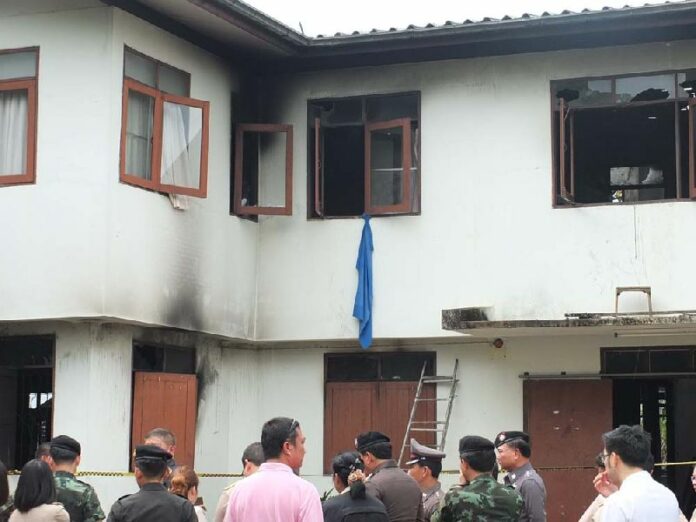 CHIANG RAI — Police today were reticent to discuss the ongoing investigation into the cause of a deadly fire which killed at least 17 girls at a school dormitory in the early hours of Monday in Wiang Pa Pao district.
Local police commander Col. Prayad Singsin declined to give any update on the progress of the investigation Wednesday, deferring to provincial police chief Maj. Gen. Thanayin Thepraksa.
Thanayin said police are still collecting evidence and cannot say much yet about the incident, but he declined to confirm media reports that the fire was caused by a faulty lighting fixture, which overheated and set off the deadly blaze.
"That's the opinion of other police, I haven't received that report," he said, adding that no charges have been filed in the case.
Thanayin said police have been questioning witnesses and urged the public to be patient.
The commander in chief of the police forensics unit, Lt. Gen. Manoo Mekmok, said investigators have already established the cause of the fire which killed the girls as they slept, but also refused to comment further, deferring to another officer.
"You'd better hear it from Maj. Gen. San [Sookwat] of Forensics Center 5," Manoo said.
Calls to San, chief of the regional forensics unit headquartered in Lampang province, were not returned.
Seventeen bodies have been recovered from the Pitakkiat Witthaya private boarding school after the fire broke out there at about 11pm on Sunday. One student is still reportedly missing. Five were injured. The girls killed were 5 to 12.
The school is operated by Panthakit Suksan Foundation, a Thai Christian charity, and served children of economically disadvantaged hill tribe families.
Someone answering the phone at Panthakit Suksan Foundation said Director Pim Wassana was being questioned by investigators Wednesday afternoon.