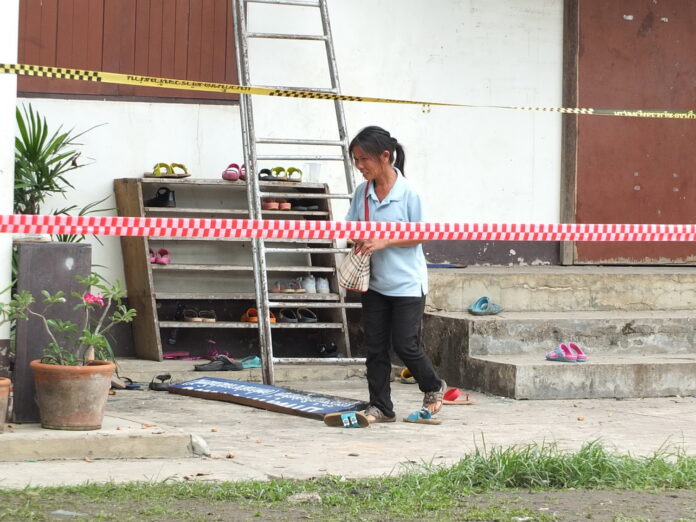 CHIANG RAI — When the fire broke out on the ground floor of Pitakkiat Witthaya boarding school just before midnight on May 22, all of the schoolchildren were fast asleep on the second floor. The girls were said to be still sleeping when toxic fumes seeped into their room.
Because the all-girls school was not equipped with any smoke detector, many of the victims died without ever realizing there was a fire. By the time the blaze was doused, 17 young girls were dead.
"The kids didn't have a chance to flee," Bussakorn Saensuk, a fire safety expert who inspected the scene of the burned-out dorm, said by telephone Friday. "This is why we need to have smoke detectors. Even if you have proper fire exits, but if the kids couldn't wake up and weren't alerted of the fire, it's useless."
Bussakorn, who works with the Engineering Institute of Thailand, added, "Having a smoke detector should be the first priority."
Like other public buildings, the dorm at Pitakkiat Witthaya school is required by law to have safety equipment like smoke detectors and fire alarms, yet enforcement is lax and violations very rarely punished.
On Monday, the police told grieving parents they had ruled the fire an unfortunate accident, meaning no one will be charged with any crime. Winai Pisailert, father of a girl killed in the fire, said he and other victim families had doubts about the police's decision and will consult with independent experts about whether the fire was indeed unpreventable as said.
Pitakkiat Witthaya is run by a Christian charity called Panthakit Suksan Foundation. Its directors have yet to agree to any financial compensation to parents of the 17 victims, Winai said.
"This is not about the amount of money, large or small," Winai said. "I just want them to show some responsibility."
Malleable Law
According to a 1997 law, three fire items must be installed in all public buildings: fire exits, smoke detectors and fire extinguishers. But Songtham Allapach, deputy commander of regional police, said the school dorm was built years before the law was enacted, so police did not consider it in violation.
"It has nothing to do with smoke detectors,"  Pol. Maj. Gen. Songtham said. "They didn't have to install that. The building is really old."
Songtham said inspection of the building falls to the Ministry of Social Development and Human Security, since it has jurisdiction over charity foundations registered with the agency.
If Panthakit Suksan Foundation passed the inspection by the ministry, Songtham reasoned, it must be in compliance of regulations and codes.
Pathita Samutharin, a ministry official, said the foundation obtained its license as a charity in 1983, long before fire regulations came into effect, so all the officials could do was to "reprimand" the directors and tell them to update their fire alarm system to comply with what's now in the law books.
"We already inspected there. There was no fire exit. There were fire extinguishers, but no fire alarm. We have already reprimanded them," Pathita said.
Bussakorn from the Engineering Institute of Thailand said such apathy is common across Thailand, and therefore why so many buildings aren't up to fire safety standards.
According to Bussakorn, local officials are required by 1997 fire safety law to inspect outdated buildings and order their owners to comply with current regulations. If the officials did not push for the compliance, and usually that's the case, nothing would happen.
"We have to rely on the enforcing officials to inspect the buildings and order them to fix it," Bussakorn said, adding, "In my reading, there's not much of a punishment. So people are not enthused to follow the laws. This issue is very old, it's been going on for a long time already, but no one campaigned for the public to see its importance."
She said she can't think of one incident in which building owners were punished for failing to comply with the inspection.
"The law isn't severe," Bussakorn said. "It's just like motorcycle safety helmets. The law [on that] is so laxly enforced. Even basic safety issue like that, very few people comply."
Winai, whose 11-year-old daughter perished in the fire, hoped that same tragedy of lax enforcement will not be repeated in the future.
"The flaw in the dorm where my child died, I want it to be a lesson for the state agencies to check safety of other dorms and foundations," he said.
Patitha, the official from the Ministry of Social Development and Human Security, said authorities did learn some lesson, and enforcement will be more serious from now on.
"Our new policy is that we will recheck all the places," Patitha said. "It means that all the charity foundations will have to renew their license on a year-by-year basis … we will inspect them and order them to comply with current laws."
Bussakorn said she also felt that authorities are stepping up efforts to regulate fire safety in the wake of the deadly fire in Chiang Rai.
"I think officials are becoming more active. They carry out inspections more often, which is good," she said. "But it's something that's owed to a violent incident. Our country is like this. Some people have to die first."
Related stories:
Engineers Cast Doubt on Police 'Light Bulb' Explanation For Deadly School Fire
Parents Held Big Dreams for Children Lost in Fire. Now They Want Answers
Students to Bed Down Again at School Where 17 Girls Just Burnt to Death