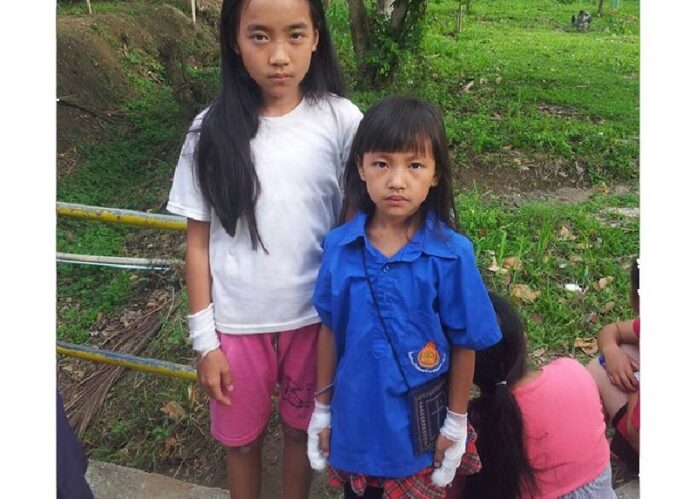 CHIANG RAI — The charity-run dormitory where 17 schoolgirls died Sunday night was not equipped with a single smoke detector, its director said today.
Five days after young survivors said no alarm was raised when the fire killed their classmates, school director Rewat Wassana said in an interview that the dormitory did not have smoke detectors installed. Rewat said he and other staff were questioned by police Thursday, and the officers are still trying to determine the cause of the fire. He said police have not ruled out any possible cause, including arson.
Police Tight-Lipped About Cause of Fire That Killed Schoolgirls
"At this moment, there is no conclusion yet about what caused the fire," Rewat said.
Despite an apparent violation of safety regulations which mandate smoke detectors and fire alarms, police have yet to level any charges in the aftermath of the fire at Pitakkiat Witthaya School, which housed economically disadvantaged hill tribe children, citing the need for a more thorough investigation.
Police have declined to confirm the fire was caused by a malfunctioning light fixture, as a regional forensics examiner told a Reuters reporter.
The exterior of the Pitakkiat Witthaya School in Chiang Rai province shown Monday after the fire.
Thirty-eight girls were sleeping in the room when a fire broke out at about 11pm on Sunday. Sixteen died in the fire. One 11-year-old girl, Pornnapa Pisailert, reportedly died after leaping from the second floor dorm and breaking her neck.
Five of the girls were buried Thursday. The remains of 12 are still being identified by forensic examiners. 
Asked whether any smoke detectors were installed in the dorm where 38 children slept, Rewat seemed confused by the question.
"What do you mean?" he said.
After some explanation by a reporter, the school director answered in the negative.
"We don't have that type of alarm system, but we have other systems," he said without elaboration. He then dropped the call. Reached again, he said he could not speak because he was meeting with a high-ranking police officer.
A body is lowered from the second-story window where 38 girls were sleeping Sunday when a fire broke out at the Pitakkiat Witthaya School in Chiang Rai province.
At least three laws require schools and student dormitories to be equipped with smoke detectors, fire alarms and fire exits.
A lack of early warning was said to contribute to the high number of fatalities in the fire. Witnesses and survivors told the media that most of the students were sleeping in the dorm when the fire broke out, and those who made it out said the fire was already raging when they escaped.
Eleven-year-old survivor Suchada Kong-asa said she had woken up to use the toilet downstairs when she discovered the fire, which was already burning fiercely. No alarm was raised, said Suchada, who suffered burns to her hands and feet.
The school is run by a Christian charity called Panthakit Suksan Foundation, which is headed by Rewat's wife, Pim Wassana. In an effort to provide education to poverty-stricken hill tribe families, the foundation opened and registered the school in 2008, Rewat told local media Monday.
Fire-ravaged interior of the Pitakkiet Witthaya School in Chiang Rai province
As of Thursday, Chiang Rai police commander Thanayin Thepraksa said no one has been charged with any crime because police needed more time to complete their investigation.
"Please be patient," Maj. Gen. Thanayin said. "Wait for all the information to be complete first. We are already working with haste … I'm just asking for a little more time."
Thanayin said there are still many witnesses to be questioned, and crime scene evidence to be processed.
"The forensics department has not yet given us their reports," the commander said. "Don't put pressure on them so much. They are [working as] scientists. They are not simply frying pad thai or making instant noodles. You can't just tell them to pour some hot water on it and call the job done."
Fire hazard is a frequent issue in Thailand, where safety regulations are often laxly enforced.
One of Thailand's deadliest fires happened at a poorly constructed toy factory in Nakhon Pathom province owned by Charoen Pokphand Group. Nearly 200 workers, mostly young and female, died when a fire broke out and consumed the entire building within 15 minutes on May 10, 1993.
That tragedy prompted officials to enact a set of more stringent safety measures.
Related stories:
2 Die in Fire at Major Hollywood Phra Pradaeng
Fire Engulfs 'Dinosaur Planet' Ferris Wheel Cabin
SCB Blames Fire System Upgrade for 8 Deaths