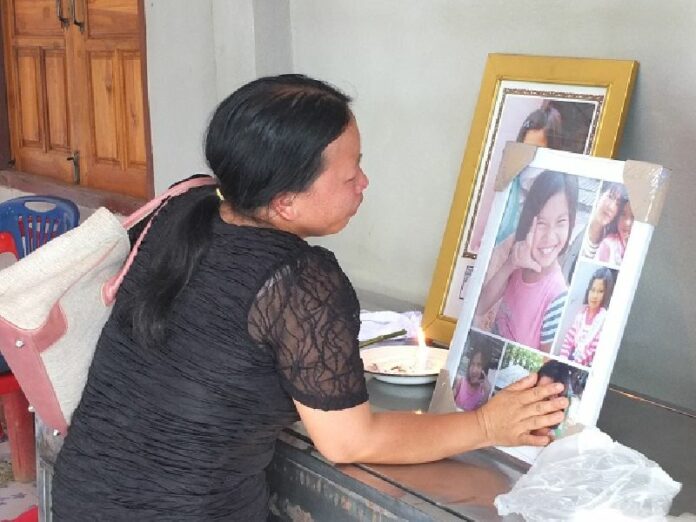 CHIANG RAI — It was 5am when Winai Pisailert received a phone call from the hospital. A woman's voice told him his daughter was seriously injured from the fire that broke out in the dormitory late night while the 11-year-old was sleeping.
By the time he got to Wiang Pa Pao Hospital, his daughter had already died.
Four years ago, the Akha ethnic father decided to send his daughter, Pornnapa "Fai" Pisailert, 11, to the Christian boarding school Pitakkiat Witthaya located 20 kilometers from their home. Even though that meant he got to see Fai only when she came home during long holidays, the Doi Chaang coffee farmer thought it was worth it for the better education she received.
---
No Smoke Detectors in Dorm Where 17 Schoolgirls Died
---
"No one wants to let their child live away from home if there is equal opportunity for education up on the hill," said the 39-year-old father.
That was the same reason Chokchai Saejang, a stateless ethnic Hmong father, decided last year to move his two daughters from their neighborhood school to Pitakkiat Witthaya.
"A teacher at the old school told me this school was good at teaching," said the 30-year-old corn farmer. "Also, I myself am Christian, so I wanted my children to stay in the dorm, so they can also grow spiritually."
That dorm, where no smoke detectors or fire alarm warned the girls, is where 9-year-old Supa and 7-year-old Suwira died May 22.
Now both fathers who dreamed of better educations for their daughters are frustrated by the stalled investigation into their deaths, as well as a lack of accountability by those responsible and the absence of support for what they've been through.
After the fire's horror was made public, the information shared was that Pitakkiat Witthaya School is operated by a Christian charity called Panthakit Suksan Foundation to provide education mostly for children from impoverished hill tribe families.
That education was not free, however. Winai said he paid tuition and the dormitory costs for his daughter. Chokchai said he didn't have cash to pay, but gave the school as much rice as he could afford, and the school covered what he could not.
Fire Unnoticed for 13 Minutes
On the morning of May 23, a Monday, Chokchai got to the school at 4am. The fire had already run its course. He could not find his two daughters.
Considering just how close the burned-out dormitory was to municipal facilities such as a police station and district offices, doubts were raised in the father's mind.
"The fire could have been an accident," Winai said. "But if authorities worked faster, not as many kids would have died like this."
The school is not over 500 meters from Wiang Pa Pao Police Station, and the district office sits across the road.
Wiang Pa Pao commander Prayad Singsin insisted police did their best. Records of all actions in detail are available to any suspicious members of the public, he added.
"I believe the fire started before 11pm, but we were notified at 11:13pm," he said. "The fire truck arrived fast at 11:24pm, and we did our best, but the flames had already spread."
Grief Cut With Frustration
More than a week has passed, and Fai's body was already buried in keeping with her family's customs. The Akha father said he has received no practical help except for some donations from private companies.
On Wednesday, Winai will have to come down the mountain and across the district again to register for help before Chiang Rai Gov. Boonsong Techamaneesathit will hand over donated funds at a press event on Friday.
"I don't expect much in terms of money," he said. "I just want all the related parties to show responsibility."
Chokchai said he can not understand why the investigation has moved so very slowly.
Nine days after the incident, no charges have been filed. Royal Thai Police said they expect to identify the cause of the fire this week.
Although the investigation is still incomplete, the Pitakkiat Witthaya School reopened Monday without any apparent safety inspection.
Asked about his community's needs, Winai raised the issue of unequal access to quality education up in the hills. He doesn't want to send his other two children to study far away from home.
For Chokchai, though his two daughters won't make it into university as he'd dreamed, the corn farmer still has hope for his 5-year-old boy who will soon depart for school too.
"Importantly I still have no nationality. So it's been difficult and inconvenient," said the Hmong father, who said it was not easy to get his stateless children into school.
"And even if his studies go far, without nationality, in the end he will still not have the same rights as others," he said.
Related stories:
Students to Bed Down Again at School Where 17 Girls Just Burnt to Death
No Smoke Detectors in Dorm Where 17 Schoolgirls Died
Police Tight-Lipped About Cause of Fire That Killed Schoolgirls
Fire Kills 17 Sleeping School Girls