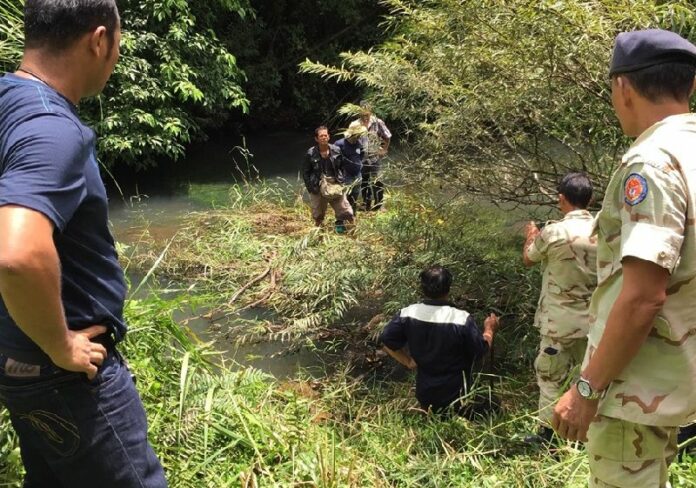 TRAT — A four-day manhunt for a missing 13-year-old girl in Trat province came to an end this morning when her dead body was found in a forest canal, three days after her alleged abductor hanged himself.
Sunita Hoisankha was last seen cycling near her home Friday before her uncle, 55-year-old Sompong Wongthong, took her and her bike onto a pick-up truck, then drove away, according to the missing person's report.
Mystery about Sunita's disappearance deepened after Sompong was found hanged in front of his home on Saturday, with no sign of the girl. Security officers widened the search over the weekend, while her family told the media they still had hope that Sunita was still alive somewhere in the forest.
A screenshot of the security camera footage that police said shows Sunita and her bicycle on Sompong's truck.
Their hope was shattered when police discovered Sunita along with her bicycle in the Huay Rang canal at around 11.30am today.
Sunita's body shows sign of murder, most likely committed by Sompong, said Col. Boonsong Peekkhunthod, commander of Trat City Police Station.
"I believe it's him," Boonsong said by telephone. "Based on the CCTV footage we saw, it was clear."
Sunita's body has been sent to the forensic police laboratory in Bangkok to determine how she died, and whether she was sexually assaulted, before police can officially close the investigation, he added.
Boonsong also said police believe Sompong acted alone, and they have not arrested any other suspects. He added that the motive behind the murder is not immediately clear.
"We don't know yet. But we know that they have had history together. They lived close to each other. They knew each other," the police colonel said.