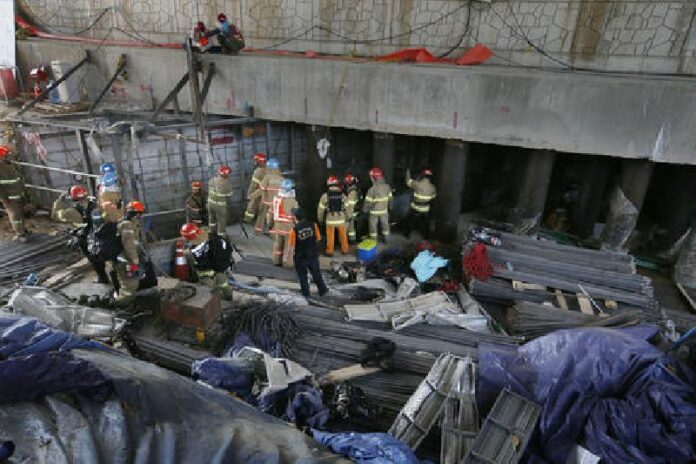 SEOUL, South Korea — Four people died and 10 others were injured after an explosion at a subway construction site on Wednesday near the South Korean capital of Seoul.
The workers were welding iron bars 15 meters underground when the explosion occurred in the morning, said officials from the Gyeonggi Province Fire and Disaster Headquarters, who didn't want to be named, citing office rules.
One worker was found dead above ground, his body possibly blown upward by the force of the explosion, while three others were found dead underground. Three of the injured were seriously hurt, the officials said.
The cause of the explosion wasn't immediately known. An official from the Namyangju fire department, who also didn't want to be named, citing office rules, said a gas tank used for the welding operations might have exploded.
The accident is the latest addition into a long list of deadly safety accidents in South Korea, where, despite a period of soul-searching after a 2014 ferry disaster that killed more than 300 people, safety issues continue to be overlooked.
There was public outrage about the death of a 19-year-old subway worker who was hit by a subway train on Saturday while doing maintenance work on screen doors on a station platform in Seoul. Critics have questioned the labor policies at Seoul Metro, the subway operator, asking why the man was working alone when safety regulations require at least two for such jobs.
Analysts say many safety problems in the country stem from little regulation and wide ignorance about safety in general — and a tendency to value economic advancement over all else.
Story: Kim Tong-Hyung / Associated Press