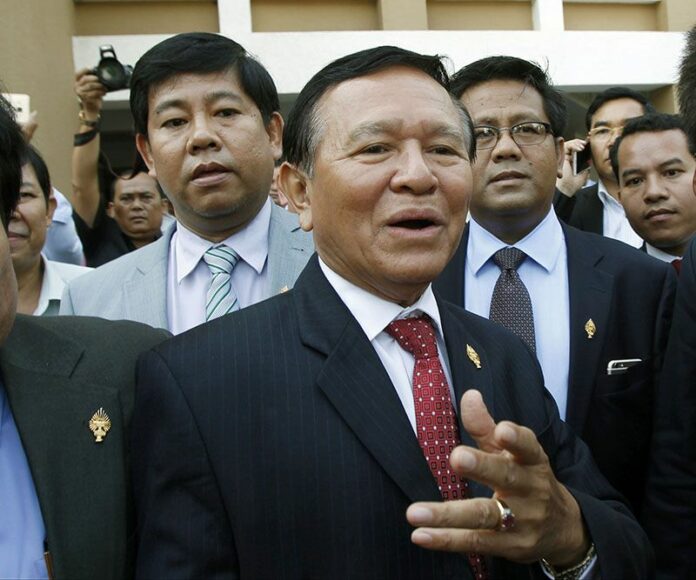 PHNOM PENH, Cambodia — Armed security forces raided the headquarters of Cambodia's main opposition party and surrounded the car of its No. 2 leader Thursday in an apparent attempt to apprehend him, but left empty-handed after not finding him in either place, witnesses and officials said.
Opposition leader Sam Rainsy said on his Facebook page that police entered the Cambodian National Rescue Party headquarters looking for his deputy, Kem Sokha. A little while earlier, policemen wearing flak jackets and brandishing guns had stopped Kem Sokha's white SUV on a Phnom Penh street.
"I can only confirm to you that Kem Sokha's car was surrounded by police with guns," party spokesman Yim Sovann said. "I think … they want to arrest him," he said. He declined to say where Kem Sokha was.
Kem Sokha in recent weeks has ignored several court summonses to answer questions over defamation complaints, one by his alleged lover, a hairdresser.
The raid came hours after Sam Rainsy criticized the government's plan to hold elections next year. He said the polls would be neither free nor fair since Prime Minister Hun Sen has thrown several opposition members and rights activists in jail.
"Taking full advantage of its control over the judiciary, which it blatantly uses as a tool for political repression, the government gets an increasing number of its opponents and critics – including leaders and members of the civil society – arrested and jailed on fallacious charges," wrote Sam Rainsy, who is in self-imposed exile because he fears being arrested.
"The current political repression – and with it the climate of fear and intimidation – must first be put to an end before anybody can talk about free and fair elections."
Hun Sen announced Wednesday that he will hold local elections in June 2017 and general elections in July 2018.
Sok Eysan, spokesman of the ruling Cambodian People's Party, disputed Sam Rainsy's claims, saying the political atmosphere is calm and the government is not impeding the activities of any people or political parties.
"Contrary to what Sam Rainsy has said, nowadays, I don't see any intimidation or repression against any people, the civil society or political parties by the government," Sok Eysan said.
Authorities recently arrested five human rights workers and accused them of attempting to cover up an alleged affair between Kem Sokha and the hairdresser. Ou Virak, a prominent social and political analyst, was sued by the ruling party for suggesting online that the government's actions regarding the scandal amounted to a political set-up.
Hun Sen has been in power for three decades. While Cambodia is formally democratic, his government has often applied physical and legal pressure on the opposition. The opposition also accuses the ruling party of stealing the 2013 general elections.
In an unusually strong statement posted on its Facebook page, the U.S. Embassy in Cambodia expressed concern about the actions targeting Kem Sokha.
"The deployment of paramilitary forces at the Cambodian National Rescue Party (CNRP) headquarters and armed confrontations with CNRP supporters on May 26 are disproportionate and dangerous steps," the embassy said. "We call on the government to refrain from using unnecessary force and urge the government and CNRP to resume dialogue immediately to find a peaceful resolution to the crisis."
Story: Sopheng Cheang / Associated Press