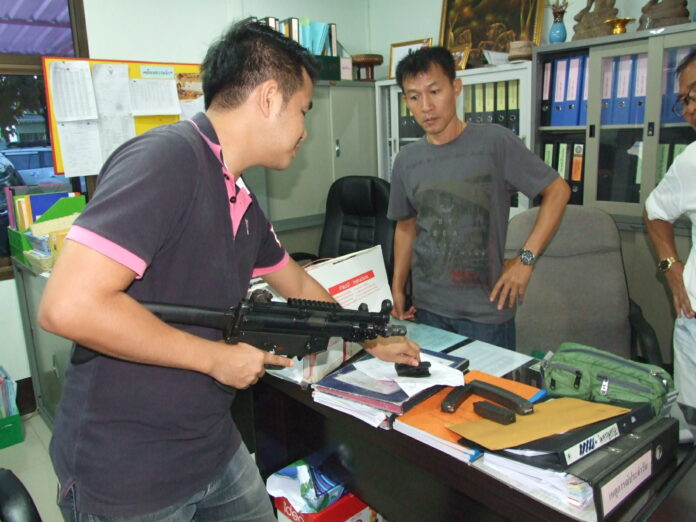 UDON THANI — A businessman from the northeast is under investigation for trying to mail a submachine gun to an associate in Songkhla province, where Muslim separatists have battled security forces for over a decade.
Although the weapon appeared to be properly registered, police said they want to know why someone would send a firearm to the sensitive region.
"We want to know why he wanted to send it to Songkhla," said Sitthiporn Tharakullathip, deputy chief of Udon Thani City Police Station. "It's an area that has security issues."
Lt. Col. Sitthiporn said staff in the cargo section at Udon Thani's airport alerted police Thursday after they scanned parcels and found what looked like a firearm in one.
According to Sitthiporn, police confirmed it was a submachine gun and contacted the registered sender, a rubber plantation owner named Witthaya Nitipant, 34.
Witthaya reportedly told police he bought the gun from his friend in Songkhla province in February 2015 and wanted to mail it back to the seller for repair because the weapon jammed when he was shooting targets recently.
However, Sitthiporn said police are checking whether the weapon was linked to any crimes, though he added it was properly registered.
Songkhla, a major destination for Malaysian tourists, is often targeted by insurgents seeking to secede the three southern border provinces.