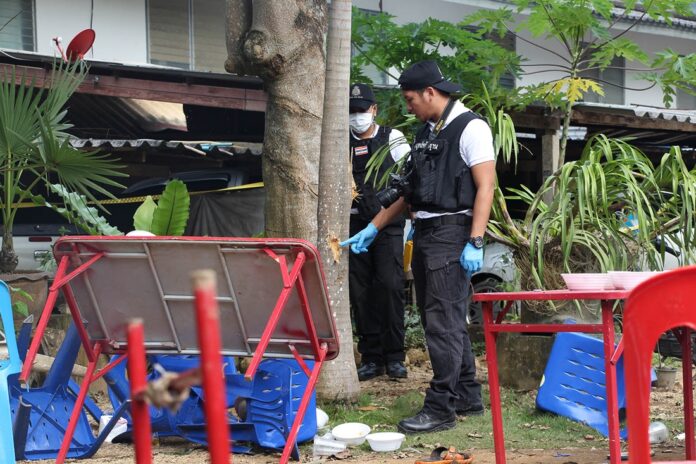 YALA — When someone opened fire on policemen dining in Yala province, killing two and wounding 16, it wasn't the separatists who've battled security forces there for over a decade, but one of their own, prompting a massive manhunt still underway Thursday.
The alleged gunman, Cpl. Hassapol Soprakon, was described by his commanders as a troubled policeman who finally snapped Tuesday night after his supervisors refused his request to be reassigned away from the region where insurgents stage attacks on a near-daily basis.
Crude Cluster Bomb Kills 1 in Night Market, Injures Dozens
"We haven't found him yet, but he turns on his phone sometimes to call his friends, so we have asked them to help convince him to surrender," Col. Kritsada Kaewchandee, acting commander of the Yala police force, said. "They are telling him to think about his kid."
Hassapol, 28, is likely still armed with the M-16 assault rifle he used in the shooting rampage two nights earlier. "He's very dangerous," Kritsada said.
The shooting took place in the garden of Batutamong Police Station, where policemen and their families were eating and drinking together Tuesday night. Witnesses said they saw Hassapol – who served as a squad leader – retrieve the assault rifle earlier from the armory, but they thought he was heading out on patrol.
A witness, the wife of another officer, also heard Hassapol muttering to himself.
"You damned lot are all so happy right?" Kritsada said he was reportedly heard grousing as he left the building.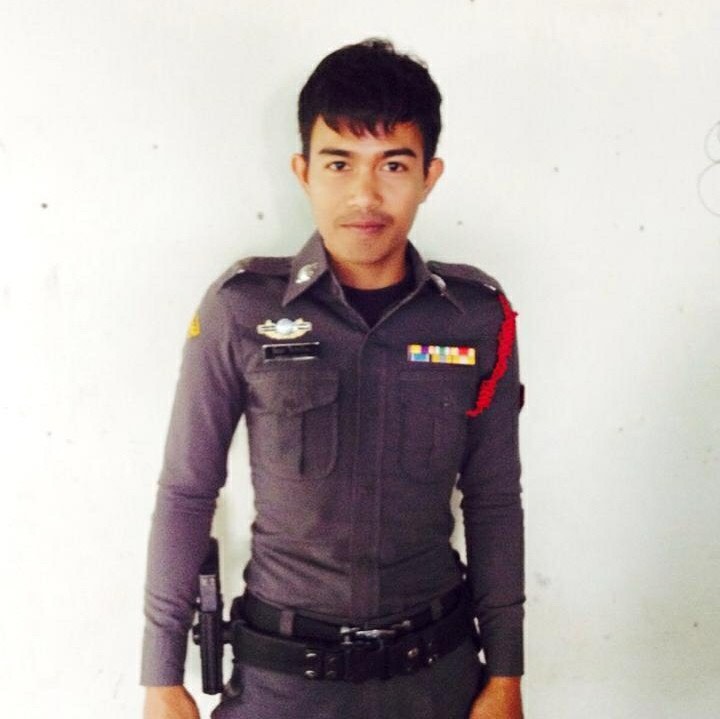 Seconds later, Hassapol discharged his rifle at the policemen and their families, killing two officers and wounding 16 people, including four women. He soon fled the scene.
Kritsada blamed Hassapol's actions on stress. The policeman had asked to be transferred out of Yala, only to be denied by his supervisors. Kritsada said the commanders only learned recently that Hassapol's wife back in his home province of Buriram left him for a foreign man, leaving his 4-year-old son in the care of his parents.
"He should have told his commanding officer about his problems, so the commander could solve them," Kritsada said. "Perhaps they could have moved him back to Buriram."
Hardship Post
Members of the police force universally dread being posted in the southern border provinces of Pattani, Yala and Narathiwat, where police stations and officers are prime targets for militants fighting for independence from Thailand.
More than 6,500 people are believed to have died in the region since secessionist violence broke out in early 2004.
Kritsada said he sympathized with Hassapol and other officers who want to work somewhere safe "I wanted to move out, too, but my boss asked me to stay and help," he said with a laugh.
But regulations don't allow policemen to choose their assignments.
"They don't have right to transfer themselves, otherwise all of the cops would be gone," Col. Kritsada said. "It reflects the reality that this area is a dangerous place. Puu Yai (senior bureaucrats) should give importance to this issue."
In the aftermath of Tuesday night's rampage on, all police stations in Yala were ordered to ask their officers whether any of them have any stress issue. Anyone who wishes to take days off would have their wishes granted, Kritsada said.
"But some people like to keep their stress secret," the colonel said. "They're afraid that if they report their stress, they will be considered unfit for duty and expelled from the force. So he kept it inside. And in the end, it exploded like this."