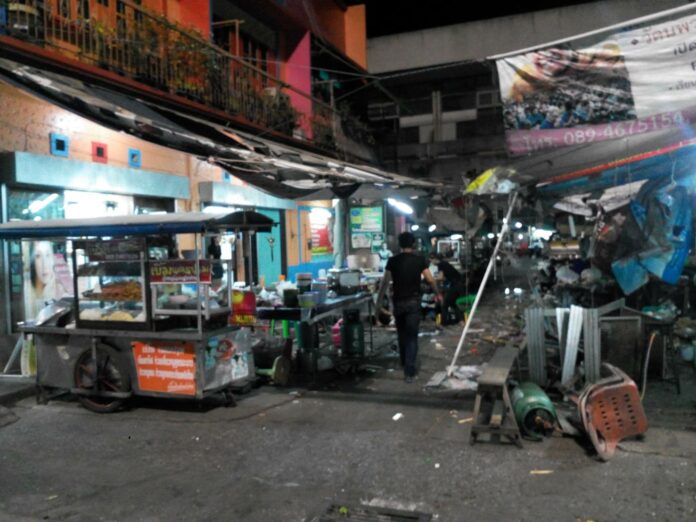 PATTANI — A homemade cluster bomb exploded Monday evening at a night market in Pattani, killing one and injuring dozens.
The device detonated at 7pm in front of a noodle shop in a Pattani city night market, killing Somporn Kuntakapan, 60, and injuring 21 others. The injured were taken to Pattani Hospital for treatment; three were in critical condition.
The explosives were packed in a metal box filled with explosive pellets instead of the usual inert shrapnel, police Capt. Pakbhumi Chantarangsri said.
He believes that more people were injured in the blast but chose to go home instead of the hospital.
Police did not know who planted the bomb or when it was placed, Pakbhumi added.
The attack fits a pattern of increased targeting of civilians in the bloody insurgency that has raged for a dozen years in the three southernmost border provinces. Separate attacks have hit a rail line, school and hotel since August.
The separatist umbrella group BRN has reportedly taken credit for a series of coordinated attacks that hit seven provinces at the outset of the Mother's Day holiday in August, killing four people.
The military government has played down the developments, saying progress is being made in bringing peace through bilateral talks.
Pakbhumi said the perpetrators, if caught, would be charged with premeditated murder, terrorism and carrying explosives.