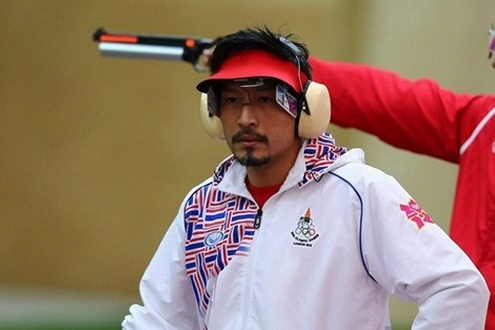 BANGKOK — The wife of professional shooter and star athlete Jakkrit "Ex" Panichpatikum was sentenced to die Monday for plotting her husband's 2013 assassination.
In their verdict, Criminal Court judges said Jakkrit's wife, physician Nitiwadee "Nim" Pucharoenyos, hired a middleman to pay a hitman to kill Jakkrit as he sat in his Porsche at a Bangkok intersection on Oct. 19, 2013. The court handed death sentences to both Nitiwadee and the middleman, while the gunman and his getaway driver were sentenced to life in prison.
They rejected the public claim of guilt by Nitiwadee's mother, Surang, who a month after Jakkrit's murder made a dramatic televised confession. She claimed to have arranged for the 40-year-old athlete's death because he was as serial wife-beater.
"It was in the court's view that she wanted to take the blame for her daughter," said Boonrueng Uthairat, the attorney representing the slain athlete's family.
He said her confession fell apart in court.
"She kept changing her testimony back and forth," Boonrueng said. "Let me respectfully spell it for you here: the court is not stupid."
The two condemned defendants are expected to file appeals. Under the law, executions can only be carried out after an appeal is heard by the Supreme Court.
After the verdict was read, Jakkrit's mother, Boonkid Panichpatikum, said she was satisfied and has forgiven those who plotted her son's death.
"Personally I have forgiven their trespasses long ago. I want Ex to go peacefully, so I forgave them," Boonkid said tearfully. "Now I'm only worried for the future of my two grandchildren."
A colorful athlete known for his maverick personality and rocky relationships with his peers, Jakkrit's death came as he was embroiled in allegations of domestic violence. He once confessed to firing a handgun in anger at his home during a heated argument. He also spent a week in prison four months prior to his death for beating her.
Jakkrit's killing and the subsequent revelations that Nitiwadee was implicated in his death dominated news coverage and served as tabloid fodder for weeks. Upon surrendering herself to police, Nitiwadee's mother Surang said she could not stand Jakkrit's behavior.
"I could not endure seeing my daughter being hurt," Surang said in November 2013. "A mother hurts many more times than her child."