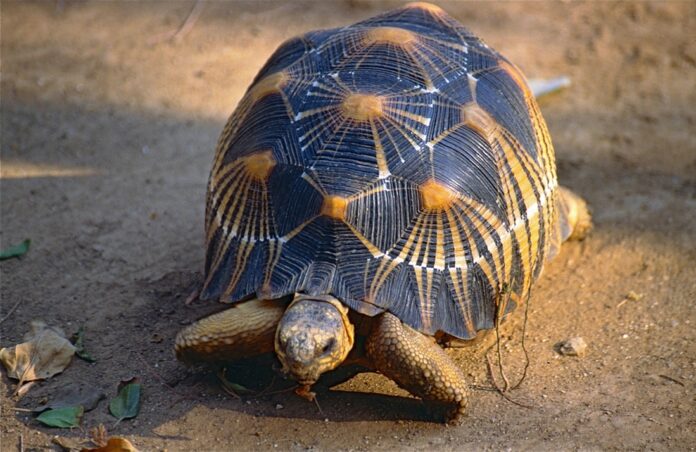 CHONBURI — Sixty-five tortoises, some critically endangered, have gone missing from a breeding center in Chonburi province in what a senior wildlife official said Sunday was likely an inside job.
For the second time this year, thieves plundered the the Bang Phra Wildlife Breeding Center and made off with extremely valuable wildlife. Among the creatures snatched up by two masked men in the early hours of Saturday included three radiated tortoises, a critically threatened species.
"Police suspected that it was done by one of the staff at the breeding center," Adisorn Noochdamrong, deputy director of the wildlife department, told reporters Sunday.
Security camera footage shows two masked men breaking into the Bang Phra Wildlife Breeding Center at about 3am and taking away the animals, Adisorn said. Apart from the three rare radiated tortoises. The other stolen animals included 62 star tortoises.
Each radiated tortoise could fetch about 20,000 baht on the black market, while the star tortoises are worth up to 2,000 baht apiece, Adisorn said. Known in Thai as "starlight turtles," radiated tortoises are prized among some of the moneyed folk as lucky animals that would bring them fortune.
Incidentally, the break-in took place only two days before the celebration of today's Wildlife Protection Day.
It's not the first time the breeding center in Chonburi province failed to protect its animals. In June, 78 tortoises were stolen, including six uniflora tortoises and 72 radiated tortoises. They were likely sold for at least 3 million baht, officials said.
Although criminal and internal investigations were launched, the thieves were never brought to justice.