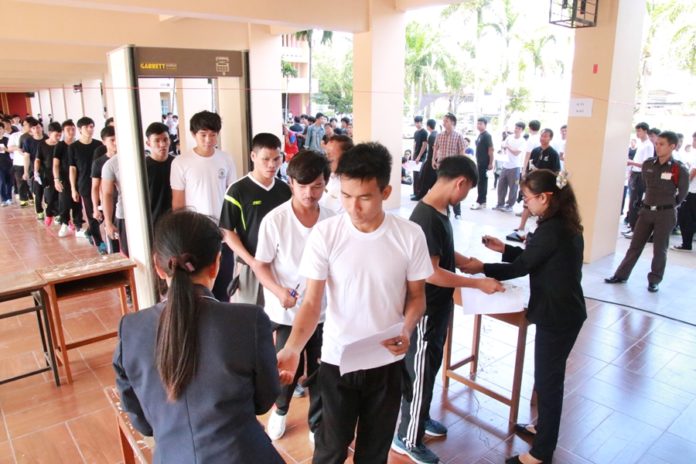 BANGKOK — A recent entrance examination for the Bangkok police force might be nullified because of widespread fraud involving more than 300 applicants, police commanders said Sunday.
Police suspect those exam takers were in fact "hired guns" – professionals paid by some applicants to sit for the exam on their behalf. Police commissioner Chakthip Chaijinda pledged to thoroughly investigate the case and said all measures are on the table, including voiding the entire exam itself.
"I sympathize with every side. Honest people are affected," Gen. Chakthip said. "So, we must have all the facts before making decision."
As of this moment, the exam result is still not canceled, he added.
More than 13,000 people sat for the Bangkok police entrance examination Dec. 4, vying for the 1,000 open positions in the force. On Friday the Metropolitan Police Bureau's Training Center, the unit responsible for the exam, announced it suspected 347 applicants to be "hired guns," and subsequently filed complaints to a local police station.
Speaking to reporters Friday, the training center's commander, Col. Uthane Nuiphin said such "hired guns" charged their clients about 20,000 to 30,000 baht for taking the exam.
The selection process for recruits in the Bangkok police force was halted in light of the revelation, Gen. Chakthip said.
Many applicants unrelated to the fraud have voiced their frustration on social media that their future in the police force is now threatened by the ongoing investigation.
The top scorer of the exam, Panat Natiparkdi, told Matichon he's planning to file a petition to Gen. Chakthip, urging him to root out and prosecute the actual fraudsters rather than canceling the exam altogether.