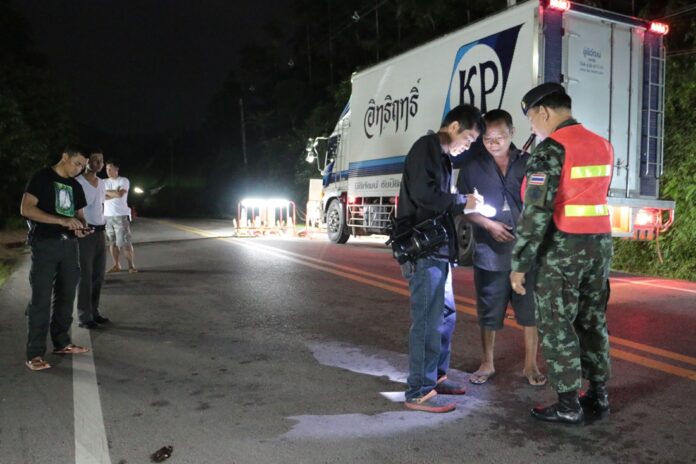 RANONG — Prasong Hun-ngam was behind the wheel of his truck, driving a full load of frozen shrimp along a jungle road from the gulf to the Andaman Sea on Wednesday night when some men waved at him from beside a stopped car.
Thinking their vehicle had broken down, 56-year-old Prasong was about to stop when he realized one of them was waving something – and that something was a handgun.
"When I saw the gun I decided not to stop," Prasong said. "When he saw that I wasn't going to stop, he shouted at two of his friends, 'Follow him!'"
The chase was on.
As Prasong sped away for his life, the highwaymen gave pursuit and opened fire on his six-wheeler. Instead of stopping to surrender his delicious and valuable load, the driver made a run for it.
To his relief, as he would later tell reporters, he tried to shake them for about five kilometers when he spied a security checkpoint manned by soldiers. His pursuers broke off and were forced to flee.
"The driver took us to show where the incident happened today," Thanee Nakhokvik, superintendent of Phato district police, said Thursday. "We are checking CCTVs to find out who did it."
The attempted shrimp-jacking took place on a quiet stretch of Highway 4006 in Ranong province that runs through hilly jungles between the Gulf of Thailand with the Andaman Sea.
The Itthirit Konsong shipping company truck was carrying seven tonnes of frozen shrimp. Prasong said he has driven the route many years without incident. Police said they found four places bullets fired from a 9mm handgun had hit the back of the truck.
Soldiers who manned the checkpoint said they have never encountered such an incident. Col. Thanee of Phato police said much the same Thursday.
"This kind of thing has never happened in this area," the colonel said. Police were treating it as an attempted robbery but could only speculate as to the ultimate motive.
He added that police would need time to identify any suspects.