'Be proud' was a song produced by Chaiyaphum Pasae to support stateless people.
CHIANG MAI — A military spokesman on Monday defended the controversial killing of a popular young ethnic rights activist in Chiang Mai province, saying a soldier shot him to death in self-defense.
An incident report furnished by the army said Chaiyaphum Pasae, a well-known advocate for stateless people's rights, was shot to death Friday morning after fleeing a vehicle checkpoint morning and brandishing a grenade when soldiers gave pursuit. He died immediately at the scene.
Supporters of Chaiyaphum online have cast doubt on the army's version of events, especially a claim he possessed 2,800 amphetamine tablets. They say he had no involvement with drugs. Some who claimed to know Chaiyaphum insisted he was 17, not 21 as stated in the army's report.
The army spokesman said today that there is enough practical evidence to support the claim that officers shot Chaiyaphum once to stop him from throwing the grenade.
"I insist that officers exercised appropriate judgment," Col. Winthai Suvaree said. "Society might judge what happened from his normal behavior which was different from what the authorities faced at the scene."
Winthai said the soldier acted suddenly to protect himself and was not overreacting. He said police can study the military's report and begin an investigation if it finds the shooting suspicious.
Those who knew Chaiyaphum said it didn't make sense.
"Since I've know him, he's been an activist kid that fights for rights," wrote Witthawat Thepsong, president of the southern ethnic network. "Recently he complained to friends that he had conflict with the military. When he drove, he was followed."
The soldier who shot Chaiyaphum was informed Sunday that he could be charged with premeditated murder, according to a provincial police commander.
Police Col. Chonlathep Maichai said the soldier fired a single shot to stop Chaiyaphum from throwing the grenade. The bullet hit him in the torso on the left side.
The police chief declined to identify the solder, saying he could not remember his name.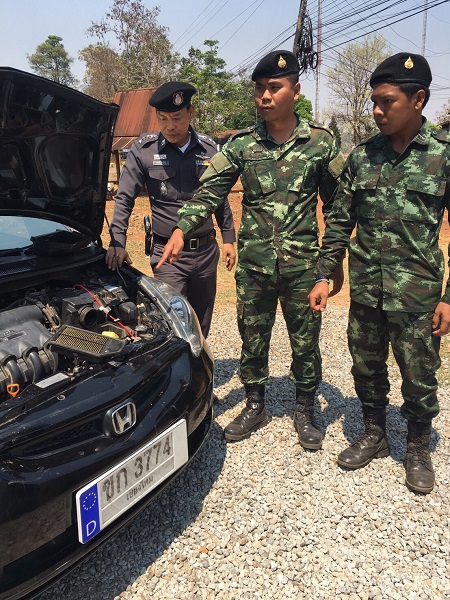 The only known witness to the incident was the 19-year-old driver of the Honda Jazz which carried Chaiyaphum. Phongnai Sangtala was arrested and taken Saturday to the Chiang Mai Provincial Court.
Winthai said Phongnai did not resist arrest and seemed unaware there were drugs in the car.
Chaiyaphum was a member of the Lahu ethnic group, a population mostly found in jungle areas between China, Myanmar, Thailand and Laos.
He was known for campaigning for the rights of stateless people and is seen in videos online singing songs he produced and leading young children in ethnic cultural performances. He was also president of an organization of youth from different ethnic groups called the Tonkla Network.
His death sparked a wide reaction on the internet, where #RIPChaiyaphum was the top trending tweet Sunday. Those who knew him shared memories and vouched for his good character, insisting he had no involvement with any kind of drugs.
"I taught this boy to make a short film. It was a tool for telling a story and asking for the rights deserved by humans," famous director Chookiat Sakveerakul wrote Sunday. "I'm still stunned and cannot believe this is real."