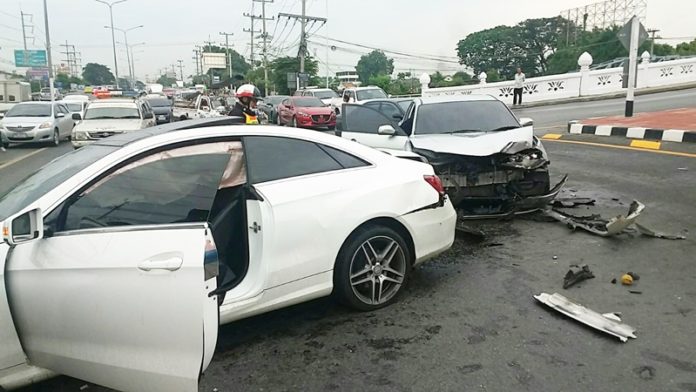 BANGKOK — Police filed charges Tuesday against a 38-year-old woman whose alleged road rage spurred by jealousy left two people hospitalized
Police identified Aticha Thongnanchai as the driver who crashed into five cars and wounded a number of people on a road in Pathum Thani province Saturday in order to chase down her husband, whom police said she suspected of having an affair.
Aticha was charged with reckless driving leading to injuries and causing property damage, according to Teerawat Khachornphas, chief of Thanyaburi Police Station.
"She has confessed to both charges," Col. Teerawat said by telephone, adding that Aticha has been granted bail.
In the dramatic scene laid out by police In the immediate aftermath, Aticha sped her Fortuner along Rangsit – Nakhon Nayok Road and crashed into five cars before coming to a stop. Police officers told reporters at the time that she was aiming to hit the Mercedes-Benz driven by her husband, whom she believed was with a mistress.
Manager newspaper reported after the accident that police were pressured by an unknown party not to disclose information about the incident.
Asked about the sequence of events, Teerawat would not confirm it.
"She has not yet given testimony about that," the colonel said.
He added that two people remain in hospital; a man who required 18 stitches in his head and a woman who suffered bruises and possible internal injuries. More charges will be filed against Aticha if they are hospitalized more than 20 days, Teerawat said.