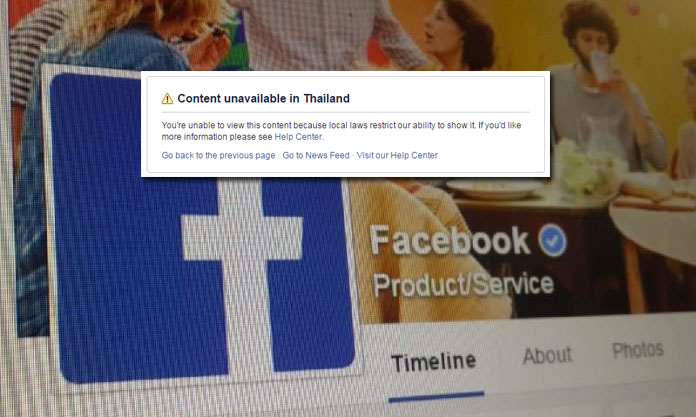 BANGKOK — Facebook will not block 131 items deemed defamatory to the monarchy by the government until it receives proper court warrants, an intermediary between the government and social media giant said Tuesday.
Facebook, used by nearly half the population of Thailand daily, was ordered by the military government to block the content or face legal action, or even outright shutdown. The chairwoman of a group of internet service providers, who serves as the intermediary, said the company has reiterated its policy for complying with such requests.
"They [Facebook] said the request to block 131 URLs lacked court orders in the documents, and they said that if the documents are completed, they will proceed with the requests," Morakot Kulthamyothin, president of the Thai Internet Service Provider Association, said by telephone.
She added, "It's progress."
Update: Facebook Threatened on Belief Govt Had Warrants it Didn't
By Tuesday morning, the Ministry of Digital and Social Economy has applied for 34 of the 131 offending URLs, with more to follow in the near future, Morakot said.
"I saw good cooperation from Facebook," she said. "We work under universal standard, which is based on laws and court orders, not just the judgement of anyone."
It doesn't seem to signal any shift from Facebook's established position, however. It has stood by its policy to only take action on valid government requests supported by court orders. In recent years it has made a number of items inaccessible to users in Thailand. According to its limited disclosure of such requests, it blocked 40 items in the second half of 2016.
On Thursday, telecommunications regulators threatened legal action against Facebook if it didn't block the content. A press conference will be held this afternoon at the National Broadcasting and Telecommunications Commission.
Read: Regime Threatens Facebook With Computer Crime Act
Details of the 131 URLs identified by the government to be defamatory have not been made public.
Insulting the monarchy is punishable by up to 15 years in prison. Since the military seized power nearly three years ago, an increasing number of people have been prosecuted or jailed for making remarks on Facebook the authorities said insult the Royal Family.
Asked whether these requests will harm rights of online expression, Morakot, whose organization represents 19 landline and mobile ISPs, replied in the negative.
"It's not related, because this content were found by judges to be illegal information," Morakot said. "It's not like anyone can order it … Facebook also respects Thai laws. Every country has its own laws."