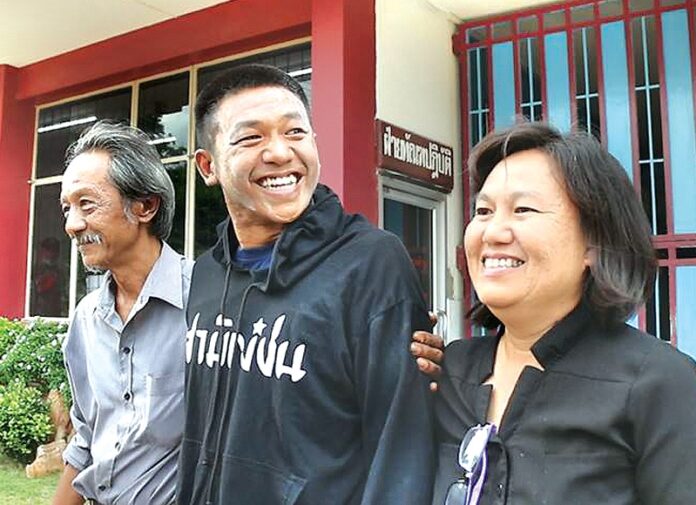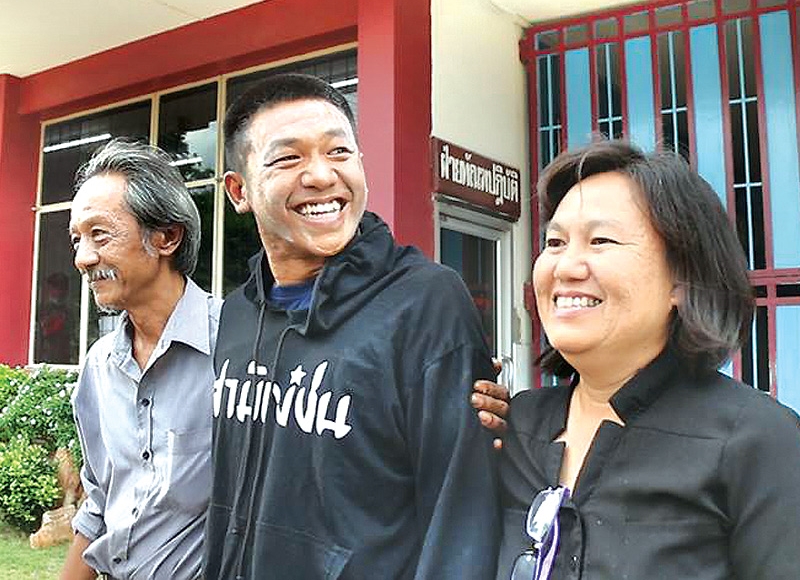 Update: Prosecutors indicted Jatupat on Friday in a closed court session under Article 112 and the Computer Crime Act as expected. He pleaded not guilty to both counts. The next hearing is March 21.
BANGKOK — Prosecutors will recommend that activist Jatupat "Pai" Boonpattararaksaup be tried for lese majeste law and violating the Computer Crime Act, an activist involved in his defense said Thursday.
Nuttaa Mahattana, who's led a campaign for Jatupat's release, said she learned from one of his lawyers, Pawinee Chumsri, that prosecutors planned to go forward with the case stemming from a story about King Rama X he shared online late last year.
"I felt that it would come to this point. It would have been good had he been granted bail to fight the case," Nuttaa said.
Read: No Place in Democracy For Lese Majeste, UN Expert Says
Viboon Boonpattararaksa, Pai's lawyer father and legal counsel, said he was not yet worried.
"Actually the legal team is not worried about the trial," Viboon said. "What we are worried is that the process may not proceed as it should."
Last month, Jatupat said he'd given up on receiving justice when the court held a secret hearing to deny him bail a fifth time. The court had briefly freed him soon after his arrest in December but soon rescinded it and jailed him again for complaining about the cost of his bail bond.
Jatupat was arrested in early December for sharing a critical biography of the new King written by BBC Thai on Facebook. He has been held for 50 days so far, Nuttaa said. He was denied bail a sixth time on Wednesday, and Friday was to be his seventh and final remand hearing as prosecutors must either charge or release him.
Nuttaa said Jatupat would be brought from the Khon Kaen Provincial Prison to the Criminal Court there to hear the decision. Jatupat, 25, is a seventh-year law student at Khon Kaen University and has publicly protested against the May 2014 military takeover.
He's a member of the Dao Din student environmental and community rights group who has associated with the New Democracy Movement and participated in pro-democracy protests.
Related stories:
Denied Bail for 5th Time, Activist 'Pai Dao Din' Gives Up
Cavity Searches and Pending Graduation Worry Jatupat Friends
Court Denies Bail to Activist Suspect in Lese Majeste Case
Authorities Visit BBC Thai Offices, Block Article Online
Activist 'Pai Dao Din' Freed on Bail After 112 Arrest