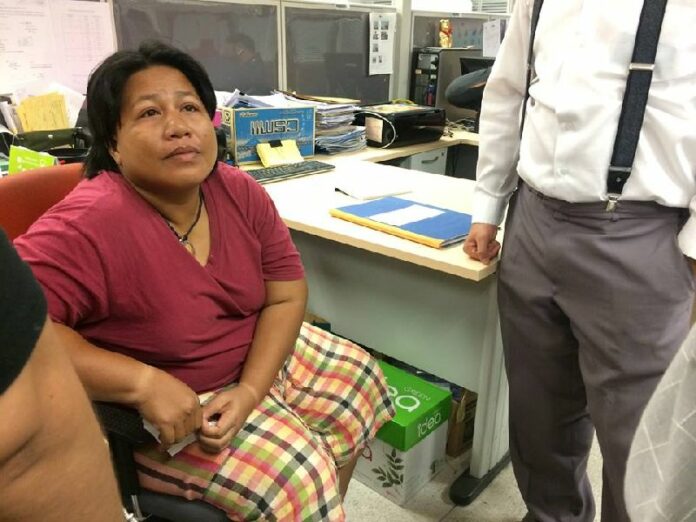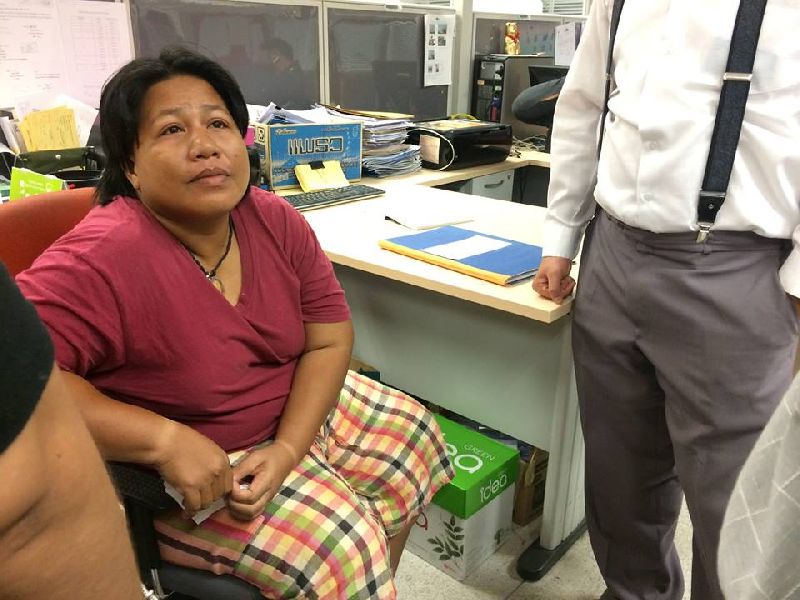 BANGKOK — Patnaree Chankij, the mother of a prominent student activist, never sent a single message insulting the monarchy, police said Friday evening as they denied her release.
However, it was the fact she received such messages but made no effort to reprimand their sender for which she will be tried on a royal defamation charge, Patnaree's lawyer told reporters at police online crimes headquarters in the first known instance of someone charged under such reasoning.
---
Anti-Junta Activist's Mother Charged With Royal Defamation
---
According to Teerapan Pankeeree, a member of Thai Lawyer for Human Rights group, police told him Patnaree was contacted via Facebook chat by activist and lese majeste suspect Burin Intin, who sent her messages that were deemed insulting to the monarchy.
Although Patnaree did not respond to those messages, her failure to reprimand Burin meant she condoned the sentiment, and therefore counted as lese majeste, Teerapan said.
"Officers interpreted refusal to reprimand something is equal to agreeing with it," Teerapan said. "I think this issue will make people in the future live in a very dangerous situation."
Patnaree today denied all the allegations and will only comment about her case in court, he added.
Burin was charged last week along with seven other online dissidents for criticizing the government. He was also accused of defaming the Royal Family.
Arnon Nampha, a human rights activist and another lawyer who represents Patnaree, expressed bewilderment.
"To summarize the allegation: the fact that someone sent you messages that may violate Section 112, and you saw them, yet did not stop or reprimand [the sender], it's equal to you participating in the offense," Arnon wrote on Facebook. "Are we really walking down this path?"
Patnaree is the mother of Sirawith "Ja New" Seritiwat, who founded and leads pro-democracy Resistant Citizen group and has proven a persistent critic the junta has been unable to silence through the power of arrest, detention and various criminal charges filed against him.
The eventual decision to deny Patnaree release on bail also came as surprise to some activists who accompanied her because police investigators recommended she be freed in the report to their supervisors.
Patnaree, a 39-year-old widow and mother of three, will be detained at Thung Song Hong Police Station until Monday, upon which time she will be brought to the martial court for a hearing on whether to hold her longer.
---
Activist's Mother Catapulted into Political Fame and Fray
---
Her arrest comes as the military regime is looking to quash a surge of frustration with its tactics that has boiled over into brief, peaceful and disorganized street protests, which Patnaree's son Sirawith has been seen as a leader of.
Defaming the monarchy, a crime known as lese majeste, is a serious crime in Thailand punishable by up to 15 years per offense. Since the military seized power in 2014, it has been used against the junta's opponents who've been accused of violating the law, as well as regular citizens.
Most trials happen in secret before military tribunals.
Related stories:
Facebookers Panic Over Fears Junta 'Hacking' Accounts
Facebook Blocks Thailand From Page Satirizing Monarchy
Prayuth Defends Abducting 'Facebook Eight'
Lese Majeste Filed Against Two Facebookers, Anti-Junta Activist