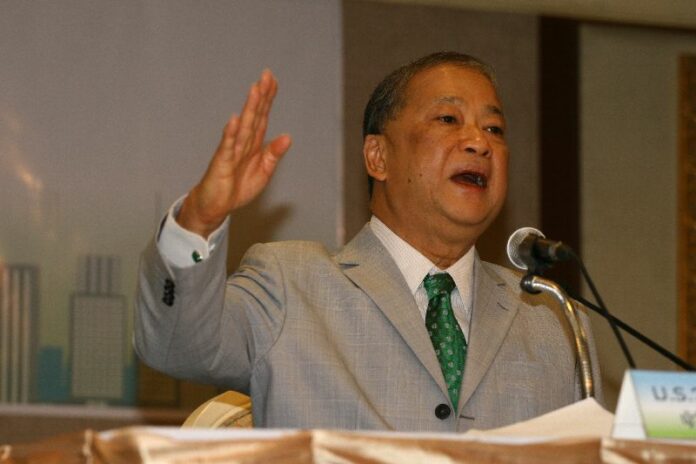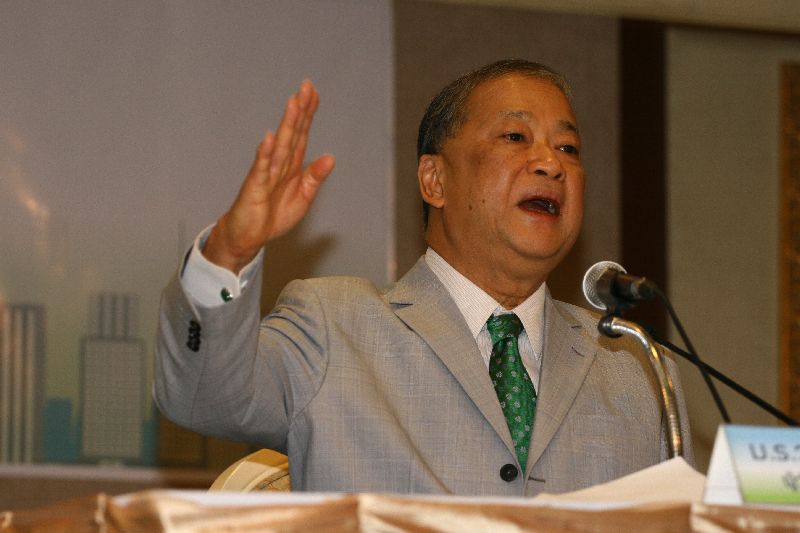 By Teeranai Charuvastra
Staff Reporter
BANGKOK — Junta chairman Prayuth Chan-ocha will not remove Bangkok Gov. Sukhumbhand Paribatra from office any time soon, his deputy said Friday.
The affirmation meant that two-term provincial governor's position is likely to survive calls from his fellow Democrats for the military government to use its absolute power to boot him from office after an investigation found Sukhumbhand directly oversaw a graft-heavy city vanity project which ran in the millions.
"It doesn't mean that any accused person has to be suspended by Article 44," said deputy Prime Minister Wissanu Krea-ngam, referring to the charter provision that granted Prayuth an unlimited ability to enact any measures, including removing bureaucrats at will.
On Tuesday the Office of the Auditor-General, a nominally independent government agency, announced it found financial irregularities in the 39-million baht New Year light show, a project overseen by Sukhumbhand.
The project actually cost only 29 million baht – a fact the public was kept in the dark about until Tuesday's report was released. Its findings also urged the National Anti-Corruption Commission to prosecute the case in court under anti-graft laws, which carry a maximum penalty of five years in jail.
Bangkok Governor Sukhumbhand Paribatra at Wednesday's news conference.
The light show, called Motif of Light, ran from Dec. 30 to Jan. 30 in front of City Hall. Investigators said Curio Tour and Travel Co., the private contractor, also won the bid under shady circumstances; for instance, the company was registered as a tour operator and never had any prior experience setting up light shows.
In light of the investigation's results, former Democrat MP Vilas Chanpitak, who brought the case to the Auditor-General, called upon Sukhumbhand to show responsibility by resigning. If the governor refused, Vilas said, then junta leader Prayuth should intervene and remove him by Article 44.
Although Prayuth has invoked Article 44 to suspend or fire officials accused of corruption before, Wissanu said those cases "happened long ago" whereas the accusation against Sukhumbhand is a new issue that needs more investigation.
Sukhumbhand himself said on Wednesday's news conference that he would not quit, as he insisted that the light project was free of any corruption.
He also threatened to sue anyone who suggested otherwise.
"Anyone who wrote this way has to be careful with the law," Sukhumbhand said. "From now on, I won't spare anyone. You see these facts. If anyone says I'm guilty, I will sue them."
Sukhumbhand, a longtime member of the Democrat party, has twice been voted into the only elected provincial governor's position nationwide, but has been all but cast out of the party by its leadership. The shadow of suspicion which has followed him over the project was one of the points of contention that saw him on the outs.
The governor said he's ready to prove his innocence in further investigations by the National Anti-Corruption Commission.
Related stories:
Disowned by His Party, Bangkok Gov. Remains in Democrat Leadership
Suthep Denies Planning New Party with Sukhumbhand
Democrats Deny Ousting Bangkok Governor