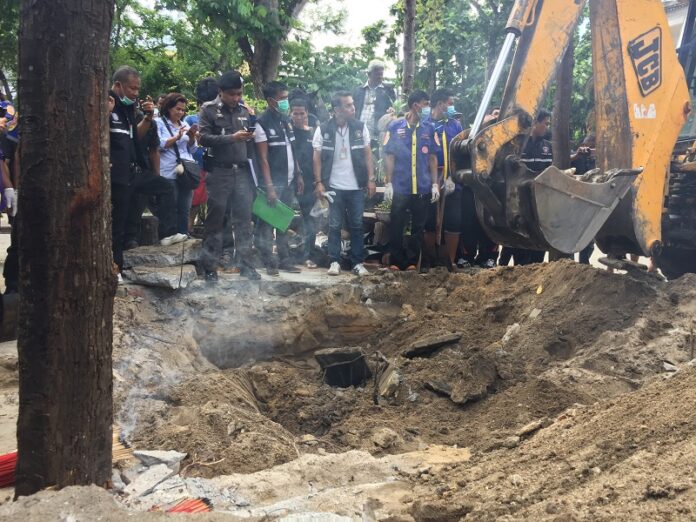 NAKHON SI THAMMARAT — Under the shade of a stand of trees and beneath a Buddha statue, rescue workers Friday morning dug up the body of a novice monk killed and buried there five months ago.
The search was launched a day after Denchai Phumniyom, who had been a monk at the temple, told police that back in January he killed a 17-year-old novice monk and buried him on the temple grounds, poured concrete over the grave and then placed the buddha statue atop it all to conceal the deed.
At the time, Denchai, 36, was a lay assistant who helped manage the affairs of Wat Wang Tawantok in Nakhon Si Thammarat province.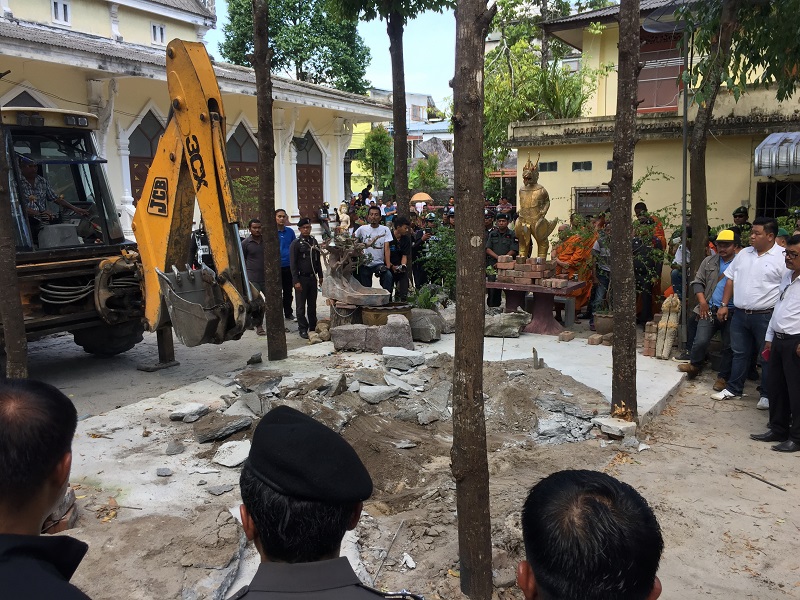 Police said Denchai and his girlfriend, Piyachat Arunsakul, managed temple revenues from such things as amulet sales and renting out spaces in its parking lot.
"Everything in the temple relied on this couple," said Police Lt. Gen. Thesa Siriwatho said at a Friday press briefing. "Everyone was under their control."
Brought to speak publicly today, Denchai said he attacked Suppachoke "Pleum" Eakkiettikul because he believed the novice stole his girlfriend's purse, which was carrying temple assets including 50,000 baht in cash, a valuable gold necklace and gold-covered Buddha amulet.
"I didn't kill him. I just wanted to teach him a lesson and force him to return the stuff he stole," Denchai said. "I beat him with a PVC pipe, but then he ran to get a knife and tried to fight me."
After beating the boy senseless, Denchai said he loaded him onto a truck. He intended to took him to hospital, but the boy died along the way. So he returned to the temple with Pleum's body to bury there.
Denchai said he decided to become a monk at the same temple because he felt guilty.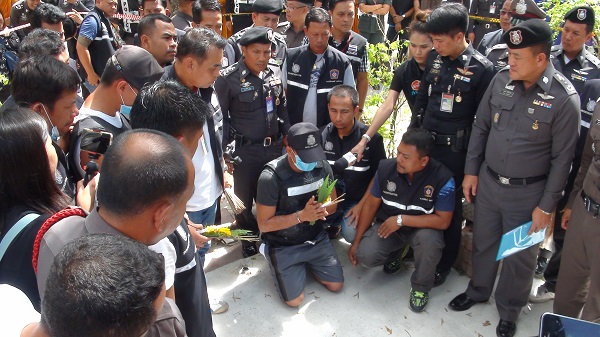 The teen was reported missing back in January, but police said they only got a break on the case recently that led them to Denchai.
Workers pulled a boy's body this morning from the bottom of the meter-deep hole beneath the Buddha. The authorities haven't confirmed yet that was that of Pleum, whose full name was withheld.
Police said Denchai faces charges of manslaughter and concealing a body. They're also weighing charges against another novice monk, 18-year-old Suriya Kusolsook, who has admitted to participating in the attack, and Denchai's girlfriend – who has denied involvement.
Both Denchai and Suriya were taken to the temple this morning for a police "re-enactment."