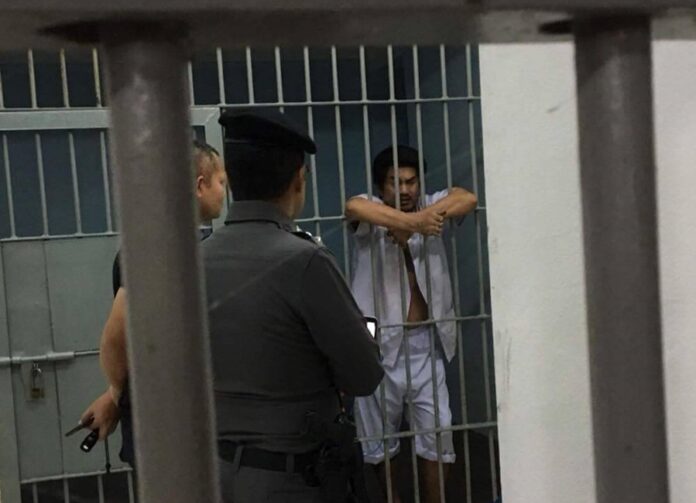 NAKHON RATCHASIMA — Police are investigating whether a man accused of firebombing three state buildings in Nakhon Ratchasima is linked to a radical group, the provincial governor said Wednesday.
Paitoon Thepmong, 37, was arrested Tuesday night in Korat after he threw molotov cocktails into a district office, a police station and market guard station within 30 minutes, police said. Although Paitoon reportedly confessed to acting alone, investigators were questioning whether he was helped. He was charged Wednesday morning with arson.
"The provincial police commander is on the way to question him. Is anyone else behind this, is someone secretly involved?" Gov. Wichien Chantharanothai said. "But at this point, it's likely he did it all by himself, because he did not try to flee."
Wichien said Paitoon was talking "in circles" and telling "all sort of things" to police officers who detained him last night.
"He said he was poor and that no one helped him. He was saying all sort of things," the governor said.
He added that police records show Paitoon is supposed to be attending court-ordered drug rehab.
The first attack took place at about 11:30pm at the Khong district offices, when an energy drink bottle filled with gasoline was lit and thrown into the building. The office caught fire and sustained damage. Fifteen minutes later a similar firebomb was hurled into the Khong Police Station, but the concrete floor prevented the fire from spreading, Wichien said.
A few minutes later a guard post at a nearby market was firebombed. A crowd of onlookers and police officers noticed Paitoon riding on a motorcycle and acting suspicious, Wichien said. He was detained, and police reportedly found two more molotov cocktails on him.
A police report said Wichien confessed to the attacks. No injuries were reported.