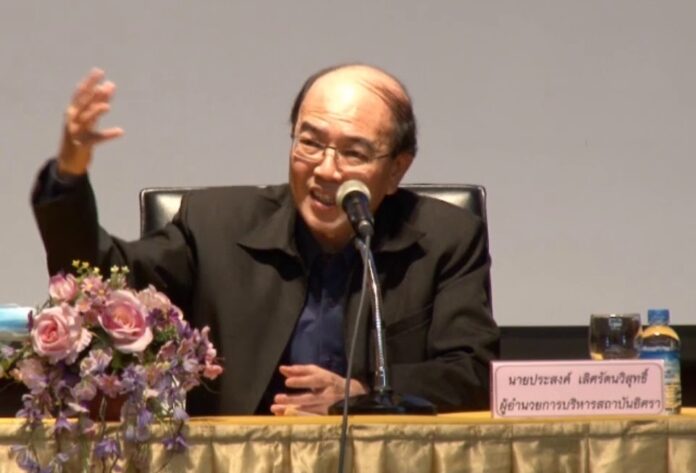 BANGKOK — The Thai Journalists Association, or TJA, on Wednesday denied allegations that it plans to dismiss sexual harassment complaints against a prominent media figure.
Women's rights activist Thicha Na Nakorn was quoted Tuesday in several reports saying she learned the guild has completed its investigation and would exonerate Isra News director Prasong Lertrattanasut of the accusations.
Thicha said the committee has already reached its conclusion – to write off the alleged harassments as mere maa york gai, a term for "flirting around." Thicha, who's campaigned for women's welfare and headed several rights groups, said the conclusion amounts to burying the victim's grievances.
Reached for comment, Thicha declined to answer questions about her statements, saying she was unavailable.
Mongkol Bangprapha, a TJA official in charge of the investigation, declined to comment on Thicha's claims. While he acknowledged a working group already finished the investigation, he said it hadn't yet sent the findings to the committee.
"They already concluded it, but the committee hasn't seen it yet," Mongkol said. "To compare to a newspaper: The news is already printed, but the newspapers haven't left the printing press yet. So we still haven't them yet."
He added, "That is all I can say at this stage."
A reporter who was summoned to testify to the committee said she had the impression that the investigation was conducted fairly. Hathairat Phaholtap, who publicly urged TJA to launch the inquiry back when the allegations first surfaced, said she believes the outcome won't reflect what Thicha asserted.
"On that day, I felt they could be fair on this issue, and I still feel the same today," said Hathairat, a Thai PBS reporter. "I don't think it will turn out that way."
The TJA announced in September that it was looking into complaints that a senior reporter had sexually harassed one of his female employees, reportedly leading her to quit the newsroom.

Although the group declined the name the person under investigation – citing legal concerns – Isra News agency identified him as Prasong in a September statement, adding it had full confidence in his innocence.
Prasong declined to be interviewed Wednesday.
The 56-year-old editor is widely known for his investigative reports targeting high-ranking officials.