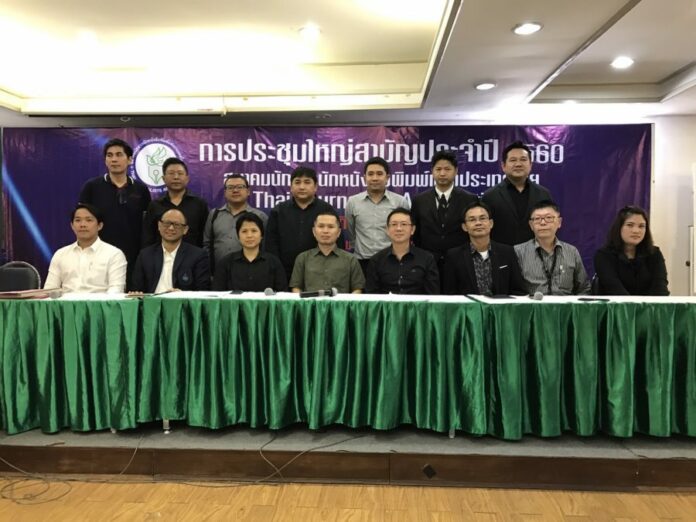 BANGKOK — The Thai Journalists Association said Monday it was investigating claims of sexual harassment among its ranks.
Association head Mongkol Bangprapa said he's reached out to women's rights experts and invited them to join an inquiry committee in response to allegations that persistent harassment by a senior male journalist had forced one of his female subordinates to quit.
Mongkol refused to identify the accused reporter or his news agency by name, citing insufficient evidence.
"I'd prefer not to answer that question," Mongkol said by phone. "We have not even established whether the allegations have any truth. If I express my suspicion at this stage … would it be fair?"
Read: Sexual Violence Stalks Thailand's Activist Community
He added that he feared a defamation lawsuit against him were he to name anyone.
Last week several reporters urged the association known as TJA to look into rumors that a prominent reporter's harassment had caused a female subordinate to leave their organization and return to her home province. They named neither the alleged perpetrator nor the victim.
Twenty-three reporters had signed an online petition calling for an independent investigation by Tuesday.
Mongkol said TJA has collected the complaints and found they did not mention anyone by name. The purported victim has not stepped forward so far, he added.
"There are only secondary sources at the moment. They are all rumors," he said. "There was no primary source."
Nevertheless, the TJA agreed to convene an inquiry to see whether the accusations held any truth. The committee will not include any member of the TJA; instead, it will consist of unrelated media workers, women right's experts, Mongkol said, adding that female committee members must also outnumber male.
Sexual harassment at the workplace is criminalized by a 1998 labor law. Violators face a fine up to 20,000 baht.
Journalist union leader Sumet Somkanae said he supports the TJA's decision to set up an investigation.
Sumet, who's currently conducting a study into sexual harassment among reporters, also declined to identify the accused by name. He said he only heard "rumors" and said he's still trying to contact the alleged victim.
"I agree they should investigate this issue. I'm doing research about this myself," Sumet said. "But I don't know the victim and we don't even know if [the allegations] are real,"
The first complaint seemed to appear Saturday in a public post written by Khaosod reporter Tongseuk Kumpa-u, who asked an agency famous for fielding complaints and conducting investigative journalism to look into the matter.
"A big name at a righteous news agency rapes a subordinate? Is it rumor or is it the truth? I ask Isra News to please investigate," he wrote.
Staff at Isra News on Tuesday said their director was out of the office, and six staff members declined to speak with a reporter saying they had "no comment."
Mongkol said there was no timeframe for the investigation to be concluded.
"We want them to work independently at their own pace," the secretary-general said. "If we give them three days, they will be pressured. If we give them three years, we will be accused of dragging our feet."
Sumet, the unionist, said he believes complaints of harassment within the ranks of the watchdogs should be taken seriously.
"For example, stories about reporters and the intern students. We have been gossiping about it forever, but no one raised issues about it," Sumet said. "We reporters are the voice of everyone, but our own people have no one to be their voice."
Related stories:
Sexual Violence Stalks Thailand's Activist Community