The first time Ploy saw the man who would rape her, they were drinking in a bar at different tables. She was struck by how kind he looked.
She knew him by reputation as a fighter for the values they shared and an important figure in the community she sought to know more closely.
"I remember thinking he had such a kind face," Ploy, 21, said of that night three months ago. "I really wanted to know him because he looked so kind and quiet."
Three weeks later, as she shouted "no" again and again, he attacked her in her own home.
When Ploy – not her real name – found the courage to tell anyone what happened, her trusted friends and peers urged her to keep quiet. Their circle closed ranks to protect the attacker. She anguished; she acquiesced.
In a society sometimes ambivalent about sexual violence due to factors including lax law enforcement and normalization in the mass media, that may not be surprising. What's notable in Ploy's experience was that the wall of silence came up not around unaccountable regime figures or the halls of power, but the very people demanding human rights and a more just future.
Her attacker was Abhisit Sapnaphapan, a prominent activist with the New Democracy Movement, or NDM. Nearly every reporter on the politics beat has spoken to 31-year-old Abhisit at least once. He's been at the forefront of protests against the junta which seized power in May 2014.
He was jailed in 2015 for calling on the military to restore democracy, defied an order to turn himself in for protesting alleged massive corruption in an army-built royal monument and, just this April, was one of four to demand police investigate the disappearance of a plaque commemorating the 1932 Revolution.
His reputation was such that Ploy was reluctant for weeks to tell anyone for fear they would not believe her.
"I still find it bizarre to say out loud," she said about two months after the attack. "It's like saying Santa Claus was a murderer in some case. It's just so bizarre, and who would believe it?"
Abhisit declined multiple requests for interviews over the period of five weeks. Each time, he said he was not ready to talk. Asked if he wanted to refute Ploy's version of events or offer explanation as recently as Thursday, Abhisit insisted he had "no comment" when reached by telephone.
Ploy said going to the police was out of the question. She had no faith in their ability to deliver justice and believed nothing would come of it but an exhausting process and intrusive questioning. She feared her peers would see her accusation as an attempt to defame one of their stars.
Read: An Ugly Open Secret That Goes Back Years
Nearly two months after the attack, Ploy still didn't want to go public with her story or be identified because she doesn't want her family to know what happened.
After Oct. 18, she won't be able to change her mind. Rape complaints must be filed to police within three months after it happened. The short statute of limit is applied because rape, like fraud and embezzlement, is a crime that can be settled under Thai law.
One attack, in a place where sexual assault is pervasive, may not register in the news cycle. A single incident among young progressives might simply be reprehensible.
Ploy, it would turn out, was far from the only victim.
Shamed and Silenced
Seven current and former activists interviewed for this story said they were aware of sexual violence stalking their community for years. They detailed how the same people who call publicly for transparency and human rights privately silence victims within their own ranks – and sometimes react wrathfully to those who dare raise the topic.
"I can tell you, there are far more cases.  Some of them, if I told you their names – you'd be shocked," said Chumaporn Taengkliang, a women's rights activist and founding member of Together for Equality and Action, or TEA.
She's not surprised by other stories detailed in this report of incidents involving high-profile rapes, casual sexism and casual acts of sexual harassment passed off as normal among the most idealistic federation of groups in the country.
"They resorted to clearing the issue among themselves," said Chumaporn, whose organization counsels abused women and advocates on public policy matters. "Especially when it comes to big-name activists, women wouldn't dare name them. Women have little power in this issue."
It happened again in March, just four months before Ploy's assault.
Thararat Panya, a law student at Thammasat University, was raped by a fellow activist she had known two years and considered a close friend. The attack came out of the blue, and she described a blunt shock that trapped her in confusion and silence, unable to call for help.
"I didn't know what to do. This kind of thing never happened to me," Thararat said of the paralysis that seized her. "He had never behaved that way before."
Like Thararat, the man who attacked her, Phattanachoke Thanasirakul, was a member of the Liberal League of Thammasat for Democracy, or LLTD, a group known for provocative stunts and protests advocating freedom of expression.
"I could not believe a person who advocates for justice would do something like this," she said in an interview.
Like Ploy, Thararat did not go to the police, saying she had neither the energy for nor faith in the proceedings. Instead she reported the attack to Thammasat University's disciplinary committee, which investigated Phattanachoke and suspended him after he pleaded guilty, according to a report seen by Khaosod English.
Phattanachoke declined multiple requests over a period of several weeks to be interviewed for this story. Reached by phone Thursday, he did not deny Thararat's account of what happened but said he would complain to his university that a reporter had contacted him.
'They Must Accept There is a Problem'
Both Ploy and Thararat were pressured into silence by their peers. Both women felt their attackers were unrepentant. When they tried to speak out, their stories were met with hostility, skepticism and accusations they were sowing disunity.
But another attack swept under the rug was too much for those who wondered how they could condemn the world's injustice while it festered at home. In recent weeks, calls to confront reality have replaced the silence.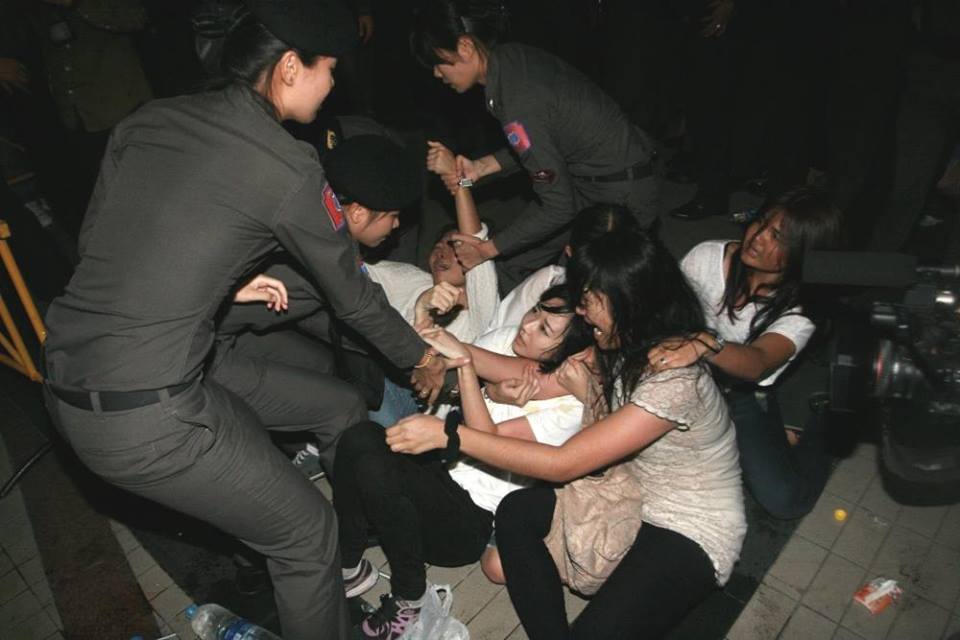 Leading campaigners who had reserved their voices to speak against the ruling junta's excesses now spoke up in support of the victims. Some admitted to hearing similar tales in the past.
Rangsiman Rome, one of the most visible pro-democracy activists, said he initially supported handling things internally. But when he learned about Ploy's assault, Rangsiman feared there was a pattern of activists committing sexual violence. He decided to go public and voice his concerns.
"I want this issue to be a major agenda item for the activist community," said Rangsiman, a former NDM leader and once a close friend of Abhisit. "They must accept there is a problem."
Last month, several groups organized a seminar on consent and women's rights for activists to attend. The organizers include the public-funded Women's Wellbeing and Gender Justice Program, Thai Consent and Tum Tang Group.
Dozens of people attended the event, where discussion topics included consent, gender discrimination and how the community should respond going forward. More events are planned for the future.
Hunting Grounds
Despite gains in gender equality, Thailand's public life is steeped in deference to patriarchy. Men's hands rest on most levers of power, and they occupy most prominent positions in the civil service, government and police.
Turn on the television any evening and find rape as prime time entertainment in soap operas, where it is often a plot device pushing women to fall in love with their attackers. Flip a newspaper or go online and find the national news media identifying survivors by name and even publishing photos of underage victims.
"It happens to so many people," said Chumaporn, the women's rights advocate from TEA. "Rape occurs in all forms. It happens in domestic violence. It happens to men. It happens to toms."
Police records indicate 2,800 reported rape cases in 2015. But experts say those numbers only reflect a tiny fraction of the actual unreported violence and intimidation. The Ministry of Social Development and Human Security in 2013 said more than 15,000 women sought help after from its centers around the country after they were sexually assaulted.
Jaded Chaowilai, who campaigns extensively on women's rights as head of the Women and Men Progressive Movement Foundation, said the number of reported cases should be multiplied by five to get closer to the real number.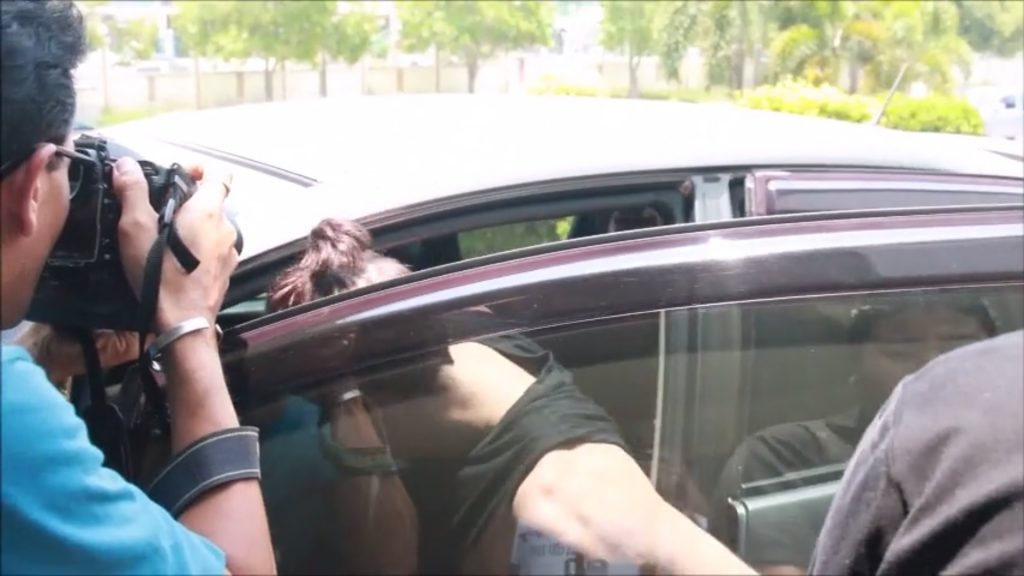 When sexual assault involves powerful people or influential organizations, victims can face apathy or retaliation for speaking out about their experiences, Chumaporn said.
"For example, in the workplace, where men usually have more power than women," she said. "Some men use their status as the bosses to molest their female subordinates, and they have no power to resist."
Those who are supposed to help can prove indifferent or worse.
"Many women don't go to police because they feel police will not understand them. They fear police will say inappropriate things to them," Jaded said. "Police like to ask these kinds of questions: Why did you get yourself in that situation? Why did you dress that way?"
In May, a nurse quit a public hospital in the north after police did little to investigate her complaint that a doctor assaulted her. Legal action against the accused only came after word of the assault reached the media.
Two months later in July, the Public Health Ministry investigated an official for molesting several female employees over a period of three years. It took hidden camera footage of one attack sparking outrage online for the ministry to take action.
Still, Chumaporn said that Thararat and Ploy should have gone to the police. Despite their poor reputation, she said, the force has improved its handling of such cases in recent years, and there are many state agencies offering assistance such as the One Stop Crisis Center.
'I Had To Go Out and Do Something'
Thararat's confessed idealism led to her first foray into activism.
She was a freshman law student at Thammasat when then-army chief Prayuth Chan-ocha seized power from the elected government in the 12th coup in modern Thai history. The coup convinced her she had a role to play in bringing democracy to Thailand.
"I felt that I had to go out and do something," Thararat said. "To be a student is an asset. We can use it to do many things that we wouldn't be able to do once we leave university."
Her conviction led her to join the Liberal League of Thammasat for Democracy.
She soon noticed a gender disparity when the group gathered to meet or drink. The men outnumbered women by four to one, if not more. Thararat said she sat uncomfortably through crude passing remarks made by male activists.
"I felt like, when we had a meeting, the male group would only talk among themselves about the topics that interested them, and sometimes they gestured to each other to look at some pretty woman, or make remarks about other women," she said. "It made me feel awkward sometimes."
But she said she hadn't experienced harassment or even flirting until the day Phattanachoke attacked her on March 17.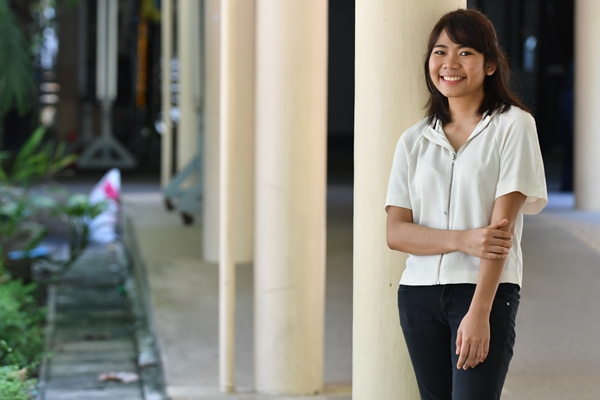 That night she had gone out drinking with a female friend and crashed at her place afterward.
As they were about to fall asleep, Phattanachoke and two friends showed up and asked if they could sleep there. Because they were all close friends, Thararat did not object. She soon went to sleep. By that time, any buzz from the alcohol had worn off, she said.
Thararat said she was woken several hours later by Phattanachoke. He was on the bed between Thararat and her female friend. Using his legs to lock hers so she could not resist, he pushed his finger inside her vagina – an act considered rape under Thai law.
She said he clenched her breasts so hard she shed tears. He also grabbed her hand and forced her to touch his penis.
After it was over, Thararat got up, escaped to the bathroom and texted friends to come pick her up. No one responded; it was 2:30am. She spent the rest of the night awake. She left at dawn, disgusted.
"I could not believe a person who advocates for justice would do something like this," she said.
At the time, Phattanachoke did not apologize, she said.
'He Looked So Harmless'
Contradiction is what attracted Ploy to the beauty and horror of Thai politics. On one hand, the country has a democratic parliament and elections; on the other, it remains under the hold of its military and monarchy.
Instead of pursuing activism or journalism, she chose an academic path, determined to understand the complicated levels of power play and color-coded warfare that has defied contemporary political theory.
"I felt that, when you're an academic, you should write," Ploy said. "Thailand deserves a real depth of good writing."
Her research brought her close to the activist community. She met Rangsiman, Abhisit and other big-name campaigners. But because it was a "male-dominated" scene, she said she developed a special bond with female activists such as Thararat, who she considers a close friend.
Abhisit soon began flirting with Ploy shortly after they were introduced. It started with heart emoticons sent in chat, she said, but he gradually escalated his advances, to the point of asking her if they could start dating. Ploy said that in every exchange, she politely told him she wasn't interested; plus, she already had a boyfriend.
But Abhisit would not be dissuaded. He kept pushing to visit Ploy in her room. Not wanting to displease an activist and an important figure in the community she wanted to be part of, she agreed to letting him come over.
"I didn't feel threatened because he looked so harmless," Ploy recalled of Abhisit, who has a slight build and gentle features. "And he's a close friend of Rome [Rangsiman]."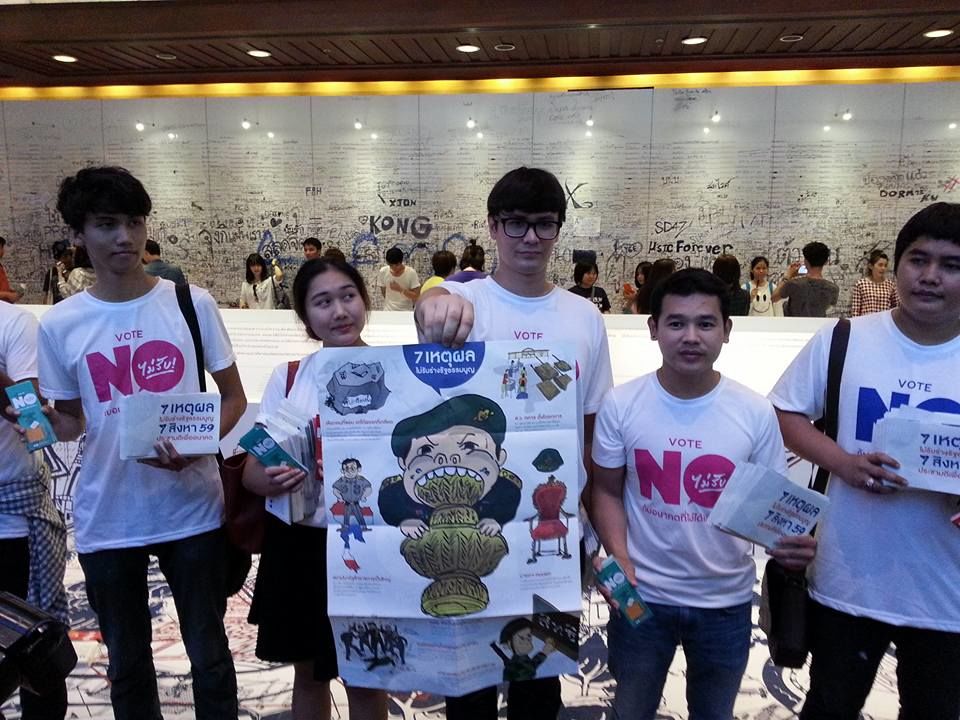 After some hours chatting, she said goodnight and asked him to leave. Abhisit started touching her hair and shoulders, which she said she quickly swatted aside.
But he would not stop. She said he only grew more aggressive and pushed her onto the bed. She remembers saying "No" and "Stop" more than 20 times, to no effect. She recounted how he ripped off her clothes and underwear as she feebly slapped at him. In short, Ploy said, the situation was "straight from the rape scenes in movies."
In the end, exhausted, she gave up resisting. He later fell asleep on her bed.
In the morning, Ploy said, she wanted to rationalize his behavior and give him the benefit of the doubt because she truly believed him to be "a good person." She considered that maybe he didn't understand consent. So she explained to him "like a baby" that "when she says no, it means no. What you did was wrong."
It took Abhisit a while to say anything. When he did, Ploy said, it was a single word uttered without conviction: "Sorry."
"I really thought he didn't know what rape is," she said, still trying to make sense of what happened. "But even if that was true, he must have known I didn't want it. How could he not know?"
Agents of Change
Civic activism grew out of the left-wing student movements active during the height of the Cold War. It was student activists who toppled a dictator and regime in 1973 that had ruled the country for nearly a decade.
Images of uniformed youths marching against military tyranny in what became known as the October 14 Uprising have long captivated Thais of all stripes.
The current strain of pro-democracy activism was born out of the color-coded political warfare between Redshirts and Yellowshirts that precipitated military coups in 2006 and 2014.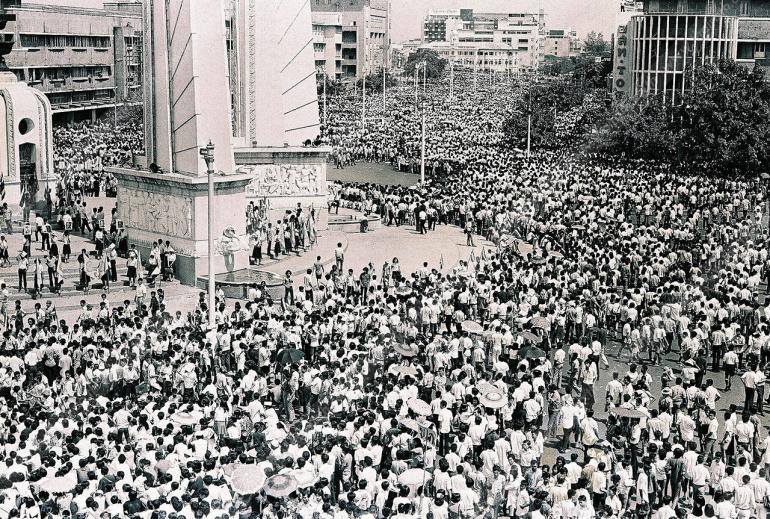 Some, like the Group of Comrades, retained classic leftist sentiments. The New Democracy Movement and Nitirat group of legal scholars promoted liberal democracy and civil liberty. They occupy different niches in the resistance ecology alongside groups formed solely to oppose the junta, such as Resistant Citizens.
But as it was in the 1970s, it has been energetic and passionate student activists drawing the most attention. Their protests receive widespread coverage and praise from supporters. When Rangsiman and Abhisit were among 14 activists imprisoned for defying the junta's protest ban in 2015, the story dominated the national news cycle for weeks.
Boy's Club
The movement's overwhelming gender disparity has created friction, with complaints that personal rights and gender equality were excluded from the rights it champions.
"Some people don't think deeply about human rights," said Chumaporn, the women's rights advocate. "They don't realize it also includes gender rights."
Two women closely involved with the movement recounted their discomfort with misogynist remarks that were treated as harmless jokes by their male peers.
Didtita Simcharoen, who has been active in the movement since her second year at Thammasat University, was devastated by what happened to Thararat, an anguish that ruptured anew when it happened to Ploy.
The 24-year-old graduate said their assaults took place against a backdrop of casual sexism.
"When Rome was in prison, someone joked to me about whether I had free time for him, now that he was in jail," Didtita said, referring to her boyfriend Rangsiman whom, she met through her activism. "I knew it was a joke, but it wasn't funny."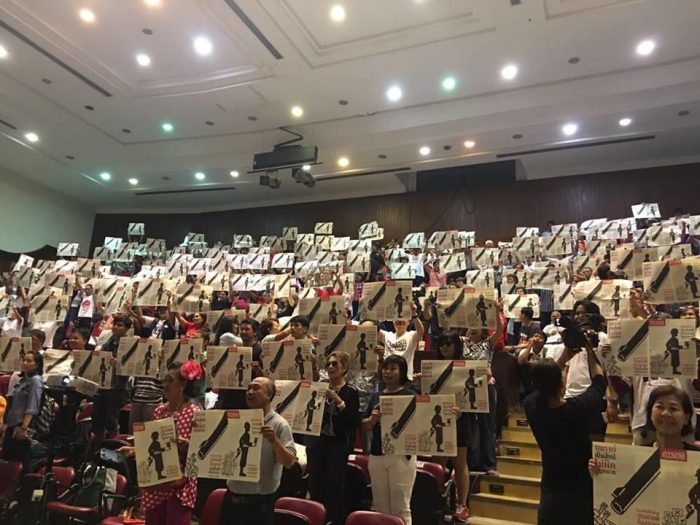 Chonthicha Jangrew, 24, doesn't believe the activist community is imbalanced toward men – "there are many women behind the scene" – but she agrees that some male activists can be insensitive. She cited a time in 2015 that cops and soldiers assigned to monitor her began flirting with her. Her friends saw it as a joke and laughed when she brought the matter to them.
"It meant they were so insensitive to what I experienced, even though it was sexual harassment," said Chonthicha, now a leading member of the successor to NDM, the Democracy Restoration Group.
According to Ploy, after word got out that she had been assaulted, several women came forward with similar stories. She declined to elaborate on the details, citing their privacy.
Didtita said sexist attitudes amplified by the movement's romantic mystique are part of the problem.
"Many activists think of themselves as womanizers," she said. "They think, just because they are activists, they are charming and exciting, and women have to be interested in them. It's a misplaced confidence."
She added, "Nui [Abhisit] isn't the only activist who already has a girlfriend but continues to flirt with other women. The overall attitude is bad."
Let Down
When these victims stepped forward to say they had been attacked by their own peers, the activist community didn't rally in their support.
Thararat said the shock she felt from the March 17 assault paled in comparison to the reaction of her fellow LLTD activists.
"I used to think activists took the side of victims," she said. "But when it happened to me, they didn't understand me at all."
After it became clear that neither her perpetrator or LLTD would do anything about the assault, Thararat said she sought advice from Rangsiman and Didtita. They in turn called a meeting at which Phattanachoke only offered a wan apology, she said.
But Thararat said she was shocked that some league members took his side at the meeting and adopted the same rhetoric used by members of the government caught red-handed in graft.
"They said, 'He already said sorry, what more do you want?'" she said. "I was stunned."
What she found particularly mind-boggling was that, just months earlier, LLTD issued a statement calling for better policing in wake of an incident involving the abduction and attempted rape of a Thammasat student near the university.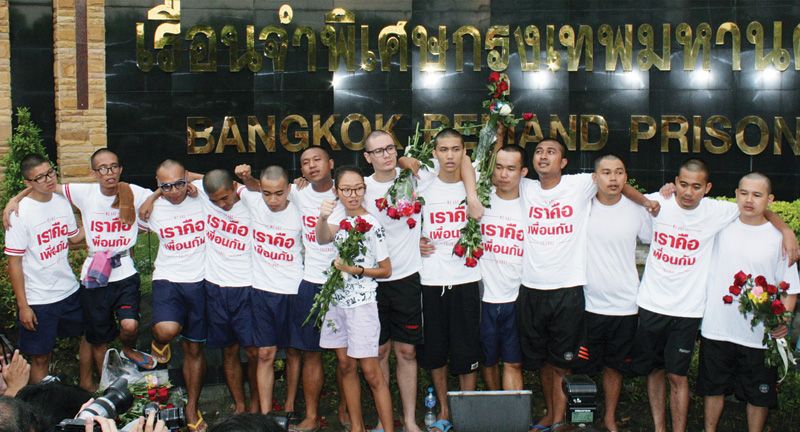 When Thararat pressed someone who drafted that statement to take the same stance in her case, she said the activist replied she was "uncomfortable" doing so.
"I had to to focus on my studies to graduate, and I had a project to open a cat cafe, so I really could not help her about this," Suphapitch Meathajiravej later explained of why she was too busy to speak out at the time. "I could give her advice, but I couldn't do so publicly."
Thararat didn't buy it.
"I was so disappointed. I felt like someone slapped me in the face," Thararat said. "After that, people in my group tried to cover up what happened. They were sending messages to each other, telling each other not to tell anyone about it. They wanted to silence the news."
Rangsiman and Didtita were also criticized by some LLTD members, accused of "stirring up conflict" for intervening on Thararat's behalf.
"They gossiped that I was being led by Rome. Why did they insult my intelligence like that?" Thararat said.
Backlash Surfaces
Two days after Abhisit assaulted her, Ploy detailed the attack in a series of Facebook posts limited to friends. She did not name Abhisit in those messages posted July 20.
Three days later, Rangsiman wrote about it publicly on Facebook without identifying the victim or perpetrator.
He raised concern about the fact two women were assaulted by members of the activist community within a space of four months. Rangsiman warned that if the silence continued, their community risked cultivating its own culture of rape.
"It's a pity that many activists don't feel that sexual assault is a problem, and the perception that it's not a problem has led to cases like this happening again and again," he wrote. "We cannot deny that people who are idle on this issue are perpetuating the problem of rape in society."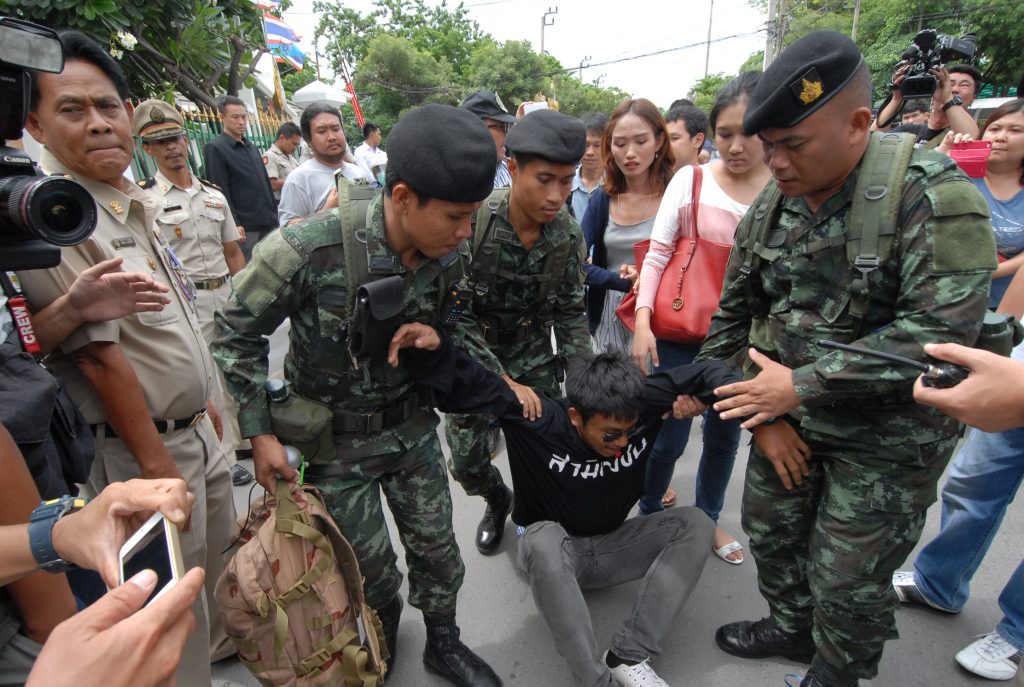 The post prompted reactions of shock, anger and incredulity from his peers. But while some said they had just learned of the assaults, others said they were not surprised. One woman described fearing the behavior of an unnamed male activist.
"I also felt sexual danger from an activist. At that time he probably didn't think it was harassment," Nana Wipaphan Wongsawang wrote in reply.
Many others also lashed out at Rangsiman for raising the issue publicly instead of discussing it privately.
Thanet Sriwirun, a former student activist who now works as a reporter, acknowledged "the issue isn't new. It has happened many times in the past and [the perpetrators] still stand at the front of the movement."
However, Thanet said Rangsiman should have kept it internal.
"People who should share responsibility should be the groups to which they belong, how they could have let this happen and how to solve the problem," he wrote. "Instead of posting about it and causing drama like this."
Another activist, Thanapong Muensan, suggested the attack could have happened because female victims indicated consent by allowing their attackers into their homes.
"Sometimes consent or consensus doesn't happen on the bed," Thanaphong wrote. "It might have been signaled the moment he entered the bedroom or walked through the door of a hotel!"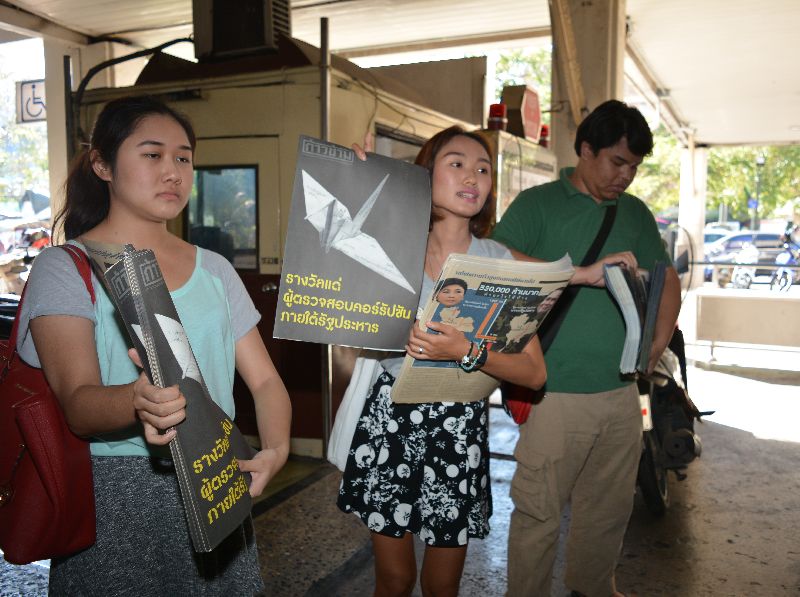 The most vehement was Chotisak Onsoong, a well-known leftist who once made headlines by refusing to stand up for the royal anthem in a cinema. He published a series of posts criticizing Rangsiman's decision to go public. His vocal stance sparked raging debate on social media which at times eclipsed the original allegations of violence.
He also expressed doubt the victims' stories Rangsiman had publicized were real.
"Is there a kind of person who believes that accusations of sexual violence (harassment/rape) are true in every case?" Chotisak wrote in a public post. "Are they that naive? Were these people born and raised in a lavender field?"
In a recent interview, Chotisak said he was incensed that Rangsiman criticized the entire community of activists instead of specifically naming the perpetrators.
"Suddenly he said everyone was complicit because they were idle, even though the majority of activists didn't know about it," Chotisak said. "That was not fair. He was overgeneralizing the activists."
The leftist activist also admitted he didn't believe Ploy's story at first, but he added that it was because he had so little information. Chotisak said he later believed it because Abhisit himself wrote an apology on Facebook on July 27.
The post was only visible to his Facebook friends but a reporter has obtained screencaps of it. Abhisit said he confessed to "every wrongdoing."
"I took that as a confession," Chotisak said.
Nowhere to Turn
Both Thararat and Ploy said they didn't have confidence they would get justice or sensitivity from the police.
Long known for its male dominated ranks, the force is often criticized for mishandling sexual assault investigation. In some high-profile rape cases, police have phoned reporters to notify them the victims were at their station, resulting in photographers mobbing the victims.
So instead of going to police, Thararat filed a complaint to Thammasat University, asking them to open a disciplinary inquiry into Phattanachoke. She was summoned to testify at several hearings, during which she said she heard hurtful questions from some male professors.
"They asked me why I went out and drank alcohol in the first place," she recalled.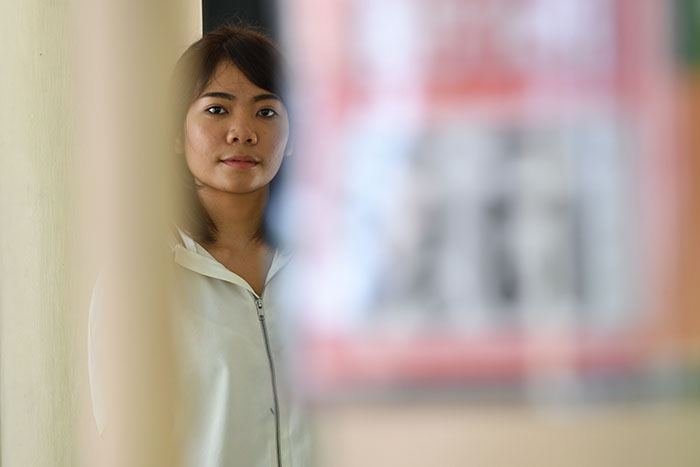 After four months of near silence, the university notified her it had found Phattanachoke guilty and suspended him from classes for a semester. It also ordered him to do community service.
It was a turning point for Thararat, who was buoyed by validation from the university. She went from saying in an early interview she was too tired and dispirited to discuss the attack to speaking out confidently about what happened.
On Aug. 18, she published the university's ruling – Phattanachoke's name redacted – online. The message, she said, was to encourage other victims not to suffer silently.
"By posting this story, I didn't want to humiliate the wrongdoer. I want to empower victims in sexual assaults to have the courage and speak out," Thararat wrote in the post, which has been shared more than 2,000 times. "We must have the strength and courage to speak. Don't forget we have rights. Victims have the right to take action against their perpetrators."
Like Ploy, Thararat said she didn't then publicize her attacker's name out of respect for his privacy. She said did not wish to see Phattanachoke becoming subject to a witch hunt on social media.
But after she went public, Thararat said she was disheartened to not see more women speak out.
"Some people said I made history, but I was merely speaking the truth," Thararat said. "Now that they say I'm one of the first women [to break the silence], it means the rest are silent. But it's okay to speak out. I can still live a normal life."
The same outlook isn't shared by Ploy. The assault and subsequent debate left her spirit shattered.
"I think I am a different person, and it breaks my heart because I liked the person I was," she said, wiping tears away. "I used to get joy from other people. But after [sharing my story], I learned how horrible people can be."
After the assault, she largely lost the enthusiasm to meet new people and found herself unable to enjoy intimacy with her partner. Most notably, she said, the damage on her ability to trust was irreparable.
"I tried to tell myself there are good people in the world, but it breaks my heart to know someone good like Nui [Abhisit] can do something like this. Now I felt humanity is not as good as I thought," Ploy said, letting out a laugh.
Lack of Contrition
The two victims said they have yet to see genuine contrition from their attackers.
In Ploy's case, Abhisit wrote an apology on his Facebook after the debate engulfed the activist community. Although neither Rangsiman nor Ploy named him in their online posts, other activists quickly identified him through the grapevine.
In the July 27 post, Abhisit said he was sorry for his actions without specifying what he had done.
"I confess to every offense," he wrote. "Amid all the debate, I was too afraid and cowardly to accept and understand the truth, while she showed courage to reveal [what happened] in order to promote understanding in many wrong attitudes about these issues."
The post continued, "Today I understand the agenda that she wanted to communicate, and her decision not to reveal the name of her perpetrator. It was her kind heart and her willingness to be friends. She has no desire to destroy anyone's life."
Ploy said the apology was incomplete, noting it did not include the word rape.
"His apology could have been for stealing bread from 7-Eleven," she said. "He could have done better. He had the chance to do better. He could have agreed to an interview with you but took the chance, but he wouldn't."
Ploy also accused Abhisit of attempting to conceal his crime by telling fellow activists it was a consensual act. Some people believed him, she said in an interview, at which point her relaxed and calm manner broke down into uncontrollable crying.
"The worst was when he told people I consented," she said. "Nui [Abhisit] said I gave him a hug afterward, so I must have consented. And so many horrible, horrible things they said about me."
Her decision not to name her perpetrator boomeranged to hurt her. People said she must have made it up because she wouldn't say who assaulted her.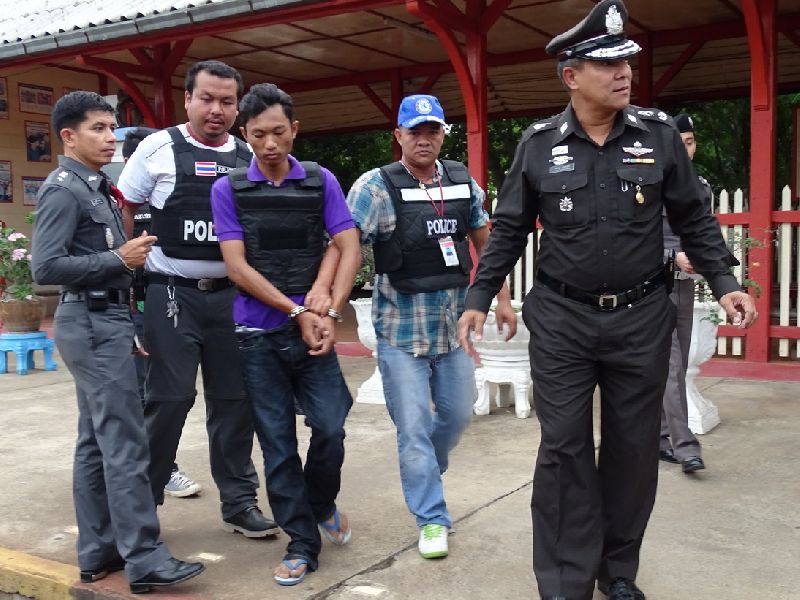 "They doubted me, questioned me, said I lied. Why would I lie?" Ploy said angrily.
Thararat said her perpetrator never showed any sign of repentance. The group to which he belongs, the LLTD, only published a statement on Aug. 24 condemning the sexual assault and praising Thararat's courage for speaking out. It thanked the university for taking disciplinary action against Phattanachoke.
The statement came out nearly a week after her story went public and did not say he would be expelled from the group.
"[We] would like to express our respect to the bravery of the sexual assault victim who stood up and fought for her basic rights and human dignity," read part of the LLTD statement, which did not identify anyone by name.
Some commentators said the gesture rang hollow.
"I'm confused. Why issue a statement when you did nothing about this issue?" wrote Amena Royal.
"What about the rape culture among the activists? Is LLTD idle on that?" asked Prem Ratthanasiri.
LLTD coordinator Worayut Moolsert denied that Phattanachoke was a core member of the group. He said Phattanachoke has not shown up at political activities or discussions arranged by the group since the assault. He said there was no need to expel Phattanachoke because he was not a registered member.
Lessons Learned?
Enough activists agreed lessons must be learned what happened. Rangsiman said the reason he spoke out about Thararat and Ploy was because he wanted to start a conversation.
"I made a mistake by not going public with the first case. I chose to solve it by having an internal conversation," Rangsiman said. Other activists expressed similar intent to take action.
On Aug. 5 they got together at Thammasat University for their first session aimed at creating awareness of basic principles of consent and sexual violence.
The session kicked off with an airing of a video released by the British police to promote concept of consent by comparing sex to having tea. It was followed by a two hour discussion between panelists and members of the audience.
Wipawan Wongsawang, admin of Thai Consent, urged activists to adapt the principles of human rights in their everyday interactions.
"It's not only activists who have hypocrites in their ranks. Out of the eye of public, in their private lives, some people don't do what they advocate," Wipawan said. "We have to ask ourselves: Are we only fighting for a theoretical principle? Have we ever applied these principles in our lives? Are we supporting the culture of power over women?"
While everyone in the room appeared to agree consent is important, some raised questions if men were being singled out.
One person raised concern about false rape accusations ruining a person's reputation. Another said there should also be advocacy for men who are raped.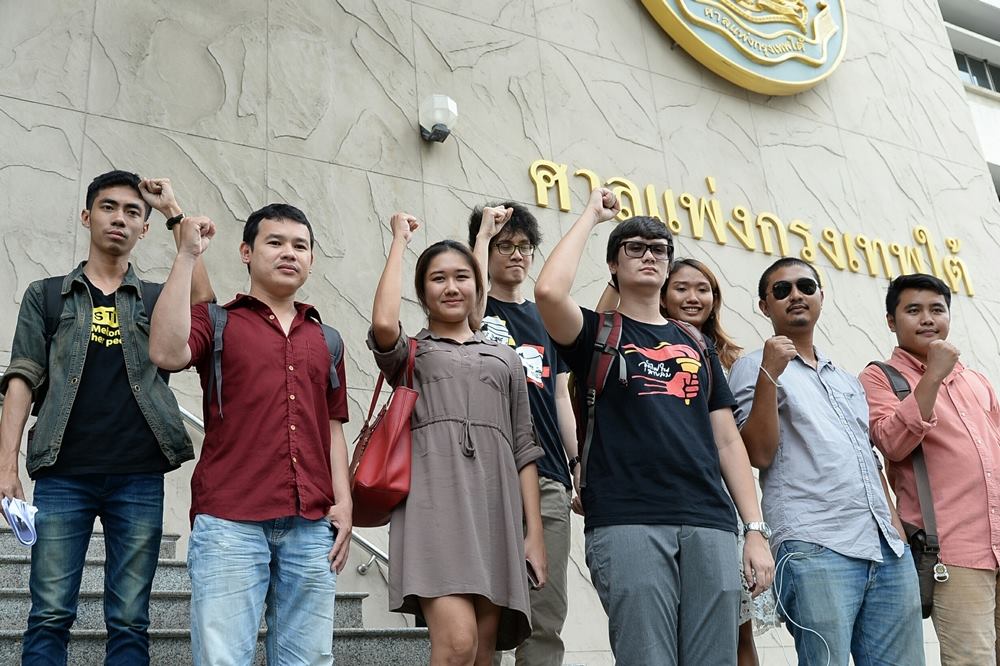 "I wonder if there's a double-standard," said Kittithat Sumalop, a famous activist known as Champ 1984. "When men say they were molested, people laugh at them. I laugh at them, too."
Women's welfare researcher Waraporn Chaemsanit also noted that consent alone is not enough to prevent assault.
"Not every case happens because the perpetrators don't understand consent," Waraporn said. "Many cases happen because the perpetrators use power, be it the power of physical strength, power of patriarchy or power of unequal authority, such as between lecturers and students."
One panelist was Chanoknan Ruamsap, a leader of the NDM, the group to which Abhisit belongs. In a series of questions, like what to do when there's a rape and how to improve the situation, Chanoknan asked whether a perpetrator should be held accountable if he doesn't know what rape is.
"Once there's a rape, who should be responsible? The family and schools that never educated them?" Chanoknan said. "Are they wrong if they don't know? I'm still confused who I should blame in this kind of situation."
When a reporter asked if activists who commit sexual violence such as Abhisit should face any repercussions from fellow activists, Chanoknan was noncommittal. She said the New Democracy Movement already issued a statement condemning his actions, and her community shouldn't be singled out.
"It doesn't depend on what the activist community has to do," Chanoknan said. "Everyone should have measures. It shouldn't only be up to the activists alone."
But Chumaporn, the activist from TEA, warned that if the community allows this problem to go unchecked, it could mean the end of the progressive movement. The perpetrators could commit the same crimes to other victims, and some activists could exploit their status as celebrities to seek out prey.
She referenced that happened to Ploy, whose ongoing research required her maintain a working relationship with Abhisit.
"Once you're an activist, you have fame, you have value, you have power," Chumaporn said. "Are some of these activists using their status as a key to rape?"
Moving Forward
Shaped by the tragedy that befell two of her closest friends, Didtita said she has become determined to campaign for women's rights and promote the concept of active consent in the male-dominated community.
Democracy Restoration Group activist Chonthicha said she regretted not taking the problem seriously in the past.
"I think I'm also guilty for working in this community as a woman, but I didn't recognize the fact that I was violated, by words and attitudes, at the hands of activists," Chonthicha said. "I feel guilty for not seeing how the gender issue became a laughing matter."
Rangsiman said he wants the community to speak frankly about the sexual assaults that happened and find a remedy, even if it means giving ammunition to their enemy. At least two pro-junta media agencies have already published pieces criticizing the activists over the scandal.
"If the movement will collapse because it cannot face the truth, then let it collapse," Rangsiman said.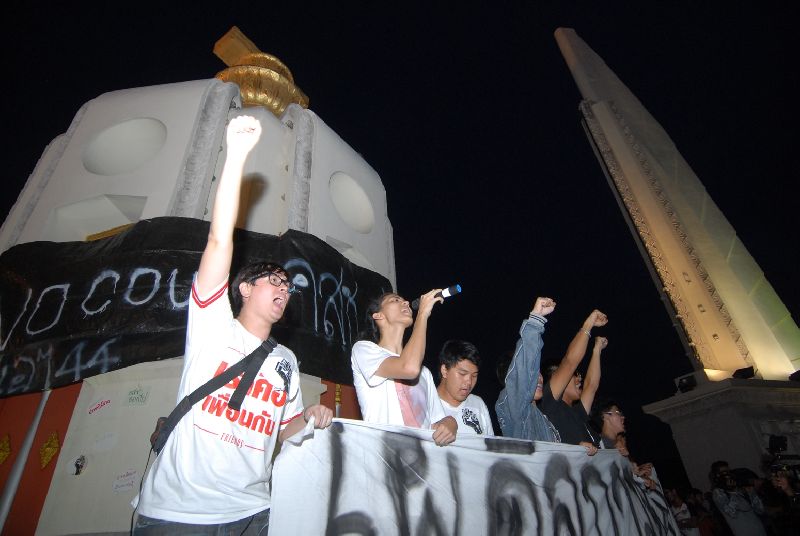 Despite his hostility to Rangsiman, Chotisak said he agrees that a permanent code of conduct is needed. He said the community must come together and draft an agreement that must be applied to all groups. For example, what crime warrants exile from the community, and how many years must they be banned?
"Suppose it happens again, there should be measures for what to do with them," he said. "It's solving the problem at its end, I know, but at least we set a punishment. We need to solve this in many aspects."
Thararat said she aims to be a lawyer when she graduates, and the attention she's garnered has made her committed to working for women's rights.
At the end of a series of long and difficult interviews, Ploy said she wants all rape survivors out there to stay strong.
"I want to tell them I believe them, and that they are strong enough to get through it," she said. "I would probably lie and tell them it'll be alright, even though that's not true. It's not alright."
Have you or someone you know been a victim of sexual violence? Seek help by contacting the government's One Stop Crisis Center hotline at 1300 (Thai, English, Burmese, Lao, Khmer), or the Women and Men Progressive Movement Foundation at 02-513-2889 (Thai, English).
This reporter can be contacted anonymously at [email protected].
Editing, additional writing and graphics by Todd Ruiz