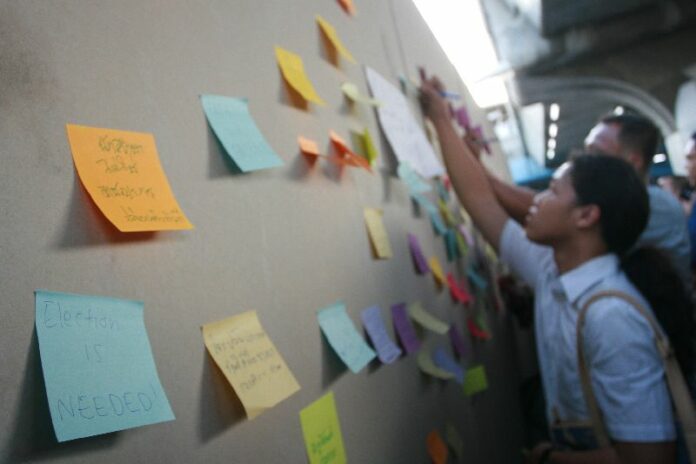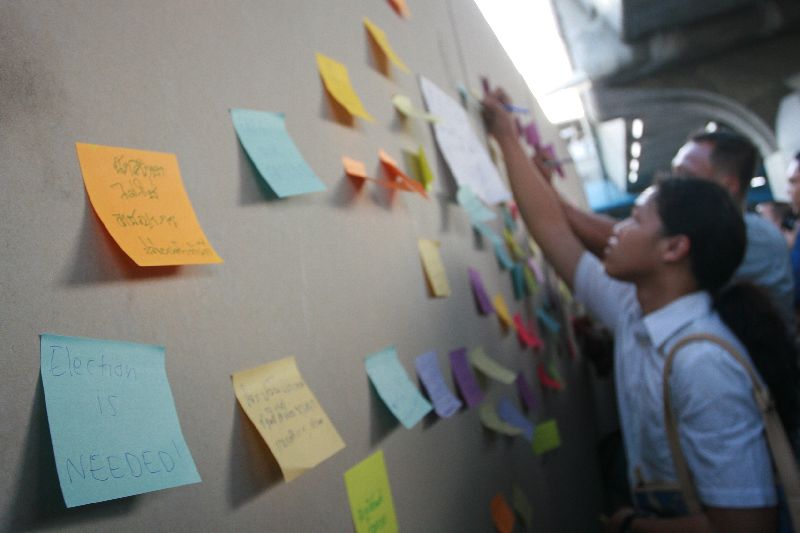 BANGKOK – Around 200 people gathered in Bangkok last night in a show of support for the 14 pro-democracy dissidents currently imprisoned for campaigns against Thailand's military regime.
Protests and political activities are banned by the junta that seized power from a democratic government in May 2014.
Last night's event, titled "Post-It for Freedom," took place on the elevated skywalk in front of MBK shopping mall in downtown Bangkok. Activists erected several planks of wood and encouraged people to cover it with post-it notes expressing their feelings for the 14 activists, who are facing up to seven years in prison on charges of inciting unrest for leading a small, peaceful pro-democracy demonstration on 25 June.
The event was initially scheduled to take place at a plaza in front of the nearby Bangkok Art and Culture Center, which is the site of an anti-coup sit-in that wasviolently dispersed by police officers in May 2015, but more than 100 police officers preemptively sealed off the area at around 5 pm.
Approximately 200 people visited the 10-meter wall to post their messages for the 14 jailed dissidents. Some activists also handed out cookies and sandwiches – the latter widely recognized among anti-coup activists as a symbol of dissent against the military junta. Police observed the event until the activists left the scene peacefully at around 9.30 pm.
Sirawit Serithiwat, a prominent student activist who helped organize the event, said "Post-It for Freedom" was not organized to challenge the junta, but only to call for justice for the 14 activists, eleven of whom are university students.
"They did not break any laws, and many people think that state officials should not do such thing to the students," said Sirawit, who is facing charges himself for staging a pro-democracy rally in front of the BACC in February.
Sunai Pasuk, a coordinator of Human Rights Watch's Bangkok bureau, urged the junta to release the 14 activists immediately and without any conditions.
"If they continue to imprison [the fourteen], it will only damage the image of the country, because the people will no longer have faith in the government," Sunai told Khaosod as he was observing the event last night.
"The people do not want to live under a climate of endless intimidation and threats against those who think differently, as it is happening right now."
The European Union, UN's regional human rights office, and numerous other rights groups have released statements calling on the junta to pardon the 14 activists, who are facing trial in a military court.
Wibul Boonyapatraksa, the father of Chatupat Boonyapatraksa, one of the imprisoned activists, said the group has innocent intentions are not the puppets of any politicians.
"If the security officers want to know who is the person behind these people, let me tell them that it's me," Wibul said, "Taking away my son and other students will not do any good to them, because I am outside, and I can continue to fight like any other person who fights illegitimate power."
For comments, or corrections to this article please contact: [email protected]