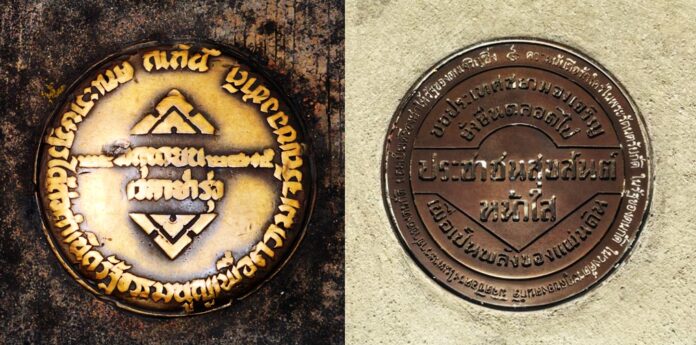 BANGKOK — Four people filed complaints to the police on Sunday, urging them to investigate the disappearance of a historic plaque marking the 1932 democratic revolution.
The petitioners, which include a grandson of the revolutionaries who installed parliamentary democracy in Thailand 85 years ago, said the authorities have a duty to retrieve the relic, which went missing earlier this month. No one claimed responsibility for the disappearance and state officials have uncharacteristically been silent on the issue.
Read: Govt 'No Comment' on Lost Revolution Relic As Online Campaign Launched
Prit Seriroengrit, whose grandfather Charun Rattanakun Seriroengrit was part of the People's Party that seized power from the royal government in 1932, told reporters he filed the complaint on behalf of other heirs of the coup plotters.
"Let me explain that, as for children and grandchildren of the People's Party, some are happy and some are angry [about the plaque removal]," Prit said at Dusit Police Station. "People who are not happy, they found it difficult to voice their opinion, so I volunteered to be here on their behalf."
Other three people who filed the complaint are student activists. One of them, Chulalongkorn freshman Phakchira Kirativiboolwong, told reporters she heard about the removal from the internet so she wanted the authorities to find out what happened.
Mor Rana, deputy inspector at Dusit Police Station, said the plaque is designated as a state property, so anyone can file complaint over its disappearance.
He added that he will discuss the case with his supervisors how to proceed with the investigation.
Placed in the Royal Plaza in 1936, the small plaque marked the spot where the People's Party announced the end of the king's direct rule over the country. News of its disappearance broke Friday afternoon after someone found that the marker was replaced with a new plaque bearing pro-monarchy remarks.
Government spokesmen have declined to comment on the change. In the past the regime was quick to set talking points and assign blame for a wide range of topics, from bomb attacks to flooding.
On Saturday night, an online campaign was launched to call for an investigation and prosecution of those responsible for "stealing" the plaque. More than 2,300 people have signed the petition as of Monday morning.
Correction: An earlier version of this article incorrectly said the plaque was installed in 1940. In fact, it was placed there in 1936.
Related stories:
Why Was the 1932 Revolution Plaque So Important?
1932 Revolt Plaque Removal Greeted With Mixed Reactions