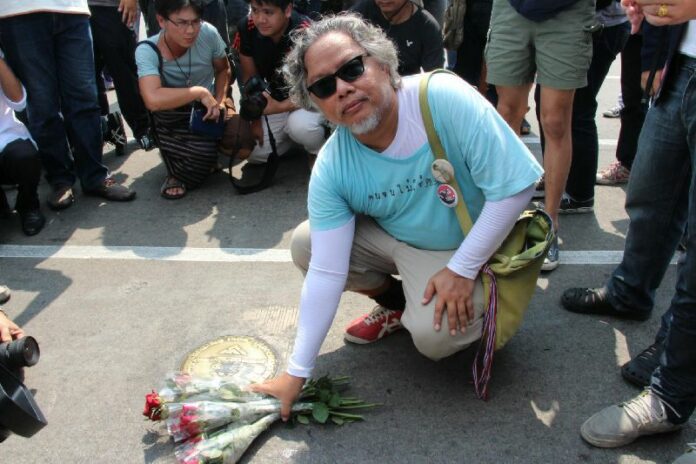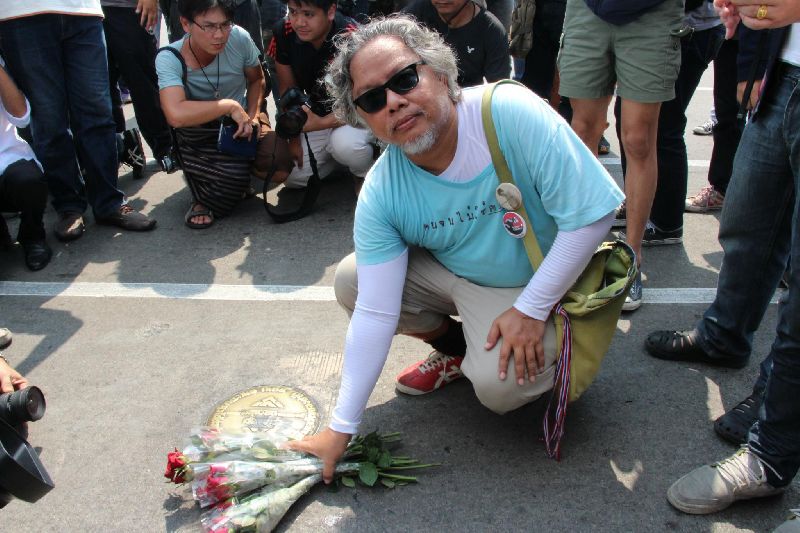 BANGKOK — An online campaign was launched Saturday night to demand the government retrieve and arrest those responsible for removing the 1932 Revolution Plaque, while a government spokesman declined to comment on its disappearance.
The campaign, initiated on Change.org by Chamnan Chanruang, a former lecturer of law at Chiang Mai University, had garnered over 1,600 signatures as of Sunday afternoon.
"The reason I launched the campaign was because it is a quick and easy way to disseminate [the petition] widely," Chamnan said Sunday morning. "This is an issue that the public is interested in, and I believe it will attain record a number of petitioners."
The movement was initiated as undated photos emerged on social media showing a construction tent at the spot where the plaque marking the end of absolute monarchy was embedded. Some claim it was taken on the night of April 5.
Read: Why Was the 1932 Revolution Plaque So Important?
While some speculated that the military regime might have been involved, government spokesman Sansern Kaewkamnerd on Saturday denied any knowledge about it in a brief conversation with reporters.
"I do not have information about this issue, and I would like to decline to comment," Lt. Gen. Sansern said.
A spokesman for the junta was likewise terse.
"No comment," Winthai Suvaree said by telephone Sunday.
The missing brass plaque, about 30 centimeters in diameter, commemorated the spot in which soldiers gathered as the declaration ending absolute monarchy was made on the morning of June 24 in 1932.
Its replacement contains a royalist message.
"Loyalty and love for the Triple Gem, one's clan and having a honest heart for one's king is good. These are the tools to make one's state prosper!" part of it reads.
Chiang Mai-based Chamnan is still hopeful despite the military regime keeping mum and no one having claimed responsibility since word got out and became news on Friday.
He warned of a growing sense of intolerance, however.
"This is a sign of unwillingness to compromise by those who are against democracy. But on the other hand, it led to greater interest about history among the youth."
Additional reporting Teeranai Charuvastra
Related stories:
1932 Revolt Plaque Removal Greeted With Mixed Reactions
On Anniversary of Democracy, Cops Intercept and Arrest Observers (Photos)