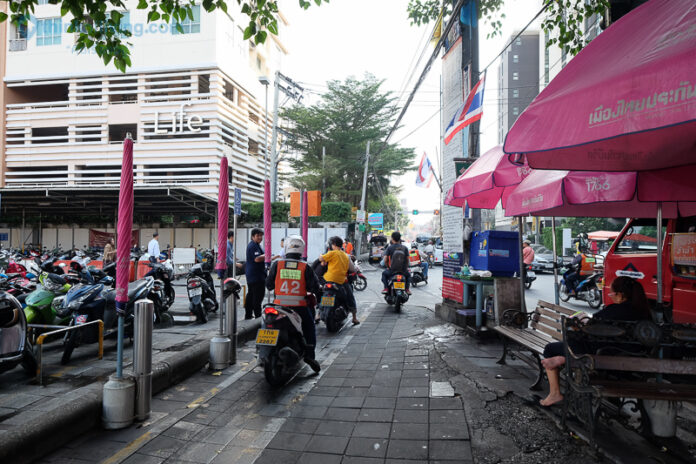 BANGKOK — Those who report motorbikes parking or riding on the sidewalk will get half of the fine if it is paid, City Hall said Sunday.
The fine, which runs upward of 5,000 baht, will be divided in two, with half given to the Good Samaritan whose photo or video leads to tracking down the motorcyclist who ignores the law in this latest attempt to tame the capital's pedestrian areas.
An image that clearly show the license plate of a motorbike must be sent to municipal enforcement officers or tessakit or through City Hall's hotline 1555. If it is a motorbike taxi, the evidence must clearly display their vest, which displays their number and assigned stand.
Only when the rider is found and fined under the 1992 Maintenance of Public Sanitary and Order Act, the district office will submit a letter to the informant to pay the incentive.
However, authorities said that does not always mean they will get 2,500 baht.
"You have to understand that the fine depends on tessakit's discretion," said Natthanan Kanlayasiri of City Hall. "For example, if it is the first time of the wrongdoer, the fine might be just 1,000 baht and then 2,000 baht for the second time and 5,000 baht for the third time."
Related stories:
Tow Them All, Bangkok Gov Suggests for Sidewalk Scofflaws
'Tessakit' Officer Accused of Taking Tourist's Cash
Bangkok 'Tessakit' Threatens to Attitude-Adjust 'Smart Ass' Citizen