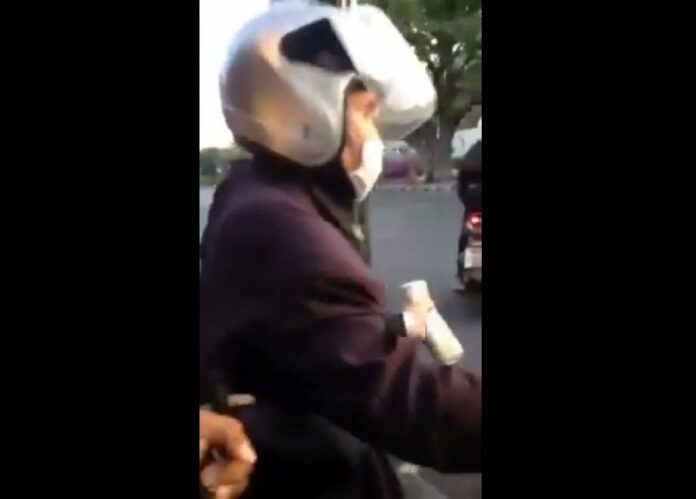 BANGKOK — An investigation has been launched into a municipal security worker alleged in a widely shared video to have taken money from a tourist.
The incident, alleged to have occurred Tuesday in Bangkok's historic quarter, is the latest scandal to hit the city's tessakit department, long criticized for aggressive and predatory behavior toward foreign tourists.
In the video, a Thai man berates a tessakit officer later identified as Pairoj Tinno, who was kilometers away from his assigned area, for forcefully taking thousands of baht from a tourist's wallet as a fine for littering.
"Isn't this what they call robbery of foreigners?" wrote Facebook user Austin Sanyawutthi, who uploaded the video. "He's a Pathum Wan District tessakit, but he behaved like a bandit."
Witchapong Suwannamai, deputy director of Pathum Wan District Office, said Thursday an investigation is underway and will be completed some time next week.
"We have to be fair to him. We have to adhere to the procedures. Once it is finished, we will punish him," Witchapong said. "How much he will be punished depends on his actions. If he did what was alleged in the media, it would be considered a grave offense, which means he would be fired."
The authorities are also trying to reach Austin for testimony, he said.
Witchapong said Pairoj insists it was all a misunderstanding, as he was in fact helping out a tourist who was lost in the capital's Phra Nakhon district, where there is a number of heavily visited tourist sites.
Witchapong admitted to being skeptical.
"But if you ask me, judging from his testimony, I don't think the truth went in the way that he told me," Witchapong said.
The law enforcement arm of the Bangkok Metropolitan Administration, tessakit patrol streets and fine violators for minor infractions of city regulations.
Tourists have long complained of being preyed upon by tessakit who demand hefty fines for minor offenses that are otherwise tolerated, such as an infamous 2,000 baht fine for smoking in public or littering. Tessakit, who wear city-issued uniforms, have also been accused of posing as police officers to intimidate foreigners.
Asked to comment on their reputation, Witchapong said he has ordered his officers to only issue warnings to tourists for their first offense instead of fining them, because foreigners may not be aware of Thai laws.
"We have instructed them repeatedly that this is important issue. Pathum Wan is a tourist area. There are many foreign tourists. We have to be careful in our dealings with foreign tourists," he said.
Related Stories
Bangkok 'Tessakit' Threatens to Attitude-Adjust 'Smart Ass' Citizen
Teeranai Charuvastra can be reached at [email protected] and @Teeranai_C.