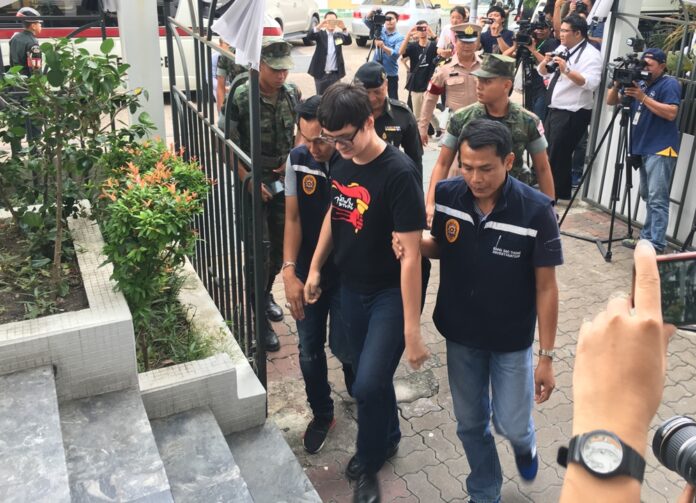 Update: Rangsiman Rome was granted bail in the afternoon. 
BANGKOK — Pro-democracy campaigner Rangsiman Rome said a year-old warrant police cited to detain him Sunday was fabricated to stop him from speaking out about a controversial Sino-Thai railway project.
Police arrested Rangsiman one day before he was due to petition the military government to reveal details of the multibillion baht project, which came under widespread scrutiny last week. Although police said Rangsiman had an outstanding warrant dating back to August, the activist said authorities never informed him until Sunday – nearly a year later.
Read: Pro-Democracy Activist Rangsiman Rome Arrested, Again
The 25-year-old activist was brought to the military tribunal Monday morning where prosecutors later indicted him in the afternoon.
"All of sudden they used that warrant to arrest me, so I think the real reason here isn't about the referendum case. It's about the Thai-Chinese railway," Rangsiman said by telephone from the military court.
The chief of Bang Sao Thong Police Station, which was responsible for the warrant, could not be immediately reached for comment.
In June 2016, Rangsiman was charged under an offense related to his campaign against the junta-backed constitution, later approved by a majority in an August referendum. Police told reporters Rangsiman missed his appointment with the prosecutor, which prompted them to issue an arrest warrant.
But Rangsiman disputed that, saying he was never summoned to meet with the prosecutors. He also questioned why police did not inform him of the outstanding warrant in spite of his public presence.
"I never knew I had to report myself. I never saw any letter. I never received any phone call," said Rangsiman, currently a leader of activist network Democracy Restoration Group. "And even if what they said were true, they didn't have to wait for a year. I've always been in the eyes of the police. So it made me question: why didn't they arrest me earlier?"
It's the third time Rangsiman has run-ins with the law. He was jailed twice – in June 2015 and June 2016 – for his activism against the military regime.
A reporter at the military court said police are pressing four charges against Rangsiman: violating the junta's ban on protests in 2015, violating the junta's ban on protests in 2016, violating the charter referendum law and refusing a police request for fingerprints.
The prosecutor later indicted him on those charges in the afternoon. He was granted bail on a bond money of 60,000 baht, with the conditions that he cannot "incite unrest" or leave the country without permission from the court.
Rangsiman and his group announced last week they will petition the government on Monday to make public details of the 179-billion baht high-speed railway project that Thai government awarded to Chinese firms earlier this year.
Critics oppose the deal on grounds that it lacks accountability and may give the Chinese counterpart the upper hand over Thailand, an allegation the junta denied.
Additional reporting Sasiwan Mokkhasen
Related stories:
Did Thailand Get Railroaded by the Chinese? No Way, Govt Says
Junta Exempts Chinese from Thai Law to Build Railway
Junta to Sidestep 5 Laws to Move Stalled Railway Project
Prayuth Asked to Use Absolute Power to Let Chinese Build Railway