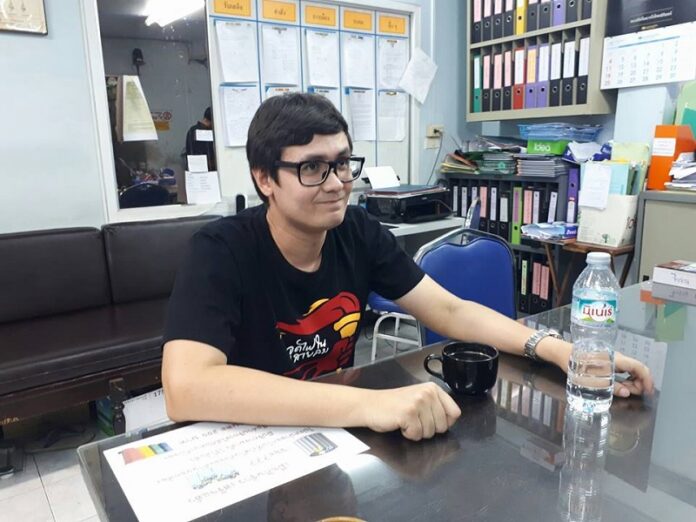 BANGKOK — Pro-democracy activist Rangsiman Rome was taken into police custody late Sunday afternoon, one day before he was to petition the military government for information about a controversial project.
In a live Facebook broadcast by user "Nui Abhisit," Rangsiman said police approached him at the Bangkok City Library at about 4:30pm and presented an arrest warrant on year-old charges before taking him to the Chanasongkram Police Station.
"Police told me they just learned about the warrant," he said by phone from the police station just before 6pm. "It means the warrant never existed in the system before, otherwise the police would also be guilty if they didn't charge me."
Rangsiman said he expects to be taken before a military tribunal tonight or tomorrow. He believes the arrest was ordered because he was going to petition the military government to disclose information about the deal it struck with China allowing it to build a high-speed rail connection between Bangkok and Korat.
"Now we have to postpone it, otherwise my friends will risk facing the same fate," he said.
He said since he was released unconditionally by the military court, he was never aware of an outstanding warrant in that case.
"I've traveled abroad just fine," he said.
Rangsiman was arrested in relation to charges stemming from distributing documents campaigning against the draft charter in Samut Prakan province one year ago on June 23, 2016. He and six others, then members of the New Democracy Movement, were arrested at the time and held for about two weeks.
Rangsiman was charged with violating a special referendum law used to criminalize most public discussion of the junta-backed constitution, which was passed in August by the public. He was also charged with violating the junta's ban on political gatherings of more than five people.
Rangsiman was also due to speak this evening at an event commemorating the 85th anniversary of the 1932 democratic revolution called "Start Up People: Start Talk & Music."
He and his activist group, the Democracy Restoration Group, planned to petition the Official Information Commission to order the military government to disclose details about the deal it struck with China for the construction of a high-speed railway project.
Rome is expected to be transferred to the police station in Samut Prakan province where he was originally arrested a year ago.
Related stories:
Jailed Activists Insist on Unconditional Release
Soldiers Arrest Activists For Handing Out Referendum Leaflets (Video)
Prison Conditions Being Made 'Unbearable' Jailed Activist Says