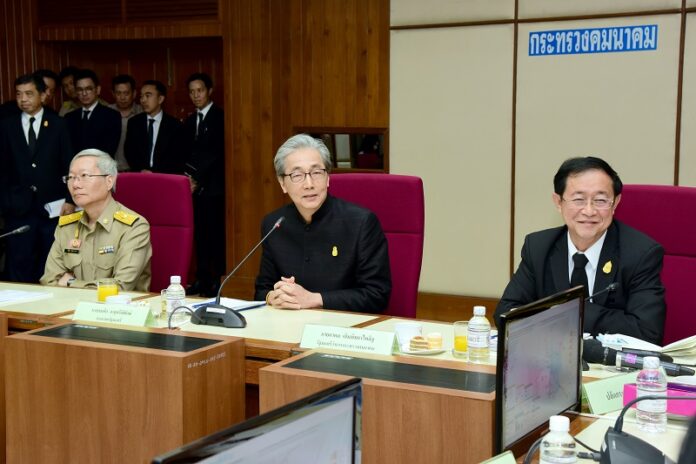 BANGKOK — Junta chief Prayuth Chan-ocha is expected to propose using his absolute power Tuesday to overcome the legal hurdles that have delayed the construction of a Thai-Chinese high speed rail line.
Deputy Prime Minister Somkid Jatusripitak said Monday that the Transport Ministry will propose Gen. Prayuth use his extralegal authority to resolve a long-standing regulatory deadlock over construction of the 179 billion baht project, the first phase of which will connect Bangkok to Nakhon Ratchasima.
Though details of the order have yet to be revealed, it is expected to authorize an exception to the law which bars foreign – Chinese in this case – architects and engineers to work on Thai infrastructure projects.
Read: Work on 1st Small Stretch of High-Speed Rail May Soon Begin
Both architects and civil engineers are on a list of professions reserved only for Thai nationals. They are also required to hold valid Thai professional licenses to work in the country.
Transport Minister Akhom Termpittayapaisit said Monday that the Engineers and Architects Council will arrange an exam specifically for Chinese architects and engineers this month so they can obtain five-year licenses. The license issued under this special scheme can only be used for this project, according to Matichon.
The government previously said it expects to commence construction on a 3.5-kilometer stretch out of the 252.5 kilometer route in Nakhon Ratchasima's Pak Chong district as early as August.
After connecting the capital to the gateway to the northeastern region, the line will eventually go all the way to the north of the country and connect to the border with Laos.
Prayuth's absolute-power clause has been used or proposed to do everything from ban Uber drivers, raid a temple complex, crack down on the media and more.
First established after the 2014 coup under the junta's interim charter, Prayuth's special authority was preserved in the new charter approved by referendum last year.
Under its Article 265, the junta and junta chief will continue to hold the same powers as written into the 2014 interim constitution until an elected government takes office.
Article 279 also says any orders issued by the junta will remain in effect unless negated by a future law, prime minister order or cabinet resolution.
Related stories:
Work on 1st Small Stretch of High-Speed Rail May Soon Begin
Nativist Learns MahaNakhon Designed by Top Foreign Architect, Complains to Govt