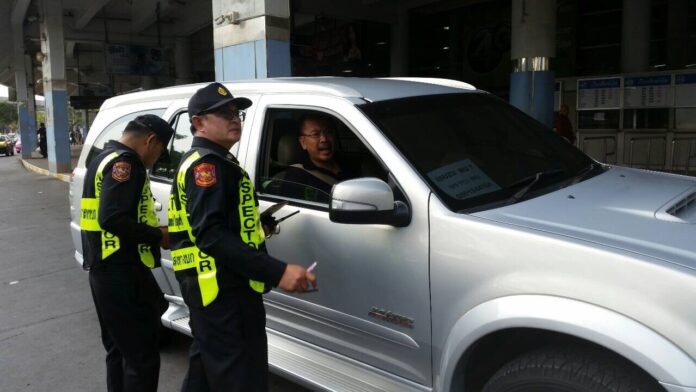 BANGKOK — After 28 Uber drivers were caught up in sweeps, a top transport official on Tuesday suggested the junta use its absolute power to shut down the ride-hailing app.
Since Monday, drivers have been forced to pay fines in Bangkok and Chiang Mai for violating transportation regulations. Coming nearly a year after the military government declared similar motorcycle taxi services illegal, a top transportation official suggested the regime use Article 44 to shut down ride-sharing apps such as Uber and Grab once and for all.
"The ministry may need to use 'strong medicine' to cure this problem, which is using Article 44 to shut down these applications that are destroying the public transportation system of Thailand," said Nanthapong Cherdchu, deputy director of the Land Transport Department.
Eighteen Uber drivers were apprehended and fined 4,000 baht on Monday in Bangkok for using improperly licensed personal vehicles for commercial purposes. Another 10 drivers were apprehended Tuesday in front of CentralFestival Chiang Mai and similarly fined. Drives had their histories take down and had to attend a three-hour seminar on traffic laws.
Who's turning in the drivers in Chiang Mai? Disgruntled songtaew and tuk-tuk drivers.
Suppakit Lomjit, head of a network of  tuk-tuk and bus drivers in the north, said that songtaew and tuk-tuk drivers had been tipping off drivers to the police. Songtaew red buses and taxi meters have had 50 percent to 70 percent fewer customers due to Uber, he said.
"A taxi or songtaew ride to Doi Suthep and back is 800 baht. Uber cuts the price down to 350 to 400 baht. The rate for a songtaew has been standard for over 10 years," Suppakit said.
Nanthapong said Tuesday his department wanted to remind people that using Uber was not only illegal, but that accidents in unlicensed vehicles afforded fewer legal protections.
Enforcement actions began before this week. On Feb. 28, Facebook user Surapin Khomranats posted a video showing an Uber driver busted at the Ministry of Land Transport in Chiang Mai after he was called there as part of a sting operation.
In response to comments about the crackdown, Uber Thailand wrote online that it was cooperating with the government but did not say it would stop operating.
"As for legal issues, we are in regular talks with related departments," a representative wrote. "We will gladly offer help and support if anything happens to a driver."
California-based Uber launched in Thailand in April 2014, and it was declared illegal that November.
In March 2016, it launched a pilot of a motorcycle taxi service just weeks after the government banned a similar offering from Grab. While GrabBike continues to this day, UberMoto stopped operating in May 2016.
Related stories:
UberMoto Pitches Novel Solution to Lifting Ban: Change the Laws
Did GrabBike Really Go Dark? These Motosai Say No.
Most of What You Heard About 'GoBike' Service is Wrong
UberMoto Goes Dark; New Moto App Coming From … Junta?
No Really, Govt Tells GrabBike and UberMoto, What You're Doing is Illegal
'You Wanna Fight?' Bangkok Moto Taxis Confront GrabBike
UberMoto Ignores Same Ban Ignored by GrabBike
GrabBike Responds to Govt Ban With Big Discount and Apathy
Military, Police to Monitor GrabBike Shutdown