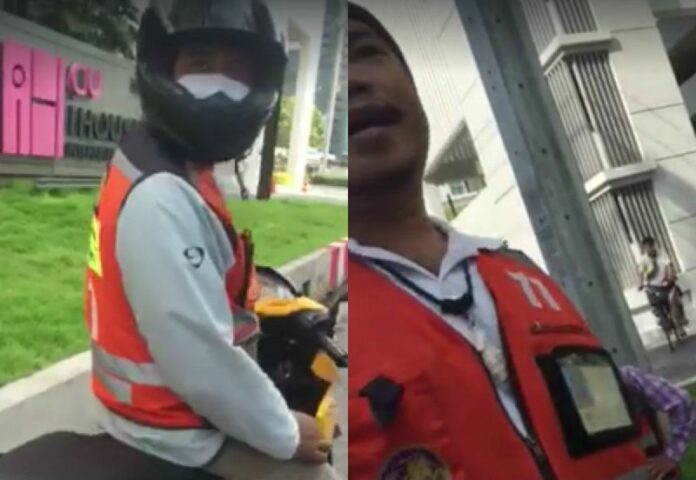 BANGKOK — The moto taxi wars took an ugly turn Monday when two motorbike taxi operators confronted a man working for an on-demand service who'd arrived to pick up a student.
In a video clip shared Monday by Facebook user Aof Theinhiran, one of the motorcycle taxi men snatches away the key belonging to a driver for the rival GrabBike service, who had arrived to give a ride to a student near Chulalongkorn University.
In the clip, the unidentified motosai takes the key and verbally threatens the other man.
"You wanna fight?" he says. An audible "no" can be heard following.
After the GrabBike employee got his key back and drove away, the narrator of the clip can be heard explaining to the motosai he called GrabBike because there was no one present at the motorcycle taxi stand.
At that point another motorbike operator tells him he should have walked instead.
"Why would I walk? There is another service, so I don't need to walk," the Chulalongkorn student said.
The motorbike guy stuttered and changed the subject.
"Okay, you can call [GrabBike] but we'll chase them away like this. If there's an emergency, who would help you? Will you call GrabBike? …  like if some men come to rob you or something," the motorbike taxi driver said in the video clip.
Someone answering the phone at GrabBike's offices on Tuesday said although there was nothing illegal about their service, people should be cautious of angering traditional motorcycle taxis.
"It's not illegal to call GrabBike within the jurisdiction of a motorcycle taxi. However, customers are advised to set a meeting point away from the motorbike taxi stand to avoid any confrontation."
In March transportation officials declared the alternative taxi service was indeed operating illegally and ordered it to cease operations, an order that was immediately ignored.
Additional reporting Teeranai Charuvastra
Related stories:
UberMoto Ignores Same Ban Ignored by GrabBike
GrabBike Responds to Govt Ban With Big Discount and Apathy