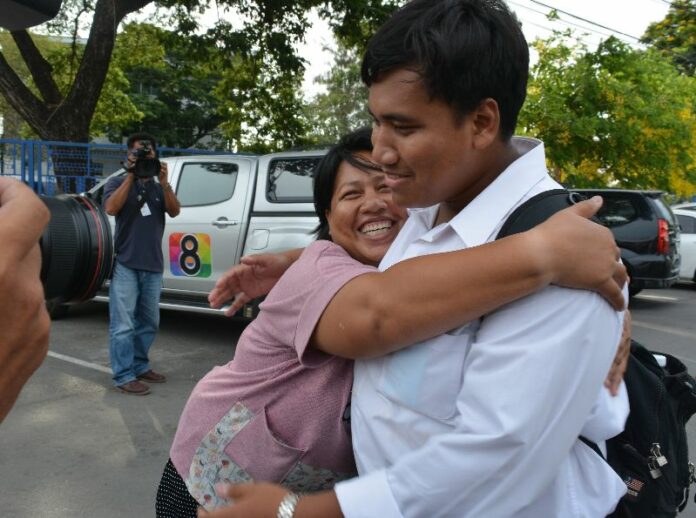 By Pravit Rojanaphruk
Senior Staff Writer
BANGKOK — Arnon Nampa doesn't know where all the donations came from to help pay secure the freedom of dissidents on bail, but he's pretty sure none of the many small donations came from former Prime Minister Thaksin Shinawatra.
Not that he'd mind.
The human rights lawyer, who represents dissidents and those arrested and charged for criticizing the junta, denied suggestions he is bankrolled by Thaksin – but said he'd welcome any of the fugitive former premier's money.
"If Thaksin wants to transfer money, we will take it and use it for bail applications. We would love to have it!" said Arnon, who's also a leader of pro-democracy group Resistant Citizen.
Arnon was referring to a bank account jointly opened by him, magazine editor Ida Arunwong Na Ayuthaya and activist Veeranant Huadsi. Called the Fund for Friends, it has for over a year solicited donations from the public to help people they consider political prisoners.
Arnon's denial came after some cast doubt on social media about the group's ability to quickly raise funds, alleging they must be bankrolled by a mastermind seeking to undermine the junta and monarchy.
A Daily News columnist who writes under the pen name of Khuen Khan demanded the group reveal its donors in the paper's Tuesday edition, saying it was no small feat to raise 500,000 baht to secure bail for lese majeste suspect Patnaree Chankij.
"I would like to say it's time Thai society help one another in scrutinizing the moves of Resistant Citizens, New Democracy Movement and its related networks and find out who is the big capitalist supporting them from behind. As they recite 'rights and freedoms' and demand democracy three times a day, there's doubts about their money, and they must be brave enough to reveal the truth…," the columnist wrote.
Patnaree, the mother of a pro-democracy student activist, was charged Friday for not rebuking someone who allegedly sent her offending private messages and freed on bail Sunday. Members of the so-called "Facebook 8," charged with sedition for criticizing the junta, were to be freed Tuesday on bonds of 200,000 baht. Arnon said their bonds were paid by the Redshirt umbrella organization for whom at least two of them worked as admins of their official Facebook pages..
Arnon said he has no idea about the identities of the hundreds of people who have donated money, many of which come from cash entered into ATMs.
No donation has exceeded 10,000 baht, he added, leading him to believe that billionaire Thaksin was probably not among them.
Thaksin remains a looming figure over the kingdom, despite the fact he hasn't set foot on Thai soil since being deposed in 2006. Supporters of military rule routinely paint all opponents as foot soldiers bought and paid for by his political dynasty.
Arnon said it's not difficult to raise hundreds of thousands within a few hours when the public is moved to act by a tremendous injustice unfolding.
The record, according to Arnon, was made March 2015 when the fund first launched. At the time, 700,000 baht was donated within six hours to bail Arnon himself and three others members of Resistant Citizen who were among those charged with violating the junta's ban on political gathering of five or more people.
At the moment, they only have about 50,000 baht in the account, he said.
To date, they've raised 1.7 million baht and will continue to do so, Arnon added, even if Thaksin joins its list of donors.
Related stories:
Facebookers Freed on 200,000 Baht Bonds
Anti-Junta Activist's Mother to be Released on Bail