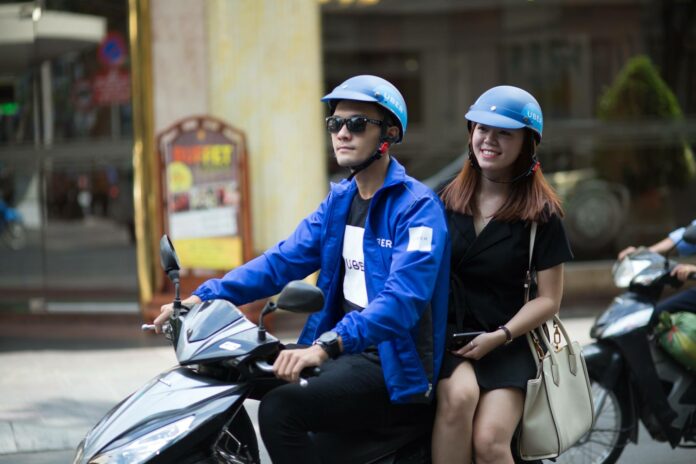 BANGKOK — Transportation officials said they need to deliberate further over legal amendments proposed by Uber which would allow its UberMoto taxis to roll out again.
Weeks after the on-demand motorcycle taxi service was banned in the country, authorities said Monday that the San Francisco-based company pitched its own fixes to regulations such as operating territory and registration.
"Uber proposed amending the law," said Darun Sangchai from the ministry. "But this issue is still new, we can not make the decision right away, as we did not have enough information and it needs time to be considered."
In its request, Uber essentially asked the Transport Ministry to eliminate the regulations it was in violation of, a request that seems ambitious.
The company asked for the repeal of rules requiring drivers to wear registered uniforms, ride registered motorbikes and carry proper licenses. It also suggested removing territorial protections under which drivers are forbidden to ride into each other's turf.
Darun said a committee comprised of ministry, military, police and municipal officials will discuss the issue. In the meantime, UberMoto must remain out of service, he said.
Authorities said a decision will be made based Uber's compliance with the law for the sake of public safety as well as competitive fairness with traditional motorcycle taxis.
In addition to operating illegally, the popular services presented unfair competition to traditional motorcycle taxi operators already feeling the sting of tighter regulation since the military government came to power.
Both alternative motorcycle taxi services, GrabBike and UberMoto were ordered to halt their service May 17 because they did not comply with the law.
GrabBike is reportedly still giving rides through its delivery service for those who book themselves as a human package.
Related stories:
Did GrabBike Really Go Dark? These Motosai Say No.
Most of What You Heard About 'GoBike' Service is Wrong
UberMoto Goes Dark; New Moto App Coming From … Junta?
No Really, Govt Tells GrabBike and UberMoto, What You're Doing is Illegal
'You Wanna Fight?' Bangkok Moto Taxis Confront GrabBike
UberMoto Ignores Same Ban Ignored by GrabBike
GrabBike Responds to Govt Ban With Big Discount and Apathy