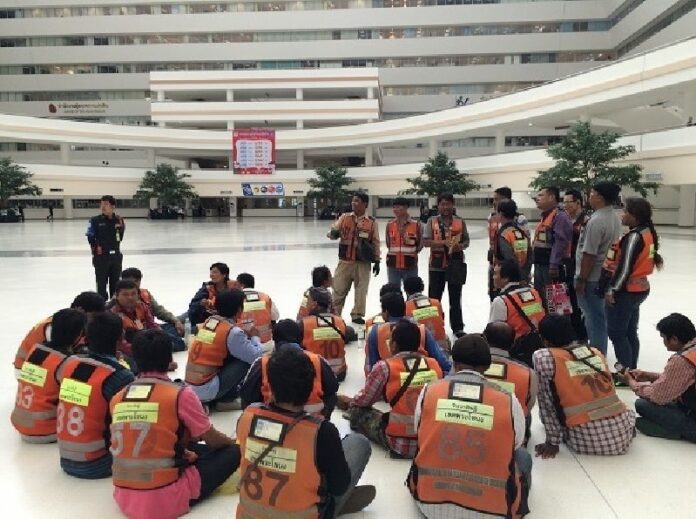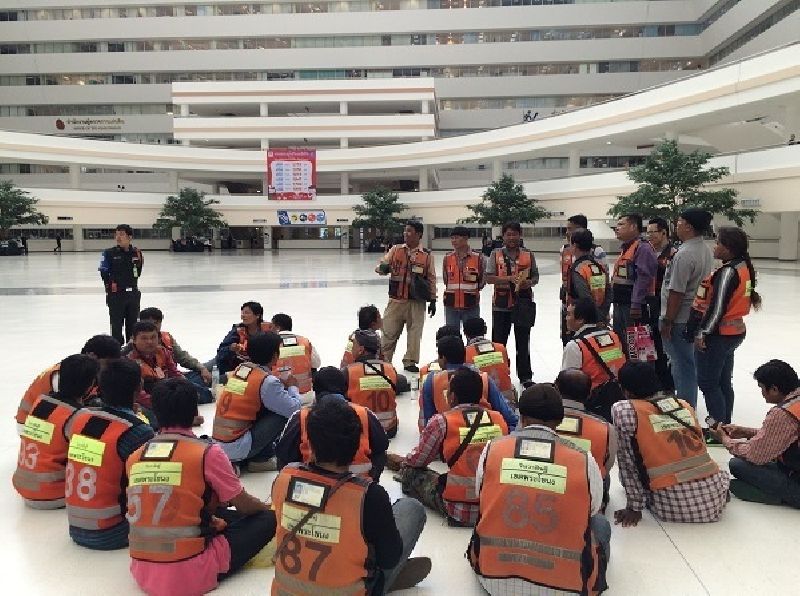 BANGKOK — Fans of motorcycle taxi alternative GrabBike were disappointed when it shut down last week. But has it?
On the same morning junta chief Gen. Prayuth Chan-ocha spoke of developing a digital economy, a group of traditional motorcycle taxi drivers Thursday called for the arrest of taxi operators they say are still out there giving rides illegally.
Vichien Chumchuen, 52, led a group of around 50 drivers on a tour of the capital to file complaints at the Department of Land Transport, Government House and the Ministry of Information and Communication Technology.
A representative at the ICT Ministry told Vichien and his group it cannot shut the application since it does not violate the Computer Crime Act.
Last week the two services said they would suspend operations after transportation officials demanded they do so a second time because they were not compliant with regulations.
On Thursday, GrabBike's application still showed drivers and appeared to function, and people claimed to have used the service on social media.
Customer inquiries on GrabBike's Facebook page were referred to its package delivery service, adding to speculation that passengers are still getting rides by booking themselves as a "package" to be delivered.
A spokeswoman with the firm representing Grab said she did not know whether it was still possible to use the service. But, Nattianan Vanichchanant said, the company was in a "transition period."
The government's campaign against services such as Uber and Grab has been criticized as inconsistent with its calls for developing a more tech-savvy economy of digital creators.
Earlier Thursday, Prime Minister Prayuth Chan-ocha called for developing Thailand to be the center of a digital ASEAN at a government fair called Digital Thailand 2016. He said every sector of the country must embrace technology.
On Tuesday, the head of the Department of Land Transport said it fully supports technology, so long as it's used legally.
"If there is a law that was not really supportive of them, we are willing to amend it," Sanit Promwong said.
Related stories:
Most of What You Heard About 'GoBike' Service is Wrong
UberMoto Goes Dark; New Moto App Coming From … Junta?
No Really, Govt Tells GrabBike and UberMoto, What You're Doing is Illegal
'You Wanna Fight?' Bangkok Moto Taxis Confront GrabBike
UberMoto Ignores Same Ban Ignored by GrabBike
GrabBike Responds to Govt Ban With Big Discount and Apathy