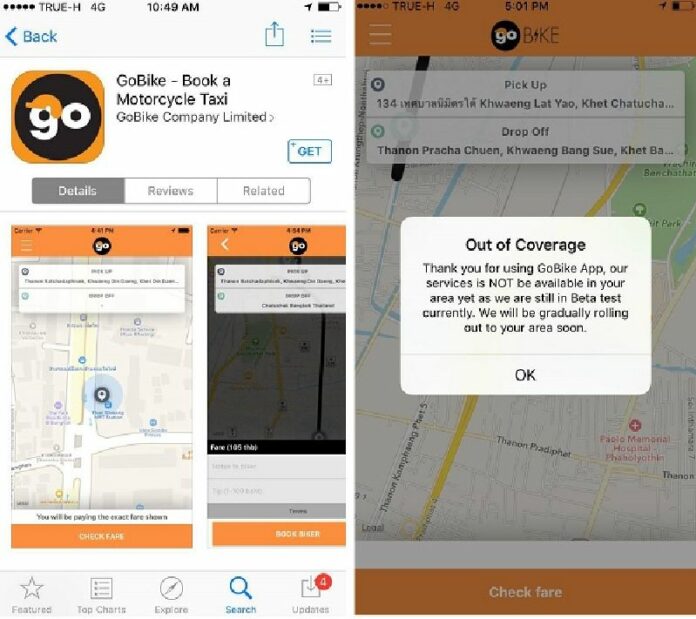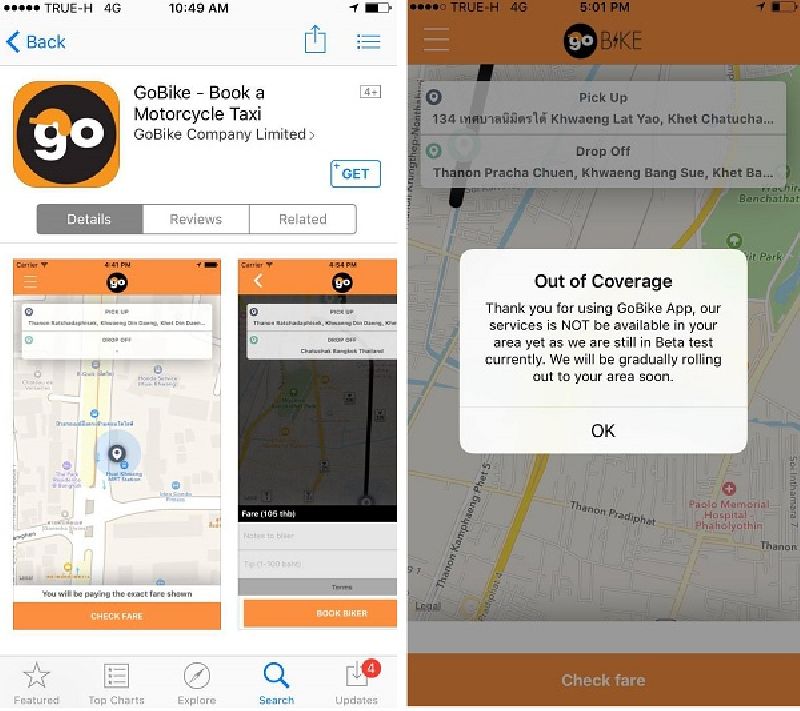 BANGKOK — A lot was misunderstood when "GoBike" became a trending topic on social media overnight, but one thing was true: It is the first legal, on-demand motorcycle taxi service.
The buzz began Monday when media organizations did as they do – copy information from each other – to report  that the government had already launched its own replacement to GrabBike and UberMoto, just days after shutting them down.
That was surprising, considering it had just been mentioned for the first time one week ago.
In fact, the GoBike app was released to Apple's App Store and Google Play three months ago in February. And it's published not by the military government but a private company registered in Hong Kong with a Malaysian CEO.
The local force driving the app, who appeared Thursday in a video introducing it, is Chalerm Changtongmadan, chairman of Thailand's Motorcycle Taxi Association. He said the app, which was released in beta form, is the result of his two-year quest to develop the technology for his fellow taxi operators.
"I was looking for someone to fund this for two years before I met this company some months ago," Chalerm said of his partnership with GoBike.
Chalerm said there were two conditions for any commercial partner: It must not take a cut of the fares and not charge any extra fees to passengers.
"They might have to find profits from advertising in the app," he said.
Be that as it may, the website for the app indicates a "service fee ranging from 5-15 baht" will be included in its fares.
The Department of Land Transport on Tuesday clarified GoBike is not officially sponsored by authorities but is legal if it complies with regulations.
That includes legally registered drivers holding the correct licenses for both themselves and their bikes – the same regulations for which Grab and Uber were banned.
After news spread Monday, many took to the internet with their experiences. They were unimpressed. The chief complaint was that the service area does not seem to cover much of the city.
Only a few hundred of the thousands of motorcycle taxis in Chalerm's association have registered, he said, adding that drivers are not required to join.
Will traditional motorcycle taxis want to do so? Pan Sangkhao, a motosai in front of Bon Marche market said he already has enough customers.
"I don't think I need an app. But if they are legal, I don't have a problem with them," he said of services such as Grab or Uber.
"I don't think it is worth it though if someone called me to pick them up too far away," he said before zipping away with a document to deliver at a rate much higher than what he'd get from a passenger.
Association head Chalerm said he would meet with transportation officials before the app officially launches next month to make sure it doesn't violate the law.
Admitting he was concerned when Grab and Uber entered the market, Chalerm said he is willing to play – if they do.
"I was surprised that we spent two years trying to comply with strict requirements of the government's reorganization campaign, but their drivers only need to have a motorcycle and a smart phone to operate," he said. "But if they can comply with the law, I am okay with them."
Govt App Still Coming
While GoBike prepares to formally launch, the actual government app is still under development.
On Wednesday, the day UberMoto and GrabBike halted service, Col. Kanchai Prachuap-aree, who heads the junta's regulation effort, said his committee would launch a legal application for Bangkok's 80,000 registered drivers.
The Department of Land Transport says the app was planned even before the private alternatives became popular.
The perk of the government's app is that it will also provide a direct complaint channel to authorities.
Sanit said his department has been trying to bring technology to use for some time, citing apps launched last year such as DLT Check in, which aimed to improve taxi service and security.
"The government never rejects and, in fact, supports the use of technology," he said.
Related stories:
UberMoto Goes Dark; New Moto App Coming From … Junta?
No Really, Govt Tells GrabBike and UberMoto, What You're Doing is Illegal
'You Wanna Fight?' Bangkok Moto Taxis Confront GrabBike
UberMoto Ignores Same Ban Ignored by GrabBike
GrabBike Responds to Govt Ban With Big Discount and Apathy