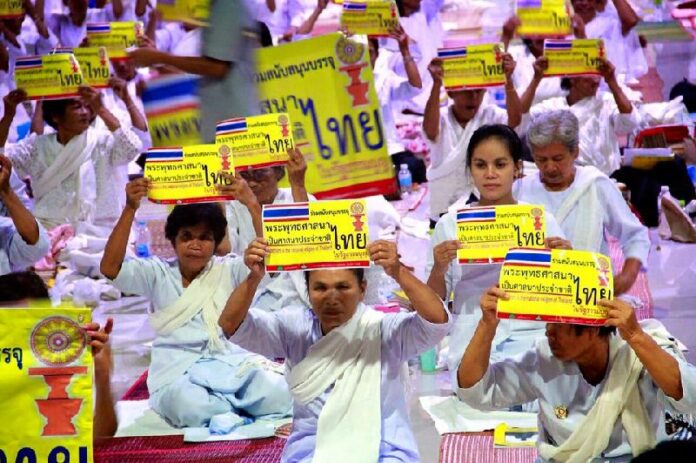 By Teeranai Charuvastra
Staff Reporter
BANGKOK — Muslim activists asked the junta today to take legal action against a Buddhist group for spreading religious hate speech on social media.
The complaint, filed by a group calling itself Muslims Love Peace, against a Facebook page called Wake Up Buddhists, provided the latest example of the escalating tensions between the two faiths in recent years, expressed both online and offline.
---
BKK Airport Apologizes for Searching Muslim Cleric's Headwear
---
Seri Madtohed, who filed the complaint along with a dozen other Muslims, said the Buddhist Facebook page's allegations that Muslims are plotting to hijack important institutions and replace Buddhism as the main religion in Thailand risks creating hatred and division.
"We are worried that it may lead to misunderstanding and conflict in Thai society," Seri was quoted saying in local media reports after submitting the complaint to the military government.
He also urged police to charge the admins of the Wake Up Buddhists group under the Computer Crime Act, which outlaws any remarks on the internet that affect national security and public order.
Run by what appears to be stout defenders of controversial Buddhist sect Dhammakaya, the Wake Up Buddhists page mostly contains criticism of authorities for attempting to hold the sect's abbot responsible for alleged financial fraud.
But on May 7, the group also wrote that Muslims had "infiltrated" the education system and forced Buddhist students to learn about Islam in their schools. The post warned that the future of Buddhism is in danger of being absorbed by Islam, and includes a statement written by a Buddhist activist called Korn Meedee.
"Apart from seizing spaces in [the Ministry of] Interior Affairs, they have infiltrated [the Ministry of] Education," the statement reads. "If Buddhists still don't wake up, soon Buddhism will be gone from the Thai realm."
Author Unapologetic
Reached for comment, Korn, who heads a group called Association of the Middle Path, confirmed he wrote the statement, which he said has been re-published by many Facebook pages. Although Korn said he does not vouch for everything those pages say, he said he shares their fear of an Islamic takeover of Thailand.
"If this continues to spread, it will make Buddhism disappear," said Korn, who described himself as a "moderate Buddhist."
He said it is up to Muslims to allay the worries and suspicions among Buddhists by speaking out against crimes committed in the name of Islam.
"For example, when monks are murdered, I want Muslims to say that action is not Islamic … at this time, Islam has not managed to make Buddhists lose their fear. They must fix it," he said.
Korn added that he also blames some fellow Buddhists for damaging their religion by misbehaving and breaking Buddhist principles.
Asked about today's protest by the Muslim group, Korn said he's unconcerned about any possible legal action. "I'm not worried, because I'm dedicated to working to defend Buddhism."
Although Thailand is overwhelmingly Buddhist and has been mostly tolerant in religious matters, confrontation between Buddhism and Islam has become more common in recent years, as seen in sporadic protests against mosque construction and halal food factories.
Those conflicts have been amplified by social media, where hardliners of both faiths air their platforms and argue with each other.
Related stories:
Buddhists Protest Mosque Construction in Northern Thailand
Thai School Director Transferred for Banning Hijab