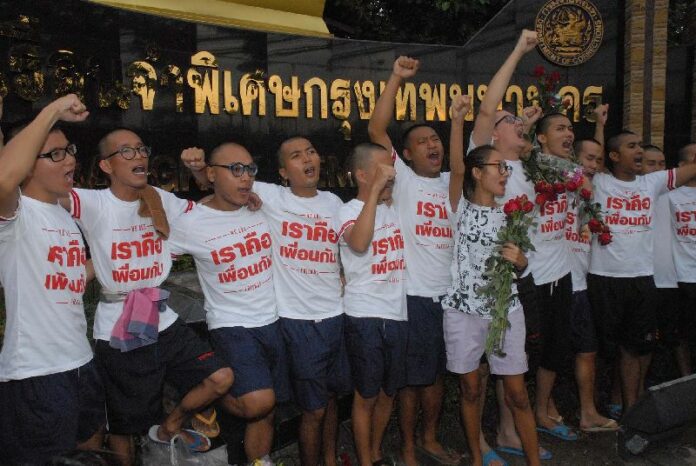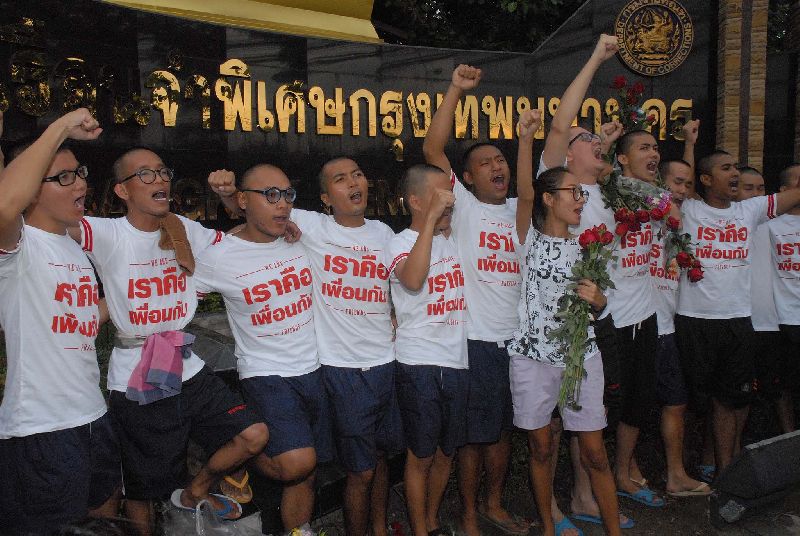 BANGKOK — The fourteen activists charged with sedition for their peaceful anti-junta campaigns have been released from prison, though they are still facing a trial in martial court and up to seven years in jail.
The fourteen, eleven of whom are university students, were arrested on 26 June after they organized a small pro-democracy rally in Bangkok last month. A military court ordered the group to await trial in prison, but decided to release them yesterday after 12 days, accepting their lawyers' argument that the defendants had no intention to flee the country or interfere with the evidence.
However, a prison official said yesterday that the activists would not be released until this morning because prison regulations prohibit releasing inmates at night.
Supporters and families of the fourteen activists camped out over night in front of Bangkok Remand Prison and Bangkok Central Women Correctional Institution, where thirteen men and one woman were held respectively, to await their release.
At around 6 am, a large van drove out of the prison building compound, prompting supporters to run after the vehicle. The van stopped just outside the prison's outer gate, and the thirteen male activists stepped out of the vehicle to loud cheers from the crowd.
Rangsiman Rome, one of the activists, told Matichon that he and others were well treated by prison wardens throughout their 12 days detention. He said he had to consult with his friends about the group's next move.
"I insist that we will continue to fight," Rangsiman told Matichon. "I will not only ask for democracy. These arrests were not the end, but a new beginning of our struggle."
He also said he and other activists never considered posting bail to secure their release because they believe the martial court has no legitimacy to try civilians.
The fourteenth activist, 22-year-old Chonticha Chaengrew, arrived in front of Bangkok Remand Prison later because officials from the women's prison reportedly insisted on driving her her home, even though no one was there at the time.
Her family also said they were not contacted by the prison about the unusual arrangement.
The fourteen activists, who call themselves the New Democracy Movement, are still facing up to 7.5 years in prison for charges of violating the junta's ban on public gatherings and "inciting unrest." They are also facing additional outstanding arrest warrants for organizing anti-junta demonstrations on the one-year anniversary of the 22 May coup d'etat.
In addition to Rangsiman and Chonticha, the group includes Ratthapol Supasopon, Songtham Kaewpanpruek, Pornchai Yuanyee, Pakorn Arrekul, Abhisit Sapnaphana, Jaturapak Boonpatararaksa, Apiwat Suntararak, Payu Bunsophon, Panupong Srithananuwat, Suwitcha Thipangkorn, Supachai Pukrongploy, and Wasan Sethsitthi.
For comments, or corrections to this article please contact: [email protected]