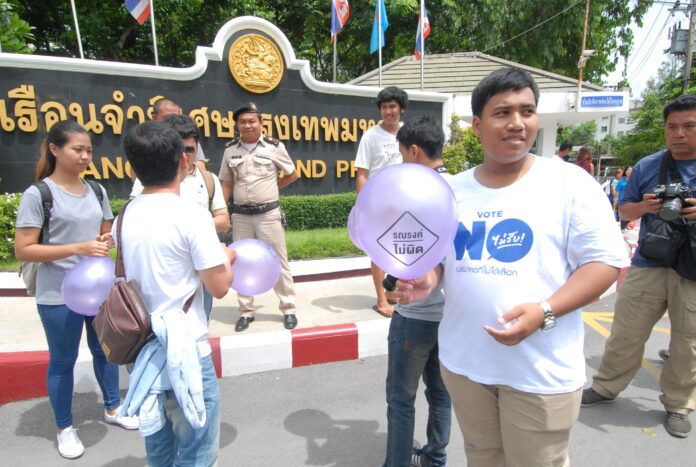 BANGKOK — Despite the harsh treatment seven jailed activists say they are being subjected to for campaigning against the junta-backed charter draft, they said Thursday they won't seek bail because they did nothing wrong.
Speaking from behind bars, the activists said the military court has no legitimacy to try them and therefore must release them unconditionally – a hardline stance that their supporters fear will only see them imprisoned for a long time.
"I'm not supposed to be here in the first place," Rangsiman Rome, the 24-year-old student leader of the New Democracy Movement group said during visiting hours. "I didn't do anything wrong. Instead of asking me why I won't ask for bail, the question is, why am I being held here?"
Rangsiman was among 13 people arrested June 23 for handing out leaflets urging the public to reject the constitution draft when it's put to a vote on Aug. 7. Campaigning either for or against the draft is punishable by up to 10 years in prison under a law passed earlier this year.
While six of the 13 suspects posted bail and were subsequently freed, Rangsiman and six others refused to do so, as they rejected the military tribunal's authority to try them. Instead, they demanded to be tried in a civilian court.
A representative with the Department of Corrections said Friday that the activists are being treated as normal inmates, and there is no discrimination against them.
Somsakul Thongsuksai, a 20-year-old Ramkhamhaeng University student, said he didn't seek bail because if he did, he would be released under conditions set by the military judges, such as not participating in any political activities.
"It's like getting out of prison and into another prison," Somsakul said.
New prison regulations don't allow inmates to see any visitors not on a list of 10 people approved in advance. Therefore Rangsiman and Somsakul conversed with a reporter through several approved visitors who relayed messages between a corridor in view of the visiting room.
The activists are not strangers to arrest, incarceration and court proceedings. Exactly a year ago, Rangsiman and 13 other New Democracy Movement activists were jailed for refusing to post bail after being arrested for violating the junta's ban on protests.
Their predicament sparked outrage domestically and abroad, as well as daily protests calling for their freedom. As the opposition movement began gaining momentum, the military court suddenly freed all activists 12 days after they were imprisoned.
But some of those close to the seven referendum activists fear public outrage won't coalesce this time around, and the seven may remain behind bars a long time. That's the gist of what Thammasat law professor Worachet Pakeerut told his graduate student, Rangsiman.
"Think about your position carefully. But I will respect your decision no matter what you choose," Worachet communicated to Rangsiman.
Speaking to reporters later, Worachet said, "As for their decision to post bail or not: They are adults now, so they know what they're doing, and I will not interfere with their decision."
Krisadang Nutcharus, the activists' lawyer, said he also fears for them.
"I don't want to see my clients in prison. It's very hard for us to prepare the case," Krisadang said. "But they chose this themselves. They said they can stay in there just fine. They said if they got released [on bail], they wouldn't be able to do anything anyway.
He denied playing any part in their decision and said they were aware of the consequences.
"I told them, you may end up being jailed for 84 days [the maximum remand session], and you may be jailed for the next two to three years as you fight the case, but they said they already chose this. They already accepted this."
Even other inmates encouraged the activists to change their minds.
"Some prisoners tell us to just get a bail,"  Somsakul said.

Singled Out
They said the price of defiance has been harsh treatment from the guards. Rangsiman has told visitors he and others were ordered to do menial work such as collecting garbage and cleaning toilets – tasks usually reserved for convicted inmates, not those awaiting trial.
After the story made ripples in the media, the activists and their lawyer said Thursday that the guards already stopped assigning them jobs, and now they mostly spend time in the prison's library.
But the activists said they're still subject to many restrictions,chiefly, the new visit rules limiting them to a list of only 10 people as approved visitors.
Harit Mahaton, an inmate in the same prison awaiting trial on royal defamation charges, communicated through an intermediary Thursday that his aunt had flown from his hometown of Khon Kaen to see him but was turned away because he misspelled her name on the list.
There were some people Harit said he wanted to see, but he couldn't remember their full names.
Another grievance was a complete news blackout. According to Harit, inmates aren't allowed to watch TV news or read newspapers. They believe the warden wants to keep them in the dark. The only news comes during the 20 minutes of visiting time each day.
"They're afraid those on the inside will organize something, or coordinate with those outside," Harit said. "But this measure violates the rights of all prisoners, because it applies to the entire prison."
Even food has gone missing, the jailed activists complained. Friends said they sent food and snacks – a welcome break from the horrid meals served inside  – to the seven activists, yet they had only received two cans of tuna by Thursday.
The activists said they haven't been able to receive money either, as they have yet to be provided "cash cards" used inside the prison.
But Patikhom Wongsuwan, director of the Department of Corrections, said prison officials are not mistreating the political prisoners as alleged by the activists.
He said restriction of visitors is in line with international standard, and meant to screen out people not related to the prisoners. "In the past, even mia noi (mistresses) show up for the visits," Patikhom said by telephone Friday.
Patikhom also defended the policy of censoring news, saying that it's necessary to prevent "dangerous" material from reaching the inmates.
"We only give necessary information," Patikhom said. "What is dangerous, or what risks affecting national security or peace in the prison, we don't allow yet."
He added, "Let me insist that I am not singling [political prisoners] out. In fact, we took care of them like special people. I think they even got better treatment than other prisoners."
Not Discouraged
Yet the activists said they're resolute.
"They said they can endure it in there," New Democracy Movement member Pakorn Areekul said Thursday after the prison visit. "They want people outside to keep campaigning and not to worry about them."
Somsakul, one of the seven activists, said he would pass the time writing a song about voting against the charter draft in the Aug. 7 referendum.
Krisadang, their lawyer, said his clients are in good spirits.
Their next bail hearing is set for Tuesday. Krisadang said he hope to convince the military court to free them without posting bail.