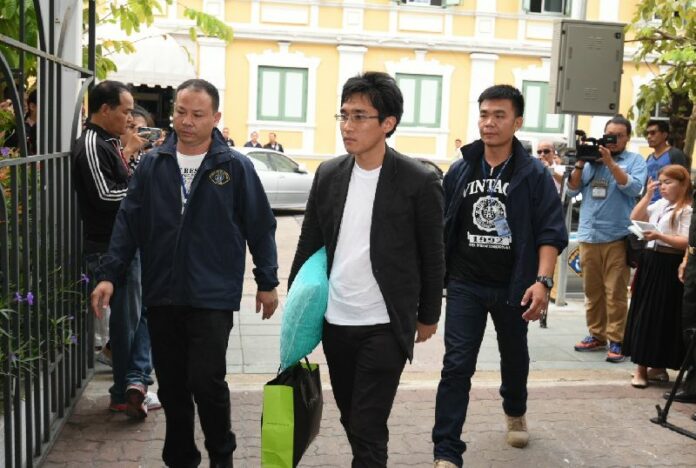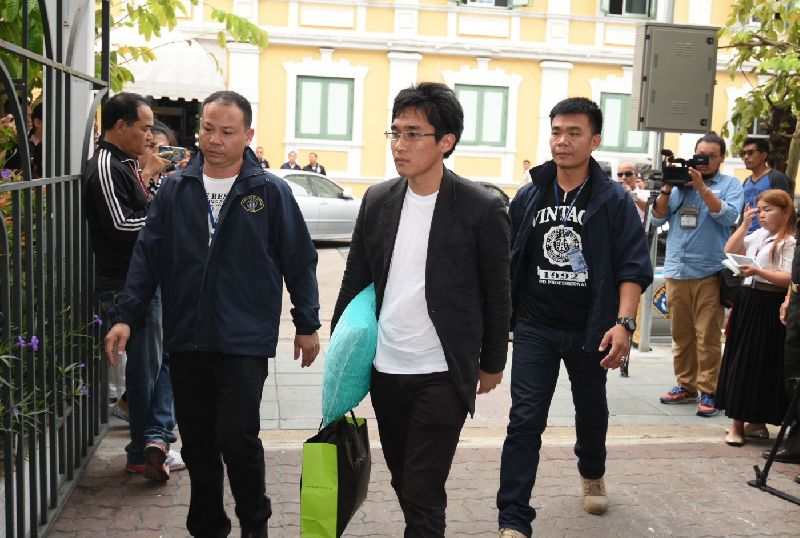 By Teeranai Charuvastra
Staff Reporter
BANGKOK — The sun had yet to rise when armed soldiers surrounded their homes and took their sons and daughter into custody.
In a coordinated operation, soldiers arrested eight Facebookers in one swoop and took them to army bases for interrogation. Authorities only disclosed their alleged crimes a day later: running Facebook pages that insulted junta chairman Prayuth Chan-ocha and his military regime.
---
Prayuth Defends Abducting 'Facebook Eight'
---
Today, a week after the raid, families of the suspects visited them behind glass panels at two Bangkok prisons, where they described the shock they felt.
"When my son first started his Facebook pages, I thought it was good fun," said Arkom Mangkangsanga, father of one of the abductees, Yothin. "I never imagined it would turn out like this."
A friend of Nattatikia Worathaiwit, the only woman in the group to be arrested, said she could not believe the news.
"I was very surprised, no, I was shocked, when I found out she was arrested, too," recalled the friend, who did not want to be identified. "I first heard that Harit and Suphachai were arrested, so when I realized she was arrested, too, I was very surprised."
The eight Facebookers are now held in two separate jails – Bangkok Remand Prison and Women's Correctional Institution – as they await their trial on charges of sedition and Computer Crime Act. Nattatika and one other suspect, Harit Mahaton, are also facing an additional charge of defaming the monarchy for their conversation in a private Facebook chat, security officers said.
In an interview with reporters after visiting the prison Wednesday, families and friends of the suspects urged the court to grant them a bail release so that they can contest their charges in the outside world.
"I don't even know how a computer works, so I don't know if his actions are indeed serious as his charges say," said Harit's 63-year-old father, Krit Mahaton. "But at least I want him to have a bail, and I want [the court] to have some mercy on him, so he can live his life in the outside."
Krit Mahaton speaks to reporters on Wednesday.
Krit said he leaves Harit's fate to the military tribunal. "If he's guilty then he's guilty, but now that he's still not guilty, please give him bail."
Yothin's father, Arkom, said he also wanted to personally plead to authorities to grant the suspects a bail release, but he said he knows his pleas would fall on deaf ears.
"It wouldn't change anything anyway. We won't understand each other," Arkom said. "I can't beg them to do anything."
Nattatika's relatives declined to speak to reporters, citing fear of repercussion, but one of her close friends, who would only speak anonymously, said Nattatika wanted to be freed on bail because she's worried about her mother, who now is living alone.
"On holidays, some relatives visit her mother, but she's restless," said the friend, who gave her name only as Fahsai. "Her mother wants to visit her every day."
Unheard Of Allegations
The eight suspects stand accused of being paid by Panthongtae Shinawatra, son of former Prime Minister Thaksin Shinawatra, to organize anti-government activities through several Facebook pages. The offending materials including one satirical Facebook page called We Love General Prayuth, which lampoons the junta chairman's bizarre behavior.
Close ones of Harit, Yothin and Nattatika interviewed today said they had never heard of them receiving money from anyone for their roles on Facebook.
"I don't know about it, I never heard about it," Krit, Harit's father, said. "Usually, he just works and sends money to his younger sister. He sells his ramen. He never mentioned anything about getting paid [for Facebook], so I don't know anything about it.
Yothin's father, Arkom, similarly said Yothin never told him about receiving Facebook job from anyone. He also believes that the sedition charge against his son has far-reaching implications that could harm all types of media in Thailand, not only social media.
"I sympathize with them when they say they have to take care of national security," said Arkom, who retired from the Royal Thai Air Force years ago with the rank of Wing Commander. "But the allegation is so broad. He didn't try to mobilize any armed uprising. Everyone can be considered guilty, even a newspaper comic strip."
Arkom Mangkangsanga speaks to reporters on Wednesday
He added sarcastically that if the junta continues to interpret parodies and ridicules on social media as sedition, Thailand should just say farewell to the internet once and for all.
"Maybe we should just all quit using the internet. It will be good for us, we won't have to waste our money on the internet bill. Let's just go back to working on rice farms," fumed Arkom, who describes himself as an avid Facebook user.
Fahsai, the friend of Nattatika, also said she's never heard of her friend being a paid online propagandist. Nattatika works mainly as an online merchant who sells cosmetic products, she said.
What bothers Nattatika's family, she said, is how the military obtained her Facebook chat, which was the basis of the royal defamation charge.
"We're really suspicious how they got their hands on it. It's private material," Fahsai said. "If she posted something on Facebook, we can understand it, because it's public. But this information, how did they get it?"
Suspects Unbowed
Harit, Yothin and Nattatika are all described as having difficulty adjusting to prison, but staying strong in spirit.
In fact, Arkom said, the male suspects are doing relatively okay, because they have support from other political prisoners, especially longtime lese majeste convict Somyot Prueksakasemsuk, who just completed his fifth anniversary in prison on April 30.
"Other people who were previously arrested are taking care of them … Somyot is like a big brother for them in there," Arkom said. He added that Yothin's main concern is trying to find out what's going on in the outside world, as he cannot read any news in prison.
Despite the imprisonment, Krit said he's happy to see from the visit that at least his son is safe and unharmed.
He said Harit remains determined to fight his allegations, and he asked the media to keep their attention on the persecution against him and seven other suspects.
"He asked me, 'how's the outside world doing? What are they talking about? Dad, be frank with me, are they still talking about me?'" Krit said. "He wants the media to help keep this news in public attention, in order to help his case."
Related stories:
Bail Denied to Facebookers, Lese Majeste Charges Weighed Against Them
Army Abductions: Activists Call for More Protests Despite Arrests
Protest Called for 10 Abducted by Military
Military Abducts at Least 4 Across Thailand