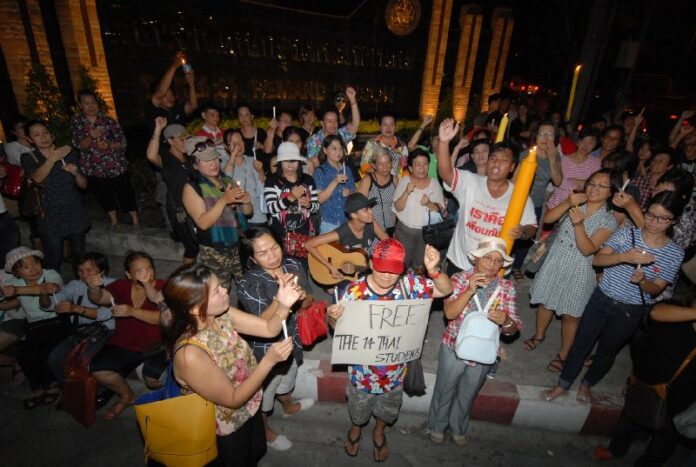 BANGKOK — Supporters of the 14 activists jailed for demonstrating against the military junta have vowed to gather every night until the group is released.
For the past four nights, several dozen people have assembled outside of Bangkok Remand Prison, where 13 of the activists are being detained, to hold a candlelight vigil and demand their release. The lone female activist belonging to the group of 14 is being held at a separate prison for women in Bangkok.
"We will hold this activity every night until the students are released without any conditions," said Sirawit Serithiwat, a Thammasat University student who is also facing legal action for organizing pro-democracy demonstrations this year.
Tonight's vigil will start at 8pm, he said.
Around ten policemen and other security officers have observed the rallies, which have involved lighting candles for the activists and singing songs.
Before leaving the scene last night, the activists shouted, "We are your friends! We will not abandon you!" in unison.
The fourteen detainees, eleven of whom are university students, were arrested last Friday for leading a peaceful pro-democracy demonstration in Bangkok. They are facing up to seven and a half years in prison on charges of "inciting unrest" and violating the junta's ban on public gatherings.
Junta leaders, including chairman Gen. Prayuth Chano-ocha, have dismissed calls from the UN, EU, and human rights groups to immediately drop the charges against the activists, who are facing trial in military court.
In a statement published this week, the UN Human Rights Office for South East Asia (OHCHR) called on the Thai government to "promptly" pardon the students, and review its use of laws to restrict free speech.
"Now more than one year on, despite pledges by the Government to promptly restore the rule of law, restrictions on fundamental freedoms remain in place," the statement said. "OHCHR is concerned that criminal prosecutions for peaceful assembly and expression that carry long prison terms are not necessary or proportional."

Students sit in a mock prison in front of Thammasat University to show solidarity with jailed pro-democracy activists, 1 July 2015.
Yesterday, a small group students sat outside a mock prison – constructed out of plastic pipes – on the footpath next to Thammasat University to demand the unconditional release of the fourteen detainees.
Pol.Col. Attawit Saisueb, a senior police officer, later arrived at the scene with several policemen and asked the activists to stop the protest because they were obstructing pedestrians' pathway.
The activists agreed and moved their equipment to the University's Bodhi Courtyard, the historic site on campus where student activists gathered to protest the ruling military junta in October 1973 and sparked a popular uprising.
Meanwhile, at Khon Kaen University in northeastern Thailand, where seven of the detained activists are students, around 30 people put up post-it notes on a board in the Law Department expressing support for the activists.
A fourth-year law student said he wanted to show that "people outside prison are not abandoning" the detained activists.
"We will fight. I am here today to show my support for their activities, and to insist that they did a right thing," said the student, who asked not to be named. "They didn't do anything against the law."
Kittichai Trairattanasirichai, the director of Khon Kaen University and a member of the junta's interim parliament, said today that students are free to organize activities to express support for the 14 activists, "but must not cross the line, for example, by writing protest placards."
He also urged junta chairman Prayuth Chan-ocha to speak to the detained activists in order to "reach mutual understanding."
"I cannot do much, because they were arrested outside the university, and security officers are handling their cases," Kittichai said. "However, I am willing to listen. If the students want any assistance, I am ready to help them in any way I can."