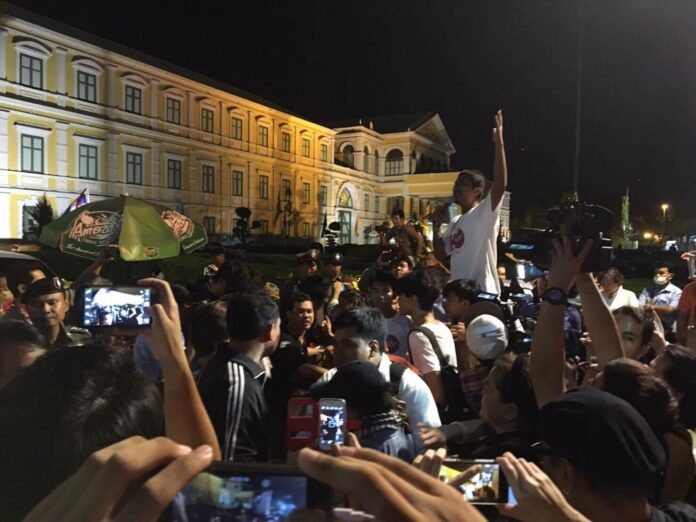 BANGKOK — Seven of the thirteen activists arrested on Thursday for campaigning against the junta-sponsored charter draft were ordered to be locked up Friday by a military tribunal as they await their trial.
The military court released six activists on 50,000 baht bonds Friday evening, according to lawyer Anon Nampha. The other seven were jailed as they refused to pay bonds , demanding to be released without any conditions, arguing that they did nothing wrong and that the legal action against them is illegitimate.
The military judges declined to comply.
"The court says it's necessary to have them detained while the prosecutor investigates the case," said their lawyer Anon Nampha.
The seven, which includes longtime pro-democracy activist Rangsiman Rome, will be immediately escorted to prison, while the bail hearing for the other six suspects has just started, Anon said by phone shortly before 7pm Friday.
"At this moment, we will try to secure bail for these six," the lawyer said.
Security officers arrested the 13 campaigners in Samut Prakan's Bang Phli district Thursday evening while they were handing out leaflets urging the public to vote against the charter draft in the Aug. 7 referendum.
They have been charged with violating the junta's ban on protests, and the referendum law that outlaws any campaign for or against the charter – a sweeping law that critics say is stifling freedom of expression in the run-up to the referendum.