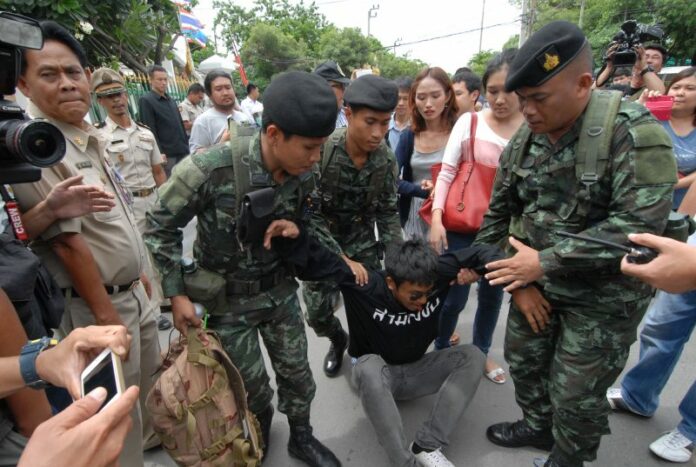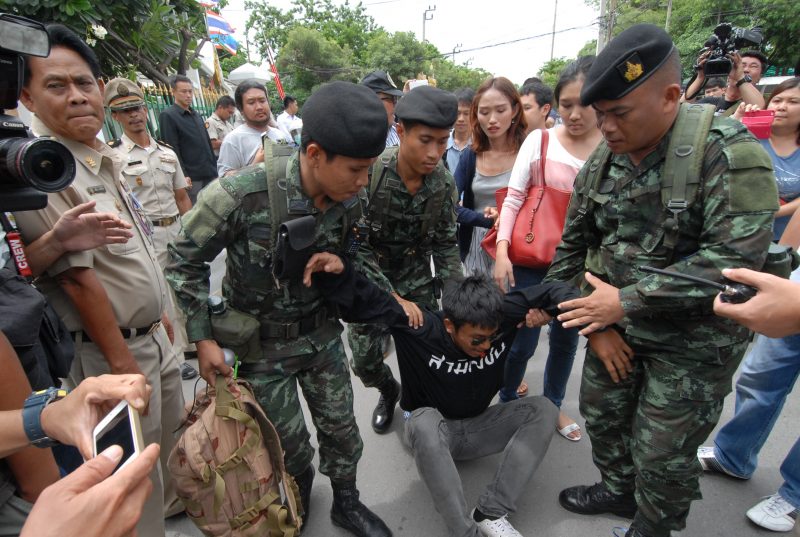 BANGKOK — A year on from the last time some of them were jailed, pro-democracy activists say the military regime's tactics have become more underhanded, and life behind bars harsher.
Seven activists jailed after refusing to post bonds are being made to clean prison toilets and reportedly pressured to seek release on bail so they will not become a magnet for anti-junta sentiments and international condemnation as was the case one year ago.
"Don't worry about me. Right now the prison authorities is doing all they can to make it unbearable for us," jailed student activist Rangsiman Rome said in a statement communicated through his lawyer. "But we will persist. What we're facing is miniscule compared to the prospect of the draft charter being approved, because it would be like imprisoning the people for five to 10 years."
Those present Thursday when the military arrested activists for campaigning against the draft charter said the military's tactics included using an undercover officer to pose as a student activist to wrest away their leaflets and not telling an observer they would arrest and charge him.
Rackchart Wong-arthichart, a 25-year-old postgraduate student at Thammasat University, said he was misled by police and soldiers Thursday, who "invited" him to talk with them at the Bang Saothong Police Station in Samut Prakan province.
Rackchart insisted he was not participating and only there as an observer as Rangsiman, members of the New Democracy Movement and others wearing "Vote No" T-shirts distributed leaflets.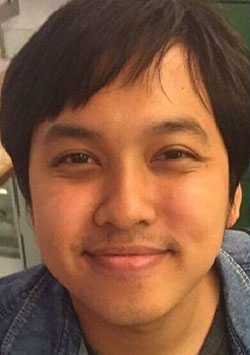 Best known for creating a satirical "politically incorrect" map of Thailand, Rackchart said he'd wandered off to buy a bunch of oysters from the market. When he returned with the oysters, he found all the activists had already been taken away and officers asked him to go with them to discuss what happened.
Instead of talking, officers placed him under arrest along with the other 12 student activists and factory workers taken away from the protest site.
"They fooled me. That's what happened," Rackchart said.
Another observer, labor activist Jittra Cotchadet, wrote online Sunday that several people arrested were told to "cooperate" by going with officers to talk at the nearby police station.
"They didn't know it was an arrest. In an arrest, your must be informed of the charges against you and your rights. They must be told what wrongs they are accused of and not fooled like this."
Rackchart was held overnight at the police station and later freed on bail, but Rackchart has been charged with violating the junta's ban of political gathering of more than four people. He was also charged for violating the referendum law, which criminalized campaigning in the run-up to the Aug. 7 referendum on the military-backed charter. He could be jailed 10.5 years if convicted on both counts.
Rome and the other six members of New Democracy Movement countered by refusing to recognize the military court's legitimacy and declined to seek bail.
This proved effective in inviting international scorn on Thailand's military rulers when Rome's group defied the authorities and refused bail.
Rackchart visited them at the Bangkok Remand Prison on Monday and learned they're being forced to perform degrading labor such as cleaning prison toilets.
"They have separated the seven into different cells," said Rackchart. "Prison officers are trying to convince them to seek bail."
Related stories:
'Vote No' Campaigners to be Tried by Military
Soldiers Arrest Activists For Handing Out Referendum Leaflets (Video)
Politically Incorrect Map 'Ugly But True' Cartographer Says
Military Court Rules to Release 14 Anti-Junta Activists from Prison
Junta Leader 'Uncomfortable' With Jailing of Student Activists
Justice Minister Defends Separating Anti-Coup Activists in Prison
Activists Pledge to Rally Until 14 Anti-Junta Dissidents Released
Soldiers Arrest Activists For Handing Out Referendum Leaflets (Video)