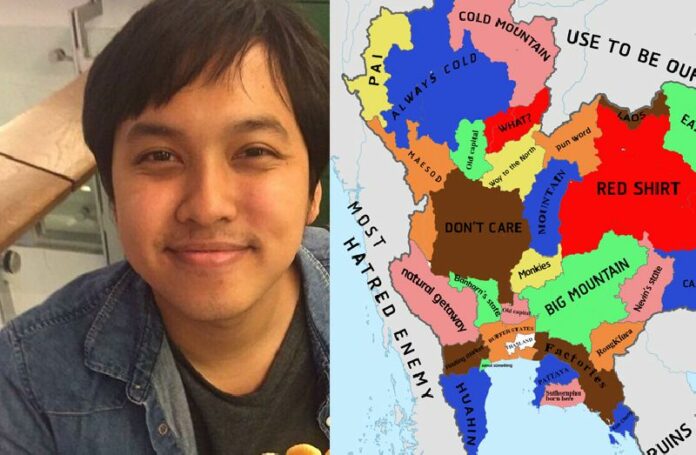 BANGKOK — Amateur cartographer Rackchart Wong-arthichart's "Politically Incorrect" map of how the rest of Thailand and its neighbors are viewed by Bangkokians relegates most of the nation to the status of weekend getaways, dangerous places to be avoided or merely of no consequence.
The provocative map attracted more than 6,000 likes and nearly 800 shares since being posted Saturday to Facebook, as it seemed to touch a nerve with its intended Bangkok audience and was met with amusement by some expats and foreigners.
"The thing is, many think it's accurate. It's ugly but true," said 25-year-old Rackchart, a capital city native studying international relations at Thammasat University.
His "Siam According to Bangkokian" map, which he said was made in English to target the urban middle class, is clearly labeled as politically incorrect.
Many congratulated Rackchart for bringing out closely held prejudices and stereotypes into the open. Others accused him of unfairly labelling Bangkokians in a crude and negative light.
"Very discriminatory," wrote Facebook user Songsang Boonsa wrote. "People in many provinces may not find it funny, particularly in the three southernmost provinces."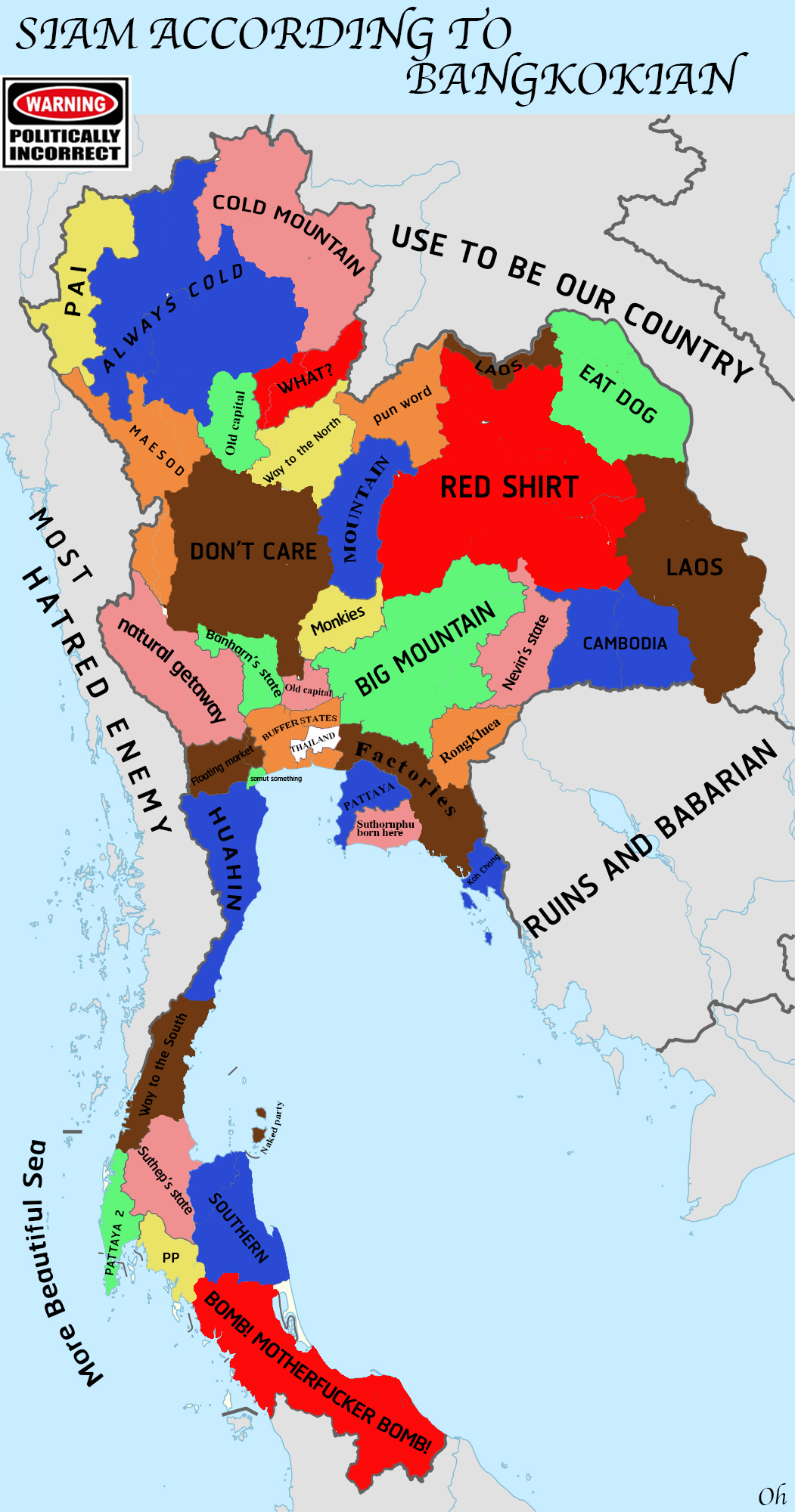 Rackchart himself seems to delight in the controversy, saying that its humor and satire has made an impact because people know it's true.
As a member of his target demographic – the Bangkok middle class – Rackchart, from Bang Phlat district, said he's not trying to attack everyone as he doesn't think such beliefs are universal.
He does however estimate that up to half of Bangkok's 10 million or so residents harbor politically incorrect, racist, discriminatory and culturally chauvinistic views. The gentle-talking cartographer swears many of his acquaintances living in the capital hold such opinions
"It's a reflection of our nationalistic educational system. We're ignorant about Cambodia. It's just about ruins there," he said. "I produced the map to show the prejudices."
It's not intended to promote tourism, he said.
"But [the map] is a reflection of things that shouldn't have been; perceptions that people in Sakon Nakhon province only eat dogs, that there are only bombs exploding in the Deep South or that Chiang Mai is only cold," he said. "The building of these prejudices against others, including our neighbors, occurs all the time, and I clearly wrote that these are politically incorrect."
In the map, at least seven northern provinces including Chiang Mai and Chiang Rai are lumped together as "always cold" and "cold mountain." All of Prachuap Khiri Khan and Phetchaburi provinces are reduced to "Hua Hin," the seaside resort town and popular weekend destination a few hours' drive from Bangkok.
The three southernmost provinces are labeled "Bomb! Motherfucker Bomb!"
Uttaradit and its half-million-or-so Thais are simply "What?" while the popular destination of Phu Kradueng fails to win Loei more than "pun word."
Nakhon Nayok and several other central provinces are "Big Mountain," likely not for a translation of its popular national park – Khao Yai – but the annual music festival that draws many from the capital.
Sakon Nakhon province in the northeast is known as "eat dog" territory for the stereotype – based in some reality – that folks up that way treat the Western man's best friend as a culinary delicacy.
Meanwhile Bangkok proper, clearly the only relevant location in the realm, is itself labeled "Thailand."
As for its neighbors, Cambodia is "Ruins and Barbarian" while the Lao People's Democratic Republic wins regard as "use to be our country." Nearly 250 years after the sacking of Ayutthaya, Myanmar remains "most hatred enemy."
Rackchart, who was inspired by Yanko Tsvetkov's Atlas of Prejudice said he has no plan to make a Thai-language version of the map because he thought it wouldn't be as funny, and he expects those he wants to reach are able to read English.
Asked if he has any suggestion for overcoming bigotry, Rackchart said awareness of the existence of such prejudices and feeling bad about them is an important start.
"I made no proposal on how to remedy the situation. I don't know what to recommend. The state should stop producing media and textbooks that deal with our neighbors through the lens of war all the time and make them more impartial. Everything is also centered here in Bangkok, and there's a need to open up what we regard as our cultural norm.
What's the next project after the map he took four hours to chart?
"I am thinking of a map of Bangkok from the view of inner Bangkokians," he said.