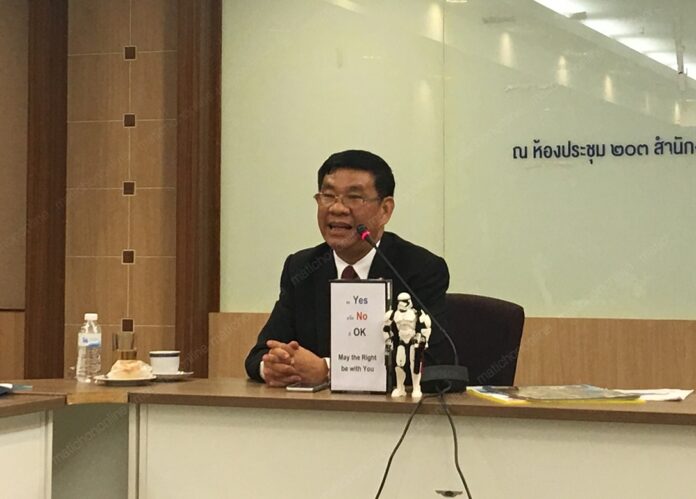 BANGKOK —  The official tasked with policing the upcoming charter referendum has ruled out prosecution of a newspaper cartoonist for criticizing a previous version of the draft constitution.
In a case that highlighted the aggressive enforcement of the referendum law banning "rude" or "aggressive" remarks about the proposed charter, editors of Matichon Weekly were forced to explain to the Election Commission on Thursday that cartoons it recently deemed objectionable were nearly a year old. The commission declared they were not guilty of any crime.
"Now that they have conceded there was a mistake, this matter is over, and there will not be any legal action," Election Commissioner Somchai Srisutthiyakorn announced.
On June 17, Matichon Weekly re-published a collection of work by cartoonist Arun Watcharasawat from August 2015 in which he criticized the charter draft being debated at the time. The draft was voted down by a junta-appointed body weeks later in September.
Somchai responded by threatening legal action and summoning the cartoonist and his editors to the Thursday meeting.
Somchai said afterward the editors told him they published the cartoons by accident, and later deleted the set once they realized the error.
He said other media agencies should learn from this incident and be careful about what they publish on social media.
Matichon Weekly and Khaosod English are part of the Matichon Group.