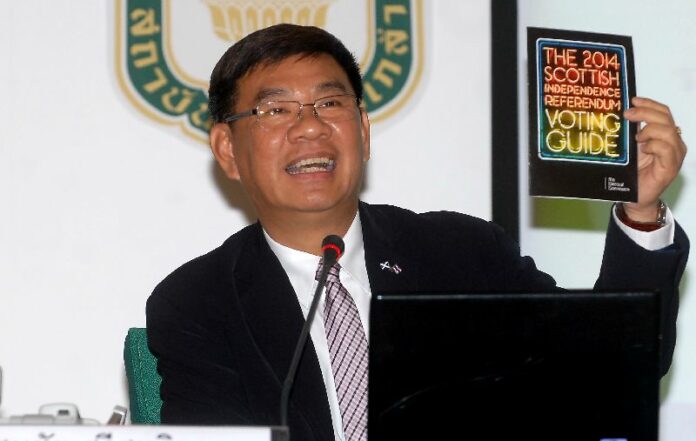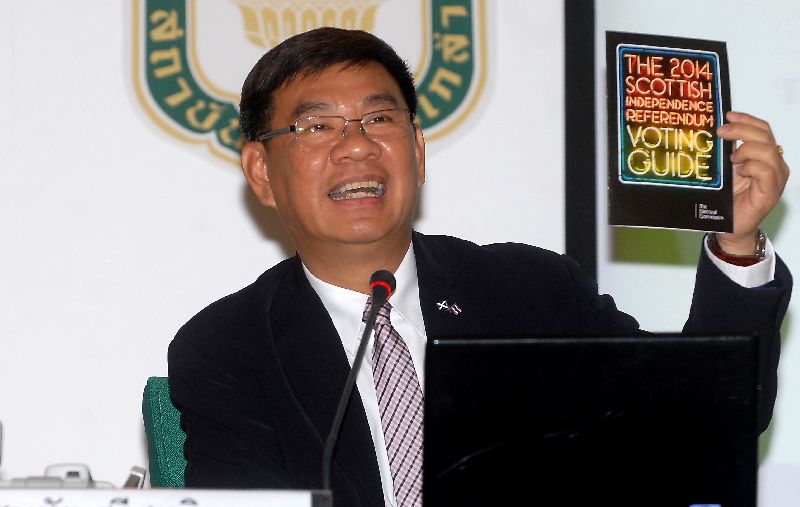 BANGKOK — A cartoonist for Matichon Weekly was summoned today to explain why he penned cartoons critical of a junta-backed draft constitution, even though they were from 10 months ago and referred to a different draft.
For lampooning that first draft, which was rejected by junta-appointed lawmakers in September last year, the Election Commission said cartoonist Arun Watcharasawat must report himself next week to explain his action.
Redshirts Take Grievance Over Voting Watchdog Campaign to UN
"The cartoonist and online editors of Matichon Weekly must meet us on June 30 to explain whether the incident was a misunderstanding, and explain the intentions behind it," Election Commissioner Somchai Srisutthiyakorn said at a Wednesday news conference. "If it was a misunderstanding, they must show responsibility and fix it, so that there will be correct understanding."
On Friday, Matichon Weekly re-published a collection of Arun's cartoons from August 2015 on its Facebook page. Many of those were critical of the charter draft being debated at the time before it was dumped a month later.
But with its even more controversial revision going to public vote soon, Somchai took offense nonetheless. Writing online Saturday, Somchai suggested both Arun and Matichon Weekly might have violated the recently imposed referendum law by republishing the cartoons. The law, passed in April, banned the spread of imagery that "deviates from the facts or contains manners that are violent, aggressive, rude, inciting or intimidating."
The cartoons, which represented the primary criticisms of the proposed constitution, were reposted by Somchai on his own Facebook account.
Somchai, whose agency has been tasked with enforcing the referendum law, said he will decide whether to prosecute Arun and Matichon after he hears their explanations next week.
"Once we have completely obtained all the facts, we will be able to say how to proceed," Somchai said. "But if anyone else wants to take legal action on this issue before us, they can also do so."
Matichon Weekly, like Khaosod English, is part of the Matichon Group.
Opponents of military rule have decried the ever-increasing restrictions placed on campaigning or even discussing the charter, which will be put to a referendum Aug. 7.
Apart from banning any campaigns that "mislead" the public into voting against the charter written by regime-appointed drafters, the junta earlier this week shut down referendum monitoring centers set by the Redshirts, on the grounds only state agencies can watchdog against fraud and irregularities.
Today police obtained warrants to summon Redshirt leaders behind the so-called "Anti-Fraud Centers" shut down this past weekend. They have been charged with violating the junta's ban on political activities put in place after it seized power in May 2014.
Related stories:
No Thais Can Monitor Vote Because Law Didn't Say They Can, Commission Reasons
Critics: Keeping Public in Dark About Draft Charter Rejection Unfair
Redshirts Alarmed by Vague Restrictions on Charter Campaigns